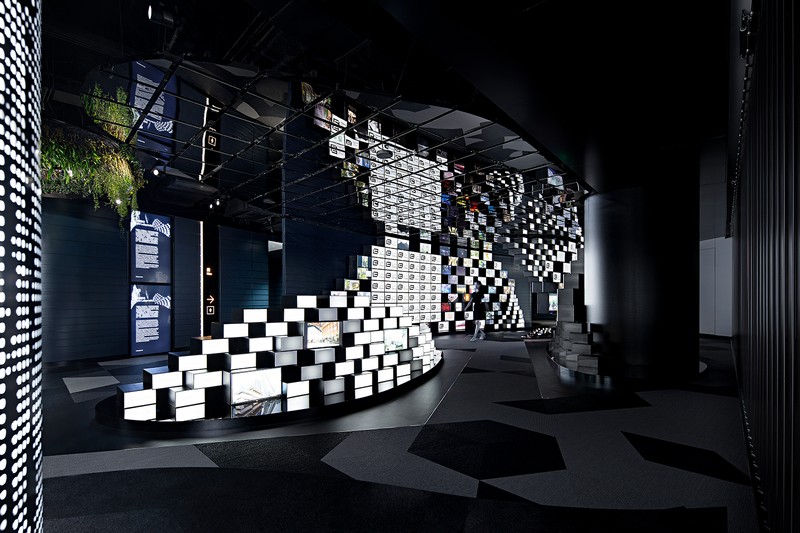 Within the grand experiment that is Shenzhen, innovation bubbles away. One experiment underway inside the southern Chinese megalopolis is peering into the fabric of the urban environment. The C Future City development at Shangsha is meant to focus on what the world to come might actually look like. Within C Future City is a design petri dish.
(按此瀏覽中文版)
The C Future Lab is a 1,500-square-metre space given over to an investigation of creativity. According to QUAD Studio co-founder Kelvin Chu, the studio was asked to trick out a space that would investigate where art, technology and nature could intersect. What the design does is create an immersive experience that examines if sensations derived from the built form can inspire a creative response.
The mixed-use space tests, shares and analyses new ideas in a bid to help define the path to building the city of the future. The lab includes co-working spaces, event spaces, offices and breakout areas. The design is pushed to it limits by technology. Spaces are amorphous, zones defined loosely by soft boundaries, lighting and special effects – sometimes provided by digital funsters teamLab from Japan and Motse from China.
There's organic-shaped pieces of sculpture dotted around the space by British industrial designer Ross Lovegrove. They serve double duties as objet d'art and functional items. There's a suggestion they may one day be infused with artificial intelligence. There's gardens running inside and out, mounted on ceilings and created by the man that made the first vertical gardens, Patrick Blanc.
It may well be the future, elegantly composed and with expensive finishes, but what exactly does it all mean? As we know, it's hard to predict what will happen next.
"It is about creating an experiential journey that will inspire visitors and have them question the future," says Chu. "The space has some areas like the forum and seminar spaces which allow visitors to discuss, and reflect on, the ideas they have received. In a way, it is a bit similar to visiting a museum at the weekend, to be away from reality and get inspiration."
When QUAD Studio – led by Wai Tang, Charles Ho, Kelvin Chu and Sean Leung, with offices in Hong Kong and Shenzhen – were invited by Centralcon Group to create the lab's interior design, the brief was there was to be no brief.
"The content of the spaces was totally up to us," Chu says. It is a completely different experience, as there is no project precedent we could find which is similar. It was an open brief from the client."
"Centralcon wanted to create a space which will become a new platform for people like architects, planners, artists, designers to explore and share new ideas about how cities should be planned," Chu says.
The team began with internal meetings to better define what a "future lab" might entail. A theme emerged, with Chu saying the team felt more "like film directors creating an experiential journey by a sequence of unique spaces". The theatre in the finished design is easy to see.
Guests are greeted by a dimly lit hall that moves in time with activity, beaming digital waves of information into a three-dimensional space kitted out by the sensorial tricksters at Moste. Automatic pivot doors open and close to control crowd flow, opening up into what might normally be considered a reception; a chamber filled with by an organic, shell-shaped sculpture. Designed by Lovegrove, the sculpture will be powered by sensors to flash and pulse in response to flesh and blood, question and answer. You will be efficiently guided to your destination, digitally.
There are zones for a bar, dining and meeting, spaces for more formal forums and small seminars, and offices. An exhibition area surrounded by more than 160 monitors, called The Info Labyrinth, invites guests to experience multiple facets of QUAD's vision of C Future City.
The next striking feature of this sci-fi-infused design is the Hanging Garden. The work by Blanc references the helix-shaped rainforest chandelier installed at The EmQuartier shopping mall in Bangkok. The Hanging Garden is mounted on the roof, but is mirrored on a highly reflective floor. The garden will grow out and down, blurring the line between ceiling and floor, reality and unreality, inside and out.
Since the opening of the C Future Lab last year, (EDS: 2020) it has become a hotspot for creative events, exhibitions and Ted X lectures. In many ways the design has already met it's aims.
"We have realised that most of the spaces will change through time, during different events or functions," says Chu. "We hope that each time visitors come they will experience the space differently. I think that is more interesting than a fixed repeated experience, like going for a ride in a theme park."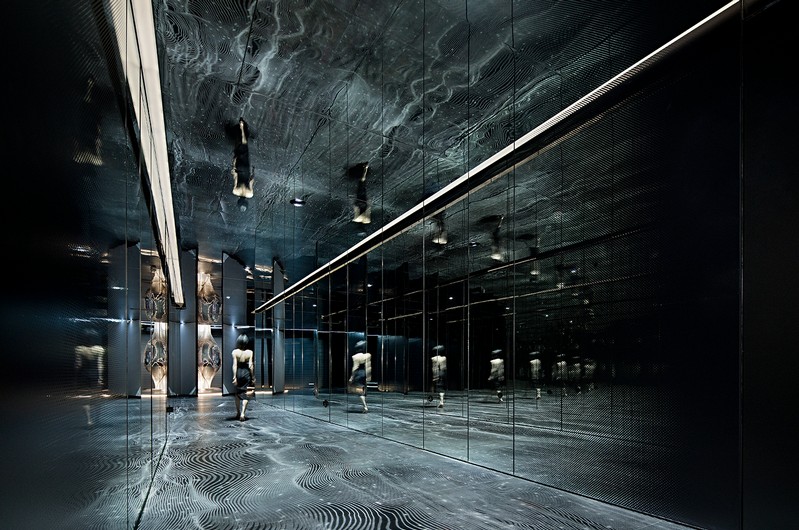 With the first completed project inside C Future City under its belt, the developer is now moving ahead with the biggest urban regeneration project in Shenzhen's Futien district. C Future Lab will serve to promote the background, concept and design of the immense, mixed-used development. It might also remain an evolving testing ground for new ideas in a bid to help define the path to building the city of the future.
Visit thequadstudio.com.