At the junction of Kowloon East's infrastructure network and sitting on a public transport interchange for CBD 2.0, AIRSIDE steps up as an all-embracing hub connecting people from all walks of life. Offering unparalleled views of Victoria Harbour and the Kai Tak Area, the 200m-high AIRSIDE embraces a new urban lifestyle concept of "Wholeness", inviting the community to enjoy a natural space together.
(按此瀏覽中文版)
The professional team at Jangho was involved to create the project's façade, consisting of a tower unitized curtain wall with curved & tilted glass panels, aluminium cladding and glass wall including BIM (5D). After delivering the project, Jangho was charged with the AIRSIDE office tower's façade design and management.
From enhancing the design of the curtain walls to the performance testing, material procurement, processing and manufacturing of the visual templates, Jangho has strengthened each aspect of the project. Its dedication and professionalism has received commendation from Nan Fung throughout the project.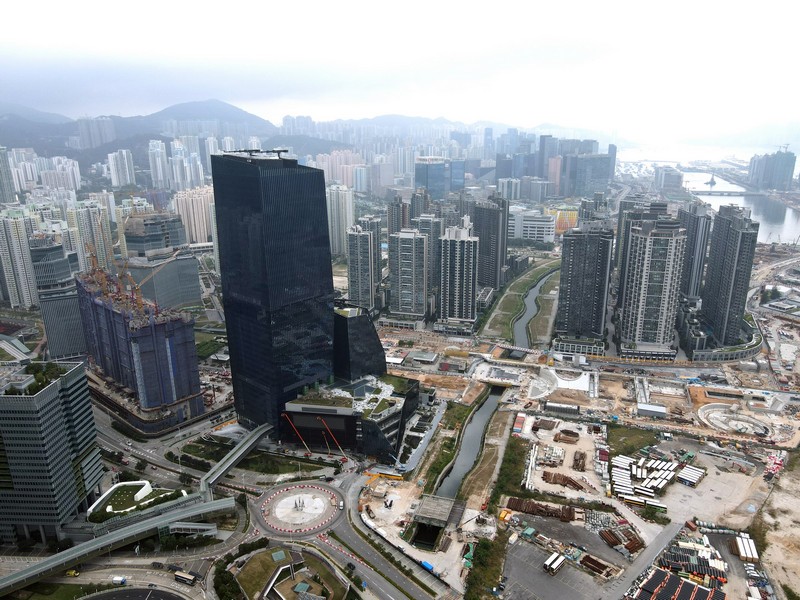 A New Green Landmark for the City
AIRSIDE is a 47-storey mixed-use development located at the heart of Hong Kong's CBD 2.0., comprising a 32-floor Grade A office and multi-storey retail complex. It is also a top-rated green and smart commercial development and neighbourhood.
The project is set to achieve exemplary environmental performance through passive design, energy-efficient infrastructure, and renewable energy system. Its high-performance façade system with solar and glare responsive design will reduce thermal transfer and air conditioning use.
Composed of fluted Triple Low E IGU glass, the gently curving façade not only is evocative of Nan Fung Group's textile roots but also it was the first time being extensively used in a commercial building in Hong Kong. This heritage is present throughout the project, from the interiors, the external, inclined geometric outline, to its landscape design.
Having attained the highest sustainability ratings with BEAM Plus New Building Platinum, LEED Platinum, Building Standard™ Platinum, BEAM Plus Neighbourhood Platinum, and CGBL 3-stars, the building will be one of the most environmentally-friendly landmarks in town.
Project Highlights: The Language of Architectural Outlines
Shading fins of different sizes are the highlight of this project. The tower facade of demountable aluminium fin features forms a weaving design, incorporating various depths of dimension to form gradual transition effects. This design is attached to the concave curvatures in the facade glass modules. The colourful media wall with LED facade lighting strips is also animation-friendly and dimmable.
In addition to being a design feature, the projection shading fins are tailor-designed with various depth projections at different orientations in response to solar gain and glare reduction. A testament to resilient design, the vertical shading fin takes safety into consideration to prevent the strip from collapse during a typhoon.
Another key design element of AIRSIDE is the curtain wall system, with concave curved glass arc units in the tower. Being a top brand in the global high end curtain wall business, Jangho was more than up for the challenges brought about by different concavities on adjacent unit panels each side of the curtain wall, as well as panels on the upper and lower floors.
Located in the tower lobby, the giant glass wall system consists of triple layers of ultra-clear laminated (low iron glass) made up of a single plate measuring 14.5 by 3 metres.
The area maximises natural sunlight from outside, creating a sense of warmth, peace, comfort and harmony. Aside from this expression of sophisticated architectural design, the team also considered the wall's detachability during the maintenance of the glass panels, reduced shaking at the end, and hid the lighting cables.
Furthermore, Jangho used computer programmes during parametric modelling to ensure flawless execution, complemented by advanced digital processing equipment and prefabrication methods.
Weaving the area's social and cultural fabric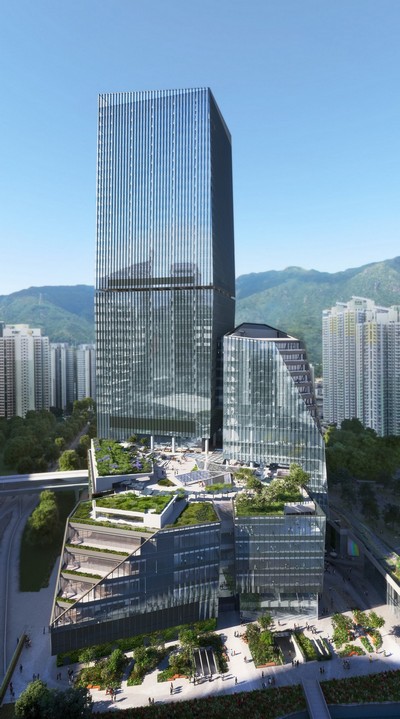 Nan Fung Group has made sure that AIRSIDE stays grounded in Hong Kong's rich history and Kai Tak's cultural legacy. To illustrate the idea of the city's wholeness in culture and heritage, the Group implemented a series of community engagement initiatives to ensure the project is well-integrated with the wider area's development, along the Kai Tak River, and in San Po Kong and Kowloon City.
Vanessa Cheung, Group Managing Director of Nan Fung Group said, "Nan Fung has always been committed to curating unique and authentic lifestyle experiences for Hong Kong, where we weave together the social and cultural fabric of an area through fresh new approaches to urban living. AIRSIDE will foster a new cohesion between the way we live and work—people will come to expand their horizons, both personally and as part of a community; it's also a place where professional connections can be made and businesses can prosper. We envision AIRSIDE to be a landmark destination that fully and thoroughly embodies wholeness."
Ahead of its opening, AIRSIDE has already been reaping accolades from the real estate industry, such as the Gold Award in "Best Futura Project" Category at MIPIM Asia Awards 2020, dubbed as the "Oscars of Asia Pacific real estate world".
Steven Au, Deputy General Manager of Nan Fung Group's AIRSIDE project said, "With the legacy of the former Kai Tak International airport, the new developments are designed to transform Kai Tak into a vibrant hub of heritage, commercial, residential, sports and tourism destination.
AIRSIDE embraces wholeness encompassing urban lifestyle, culture, wellbeing, and connection to nature through its architecture and building fabric. Nan Fung has seized the crossover opportunities with key stakeholders in the area to lay down a good foundation in supporting the social and sustainable development of our community and city through AIRSIDE." Rather than being a mere escape from the city's hustle and bustle, AIRSIDE is a place that embraces the interwoven elements of work, life, and well-being.