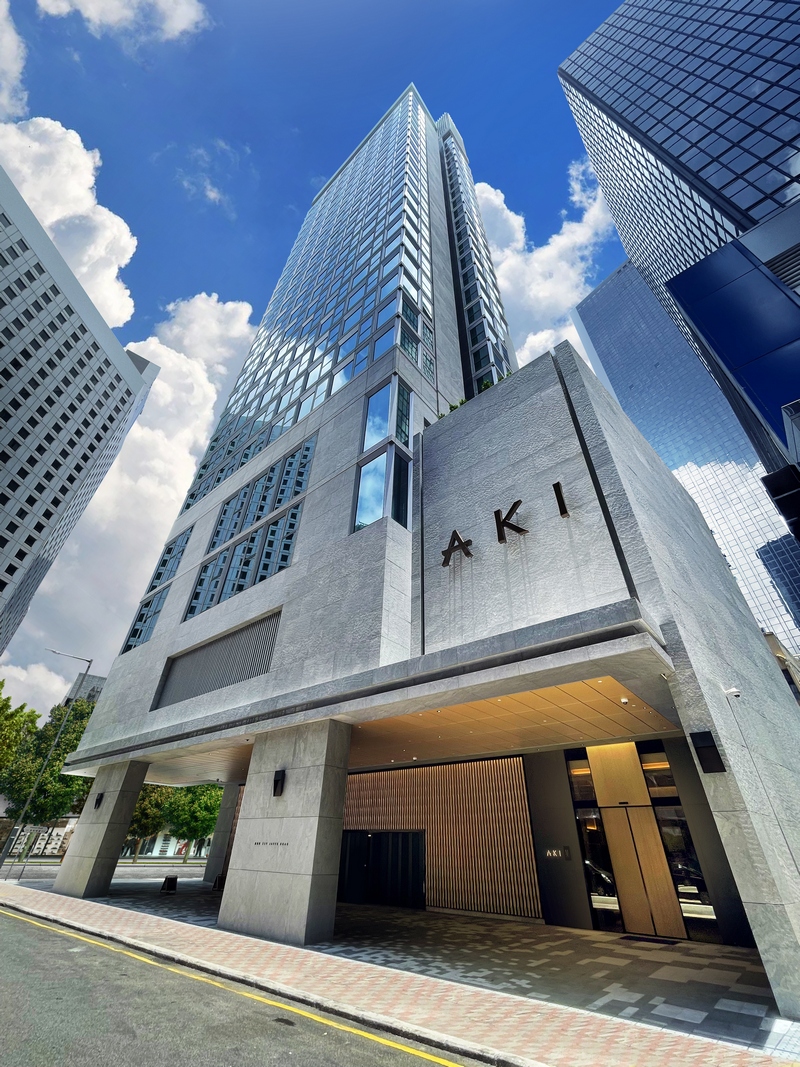 The MGallery Hotel Collection is delighted to announce the opening of its second hotel in Hong Kong – AKI Hong Kong – MGallery. The name 'AKI' means 'clear, bright crystal' – a reference to the hotel's glistening glass structure that shines above the streets of the vibrant multicultural district of Wanchai. The AKI Hong Kong – MGallery comes hot on the heels of recently opened The Silveri Hong Kong – MGallery, a chic, eco-friendly, urban resort hotel on Lantau Island. The new AKI Hong Kong will bring a singular story of the MGallery aesthetic to the visitors and residents of Hong Kong with its stylish, smart living design, on-trend dining concepts, and thoughtful opportunities for wellness and self-care rituals woven throughout the guest journey.
"Over the past two months, Accor has introduced not one, but two, incredible MGallery destinations in Hong Kong – a stunning achievement for our team and our partners," said Gary Rosen, Chief Executive Officer, Accor Greater China. "With the new AKI Hong Kong – MGallery and The Silveri Hong Kong – MGallery, we have every expectation that locals and travellers will absolutely fall in love with MGallery's characteristic way of balancing urban sophistication, moments of tranquillity, and trendsetting dining concepts. MGallery is ambitiously expanding across Greater China and around the world. We are inspired by the brand's growing popularity and look forward to bringing even more MGallery hotels to key destinations in Greater China in the coming years."
A discreet, stylish cocoon in the busy city, AKI Hong Kong – MGallery is a 10-minute walk from the chic shopping district of Causeway Bay and the Hong Kong Convention and Exhibition Centre. The neighbourhood of Wanchai is one of Hong Kong's most iconic and dynamic districts, rich in history, creativity, and multicultural influences. Nearby landmarks that are conveniently accessible also include the Hong Kong Arts Centre, Tamar Park, Wanchai Heritage Trail, and the many restaurants and bars of Lockhart Road.
"AKI Hong Kong – MGallery stands out as a glistening tower over the city, reflecting the cosmopolitan sophistication of Wanchai and drawing guests into a light-filled interior, shining with positive energy and exquisite experiences with a smart living concept," said Christophe Bataille, Complex General Manager, AKI Hong Kong – MGallery and Novotel Century Hong Kong. "The tatami rooms are exceptionally comfortable and a rare find in Hong Kong, while Uncle Ming's is positioned to become the city's most desirable high-altitude whisky bar. We can't wait to impress the city's food scene with our culinary team's tapas and Japas creations and the brilliant evening sake bar."
Guestrooms at AKI Hong Kong – MGallery are thoughtfully designed with a modern minimalist aesthetic, creating a natural, airy and chic retreat for each guest journey. Abundant natural light sweeps in through broad windows, most offering spectacular city views and some with amazing 270-degree panoramas of the Hong Kong cityscape. Lofty ceilings, natural wood tones, and artful mood lighting, contribute to the calming décor. All rooms feature premium king-sized beds, flat screen TVs and bathroom amenities from Malin+Goetz in biodegradable bottles. In a first for Hong Kong, AKI Hong Kong – MGallery offers 20 signature Japanese style tatami rooms – featuring sumptuous mattresses on tatami mat floors.
Designed as a low-energy consumption hotel, AKI Hong Kong – MGallery features a smart living concept and has equipped each of its 173 guestrooms with a tablet control panel for guests to adjust the blinds, curtains, and temperature to their own preferences. When guests are out of their room, the smart living function will automatically close blinds and shut off air conditioning to conserve energy.
Spanning an entire floor of AKI Hong Kong – MGallery, and inspired by the childhood puzzle game, TANGRAM restaurant gathers unique forms of cuisine and pieces them together to create a full picture of diverse, colourful and flavourful elements. Executive Chef Keith Chan oversees a multi-faceted range of interactive breakfasts and lively bento box lunches by day; and innovative small plates, international tapas and 'Japas' for dinner, with a buzzy evening sake bar at night. TANGRAM's open kitchen and diverse menus contribute to the restaurant's upbeat and social vibe, bringing people together for delectable feasts and joyful rendezvous.
Uncle Ming's Whisky Bar crowns the 25th top floor of AKI Hong Kong – MGallery as an iconic expression of Hong Kong: a house of light suspended above the city where visitors will experience the unexpected but delightful mix of an engaging whisky tasting experience, and a sparkling backdrop of skyscrapers, mountains, and harbour. The sommelier will guide guests through tasting rituals and an extensive array of more than 80 international whiskies including rare single malts, as well as sake, fine wines and champagne. Guests will adore this high-altitude hangout, with its private cellars for storing their favourite bottles and an indulgent menu of cocktails and light fare.
Other singular features of AKI Hong Kong – MGallery include a petite garden adjacent to the lobby, and an open, co-working space for a chance to plug-in and connect with the world of business. Up on the top floor, a 24-hour gym provides the opportunity for fitness with an inspiring view of Wanchai and Victoria Harbour, while the Lobby Lounge offers a healthy selection of fresh detox juices and organic foods on-the-go. In the evening, the lounge transforms to a quiet spot for enjoying a glass of wine.
AKI Hong Kong – MGallery encourages its guests to experience the dynamic local culture of Hong Kong. Hotel staff are happy to arrange signature Memorable Moments such as entrance to the horseracing event in Happy Valley which is wildly popular among locals, and where guests can have the chance to experience the spirited and social atmosphere of the racecourse.
Check ALL.com to explore exciting new experiences on offer at AKI Hong Kong – MGallery.