(10 May 2021, Singapore) The recovery in Asia Pacific commercial real estate investment activity gained pace across multiple markets in the first quarter of 2021, the latest Asia Pacific Capital Trends report from Real Capital Analytics showed. This follows from the final quarter of 2020 that proved to be a record quarter for many markets in the region.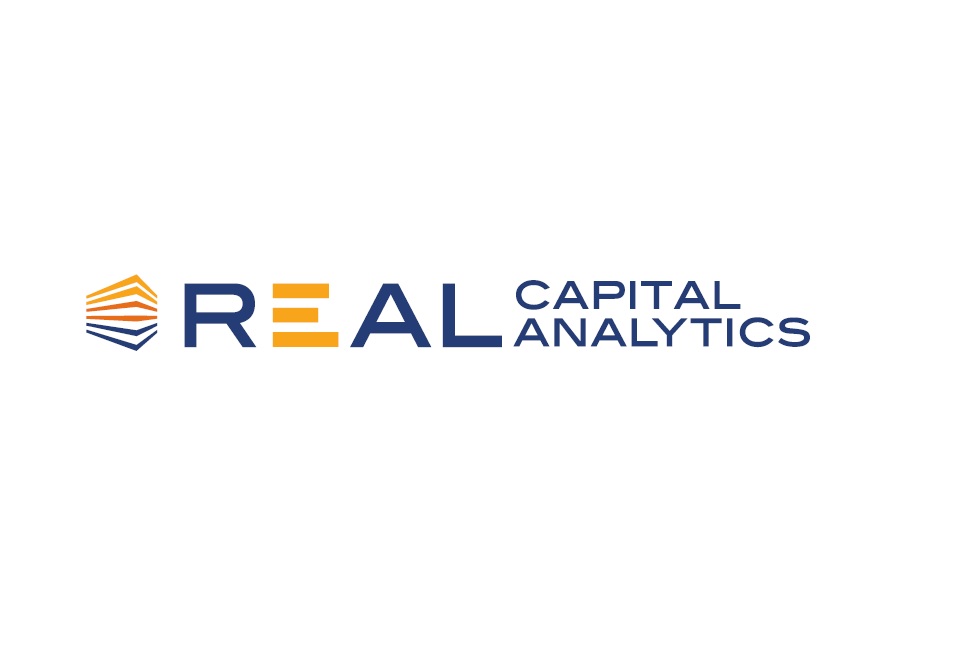 For Q1 2021, investment activity across the major income-producing property types slipped just 12% year-over-year to US$29.6 billion, with five of the largest eight commercial real estate markets posting higher levels of deal volume versus the first quarter of 2020.
China overtook Japan to emerge as the most active commercial property market in the quarter, registering transaction volume of US$8.0 billion, a 4% increase compared with the same period last year.
Hong Kong and Taiwan showed substantial double-digit increases, while activity in Singapore jumped by 200%. Japan was the largest drag on overall investment volume in the Asia Pacific region, with deal volume falling back to US$6.9 billion. South Korea deal-making also ticked down, after the country recorded record levels of annual activity in 2020.
David Green-Morgan, Managing Director for Asia Pacific, and Benjamin Chow, Head of Analytics, Asia, will discuss these trends and more in an RCA webinar on Wednesday 12 May, 1pm Hong Kong. Journalists wishing to join the webinar can register. Here
David Green-Morgan, RCA's Managing Director for Asia Pacific, said: "Commercial property sales in the first quarter are evidence of a recovery gaining ground across the Asia Pacific region. China emerged as the most active market, while momentum rebuilds in Hong Kong, Taiwan, and Singapore. While Japan was the weakest link, this masks the resilient performance in Tokyo, which saw robust cross-border investor appetite."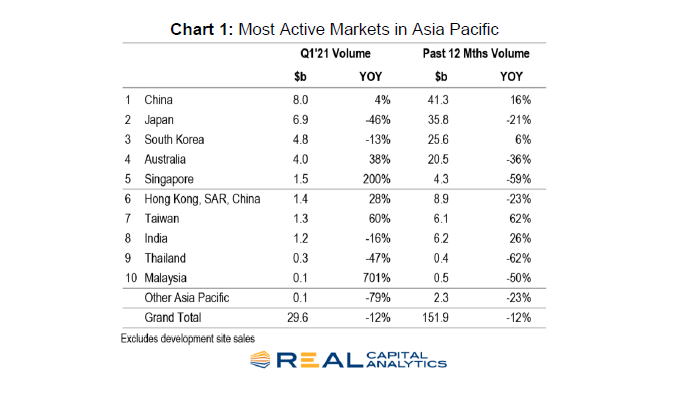 Retail Comeback Continues With Deal Flow at Pre-Pandemic Levels
Retail investment activity continued its comeback in the first quarter. Sales inched up to US$5.7 billion, a 2% increase compared to last year, and represented the second consecutive quarter where investment levels kept pace with pre-pandemic levels. The retail recovery coincides with pricing falls across several major markets, driven by retailers rationalizing their occupancies throughout the last 12 months. At the same time, the strong pandemic recovery in some of the major Asia Pacific markets has allowed normal retailer trading operations to resume, drawing investor attention. For example, shopping mall deal activity has surged by more than 80%, compared to the first quarter of last year.
Office deals were down to US$13.9 billion, an 18% year-over-year fall, while the industrial sector recorded the largest increase in quarterly deals, up to US$7.3 billion, a 5% increase compared to last year. In contrast to the retail sector, office pricing has not softened as much, which may explain the lacklustre quarterly deal flow. In China and Singapore, office price declines have been marginal, compared with the falls in the prices of local office REITs, while in Japan, prices only started to ebb towards the end of last year. By contrast, in South Korea and Australia, office prices have continued to rise.
The hotel sector remains the weakest sector. Volume has more than halved over the past 12 months as the number of deals has dried up. Since the beginning of 2020, around US$1.5 billion worth of hotel deals have fallen through, RCA data shows. In particular, deals in the South Pacific and Southeast Asia have almost completely evaporated. The hotel sector recorded US$1.6 billion in the first quarter, representing a 36% decline compared with the same quarter last year. Elsewhere, deal flow in the apartments sector fell 30% year-over-year to US$1.1 billion.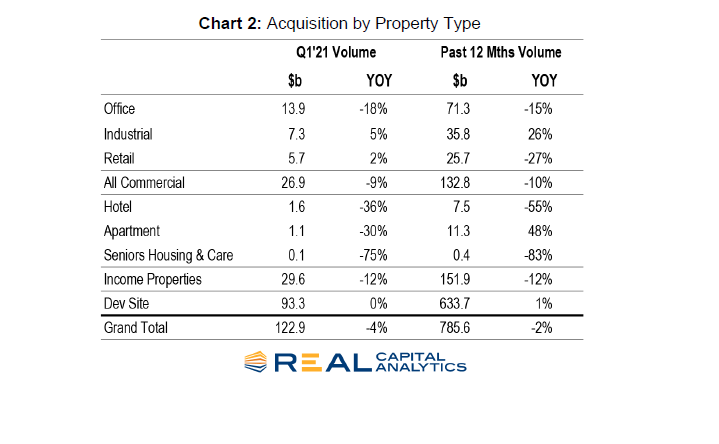 Hong Kong Shows Signs of Recovery as Office Deal Volumes Double
Hong Kong investment activity is starting to show signs of recovery after a slide in deal activity and prices caused by political unrest and Covid-19 challenges. Sales of commercial property rose to US$1.4 billion, a 28% increase compared with the same quarter last year. Office deal volumes more than doubled in the first quarter, compared to the same period last year.
Benjamin Chow, RCA's Head of Analytics for Asia, said: "While Hong Kong appears to be firmly in recovery mode, the trajectory of the recovery has been very gradual. Investment activity remains well below levels in 2016-18, but there have been some bright spots in terms of pricing. Yields of CBD shops have dipped once again, while office pricing in Kowloon has also bottomed out."
For more information, visit www.rcanalytics.com.