Atkins has won a contract to serve as lead consultant and master planner to help develop Asia Aerospace City (AAC) in Subang, Malaysia, into a world-class facility for the aerospace industry.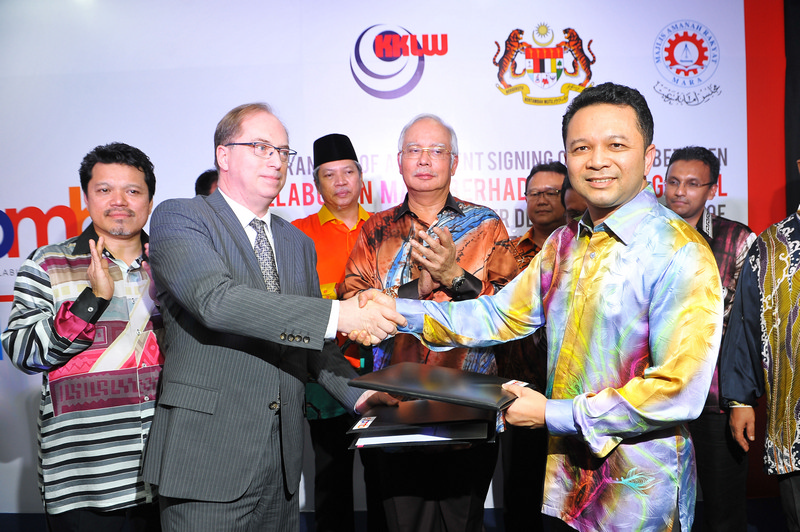 Shaking hands: [left] Atkins CEO of Asia Pacific, Chris Birdsong, and [right] PMB group CEO Nazim Rahman. Centre: Prime Minister of Malaysia, Najib Razak.
MARA (Majlis Amanah Rakyat, or People's Trust Council)—the 48-year-old Malaysian government agency responsible for education and entrepreneurship for the Malaysian population—hopes to attract global aerospace engineering business to the region; potentially worth $1 trillion by 2020.
The Atkins contract is with Pelaburan MARA Berhad (PMB), MARA's wholly owned strategic investment and asset-management company. PMB will serve as master developer for AAC, which will incorporate the latest thinking in urban planning and sustainability.
Atkins' CEO for Asia Pacific, Chris Birdsong, recently joined PMB Chief Executive Officer Nazim Rahman in a contract-signing ceremony attended by a number of Malaysian dignitaries—including Malaysian Prime Minister Datuk Seri Mohd Najib Abdul Razak and Rural and Regional Development Minister Datuk Seri Mohd Shafie Apdal.
"I am excited about this strategic project," said Birdsong. "Asia Aerospace City will directly benefit the local community, and it also lines up with the country's aggressive Economic Transformation Program—which calls for Malaysia to become a self-sufficient, industrialized nation by the year 2020."