(10 September 2018, Hong Kong) ATLAS, a leading full-cycle operator of Grade-A office buildings in central business districts ("CBD"), launches its first workplace in Hong Kong under the name "ATLASPACE". Located in The Gateway, Harbour City, ATLASPACE is currently the largest single-floor flexible office space in the Tsim Sha Tsui area, bringing multinational companies (MNCs) and small-to-medium enterprises (SMEs) tailor-made workplace solutions, with up to 700 workstations, 64 private serviced offices, premium concierge services, advanced technologies and comprehensive office amenities.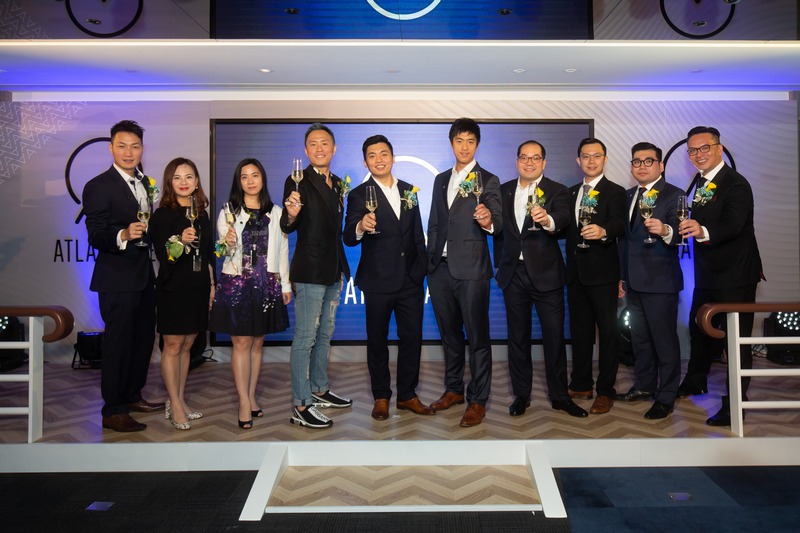 Strategic location and diverse offerings
ATLASPACE is committed to offering clients a strategic location to explore business opportunities and facilitate business growth. Tsim Sha Tsui is one of the most competitive business areas in Hong Kong. Recent studies show that vacancy rates of Grade A offices in Tsim Sha Tsui remained below 2% in the past three months and are among one of the lowest areas in Kowloon[1]. With the commissioning of the Guangzhou-Shenzhen-Hong Kong Express Rail Link, Tsim Sha Tsui is expected to become the more preferred location for enterprises seeking business opportunities. By establishing a centre in Harbour City, ATLASPACE is well-positioned to facilitate clients to secure a presence in Kowloon CBD.
To meet the dynamic needs of different enterprises and to help them improve employee satisfaction, ATLASPACE is designed with high-quality offerings to encourage people to collaborate more – within a company as well as a community. Improving work-life balance and satisfactions at work is a keen emphasis. Apart from multiple fully functional meeting rooms and co-working area, ATLASPACE is also equipped with amenities such as Magic Hub (private room for relaxation) and fully-staffed Lounge Bar, which helps to foster new dynamic opportunities for a variety of workplace activities, ranging from intense and focused work, to spontaneous discussions and meetings. ATLASPACE's monthly pricing start from HK$8,000 per workstation for private serviced office and co-working membership starts from HK$3,000 per month.
Ambitious expansion across Asia Pacific
"We look at ATLASPACE's launch in Hong Kong as the first of many achievements for ATLAS in establishing our regional footprint. There is a lot of scope for growth in this market and we aim to build up our leading position by introducing innovative and high-quality products to serve the requirements of MNCs and SMEs. In China, in addition to workplace products, we also offer 'Living Space' services to our members including fitness centres, indoor golf simulators, F&B services and ATLAS branded coffee and beer offerings. We are looking into expanding some of the 'Living Space' elements in the Hong Kong market for our members to fully experience our 'Wonder, Wander, Work' philosophy" said Chen Sze Long, Chief Executive Officer of ATLAS.
"We currently operate 22 projects in Asia including 18 projects in Hong Kong and Mainland China – Shanghai, Beijing, Guangzhou, Shenzhen, Hangzhou and Xi'an, as well as four projects in Vietnam. Our total gross floor area is approximately two million square feet. In January this year, we received funding from PAG Real Estate and Goldman Sachs, which represents a major milestone that enables us to further grow our business. The long-term strategic investment will support our expansion plans along the One Belt One Road development and enhance our presence in China and overseas markets."
Supporting industry leaders; delivering a competitive edge
Targeting full occupancy within the first six months, ATLASPACE has attracted prominent MNCs and SMEs from a variety of industries, including finance, beauty, retail, art & culture and more. By leveraging the innovative solutions, flexible workplace offerings and customization, ATLASPACE is able to help clients resolve their workplace challenges so that they could focus on growing their businesses.
At the same time, ATLAS offers accessibility and connectivity across its wider network in the Greater China, propelling clients to expand their businesses as well as taking the lead in a volatile, uncertain, complex and ambiguous business environment. Hong Kong is the gateway for further expansion into Southeast Asia, ATLAS will bridge Greater China and Southeast Asia.
[1] Hong Kong Property Market Monitor – July 2018 (http://www.jll.com.hk/hong-kong/en-gb/research/367/2018-property-market-monitor-hkg-jul-2018)
For more information, please visit www.atlasworkplace.com.