(5 October 2016, Hong Kong) DTZ/Cushman & Wakefield, a global leader in commercial real estate services, revealed that in Q3 the overall office rent in Hong Kong has edged upward for the seventh consecutive quarter since Q1 2015, but the pace was a mild 0.2% up from Q2, indicating that rentals are close to the ceiling. Meanwhile, the fall in high street rentals narrowed further amid some level of rebound in tourist volume.
Office rents continued to rise in Greater Central, but the increase at 0.3% to a monthly effective rent per sq ft at HK$118.73 (HK$132.4 for Prime Central) was the smallest quarterly growth recorded this year so far, indicating that Greater Central rentals are about to stabilize. Due to released stock, rents in Tsim Sha Tsui saw the biggest quarterly drop (1.6%) among all districts, while Kowloon East rentals had gained 0.5% from Q2 thanks to decentralization.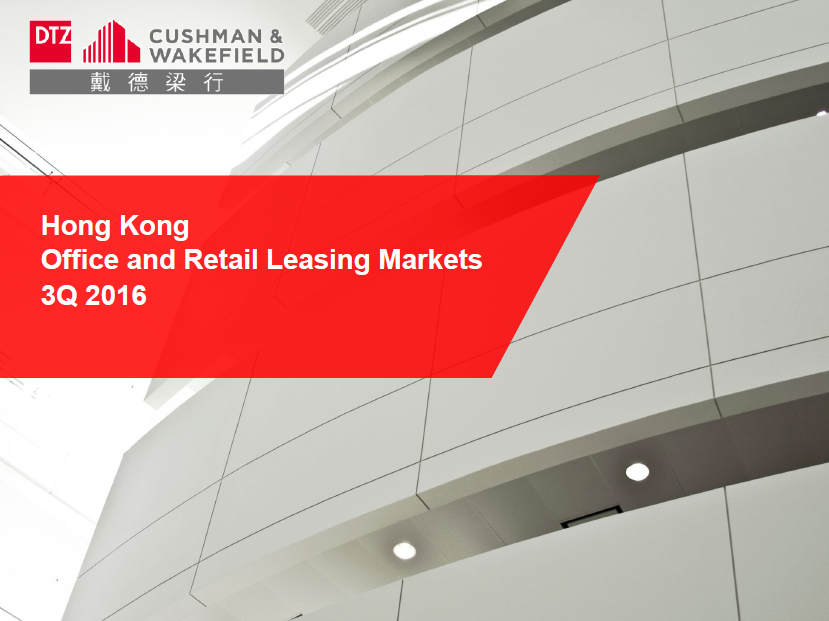 The overall availability rate remained unchanged at 6.4% in Q3, but a clear pattern emerged of rising availabilities in core submarkets such as Greater Central, Wanchai/Causeway Bay and Tsim Sha Tsui and falling availabilities in the decentralized submarkets of Kowloon East and Kowloon West. The force of decentralization led by MNCs was witnessed by the large negative absorption in all the core districts – Greater Central and Tsim Sha Tsui in particular – and positive absorption in Kowloon East, Kowloon West and Hong Kong South, as represented by Pacific Basin Shipping taking 30,580 sq ft at One Island South and Manulife expanding with 31,300 sq ft at Manulife Financial Centre. Mr Andy Yuen, DTZ/Cushman & Wakefield's Senior Director of Office Agency in Hong Kong, explained, "Weary of the uncertain prospects of the global economy, MNCs are more cost-conscious and they eye business space in non-core areas regarding their plans of consolidation or downsizing."
In stark contrast was the demand from PRC companies, which made up 100% of the major new lease in Greater Central this quarter, most notably Huarong International Financial Holdings and Agile International Group both taking up space in Admiralty. Mr John Siu, DTZ/Cushman & Wakefield's Managing Director, Hong Kong, commented, "PRC company tenants have high expectation of their offices in Hong Kong and only those prime buildings in Greater Central could meet that expectation. These companies remain aggressive in securing spaces at their preferred buildings. This will underpin the rental growth for Greater Central in general in Q4, although the growth is expected to be tapered."
For the retail market, the visitor volume showed signs of improvement in July with a month-on-month increase of 17% in the total volume, and a 22% increase in Mainland tourist volume. In August both figures grew again, with the Mainland visitor volume returning to the level in January 2016 at more than 4 million. The year-on-year drop in Mainland visitor volume from January to August (9.2%) have also improved from that during January to May (11.8%). This is expected to bring relief to retail sales, as those of jewelry & watches and electrical goods continued to struggle while the sectors of medicines & cosmetics and food were stable, based on the year-on-year comparison of sales figures from January to August.
Despite the lukewarm performance of the retail market, the drop in high street shop rents in Causeway Bay, Tsim Sha Tsui, Central and Mongkok narrowed further in Q3, with a drop of 2.2% to 3.5% from the last quarter, compared with a quarterly decline of 3.6% to 5.1% in Q2.
Mr Kevin Lam, DTZ/Cushman & Wakefield's Head of Business Space, Hong Kong, commented, "In terms of rental correction, our forecast remains that retail rents would fall within 10% in H2 2016, but in Q3 we can see that some high street rents are close to the bottom. Given the vacancy in key areas, such as the prime streets in Causeway Bay, is extremely tight, retail operators are already scouting for prime shopfronts regarding their business plan next year. This could mean that high street rents will begin to stabilize as early as mid-2017."
Meanwhile, the rent of food and beverage spaces appeared to have reached the peak as rents in Causeway Bay, Tsim Sha Tsui and Mongkok all had a slight drop of 0.4% to 1.5% from Q2, while F&B rents in Central was flat. Mr Lam said, "F&B operators are turning their eyes to non-core areas, especially decentralized residential areas with a stable demand, in the hope of achieving the dominant market share there. This would give a way out for F&B operators in face of tough competition in prime, core districts with much higher F&B rents."