Co-organised by the Hong Kong Green Building Council (HKGBC) and BEAM Society Limited (BSL), the BEAM Plus Certificate Presentation Ceremony 2022 was successfully held on 8 December 2022. This year, 112 projects have been certified with BEAM Plus.
(按此瀏覽中文版)
Since 2010, BEAM Plus has been Hong Kong's leading initiative to offer independent assessment of building sustainability performance. The number of certified projects increases year by year, reaching its new height. Besides, with support from property owners and management companies, the number of certified properties under BEAM Plus Existing Buildings has grown substantially. These certified properties have demonstrated that their sustainability performance has met or even exceeded the assessment requirements. Some of the projects have adopted innovative designs, significantly reduced carbon emissions and enhanced the environment for the wellbeing of occupants.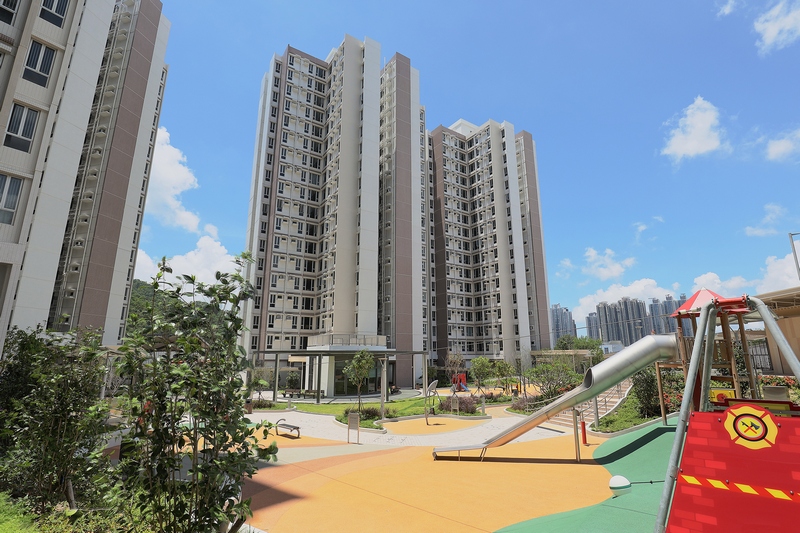 In the light of increasing public awareness about green building, HKGBC and BSL are committed to listening to stakeholders' views and implementing enhancements to the rating schemes. In particular, the two organisations have put in great efforts to facilitate over 42,000 existing buildings in Hong Kong to participate in BEAM Plus, helping them go green and save energy. Since the implementation of the BEAM Plus Existing Buildings Volume Certification scheme, 298 real estate properties and 11 property management companies have participated. The streamlined assessment process facilitates applicants to assess the sustainability performance of multiple existing buildings in a faster and more economical manner, synergising corporate sustainability policies across buildings. Apart from the flexibility in obtaining certification, the certified properties also implemented a series of new measures to improve building energy efficiency and environmental performance.
To further widen the spectrum of BEAM Plus, the Council and BSL jointly launched "BEAM Plus Existing Schools Version 1.0" at CIC – Zero Carbon Park in October this year – Hong Kong's first and foremost assessment tool designed to rate the sustainability performance of school premises. Funded by the Hong Kong Jockey Club Charities Trust, three schools in Hong Kong have joined a pilot testing programme to ensure the rating tool was practicable in the local school settings. More than 120 schools will then undergo assessment to evaluate the greenness of their management and the school premises. The launch of the Existing Schools rating tool pioneers green building rating for primary and secondary schools in Hong Kong, advocating green building and sustainability to the next generation.
To promote green finance, more and more banks in Hong Kong are running green mortgage programmes for residential properties buyers. By adopting BEAM Plus Gold and Platinum ratings as the criterion for green residential properties, at least eight banks in Hong Kong are offering preferential loan terms to buyers of green properties. With the support from the banking industry, BEAM Plus is gaining wider recognition from the general public and will continue to reach new heights in the future.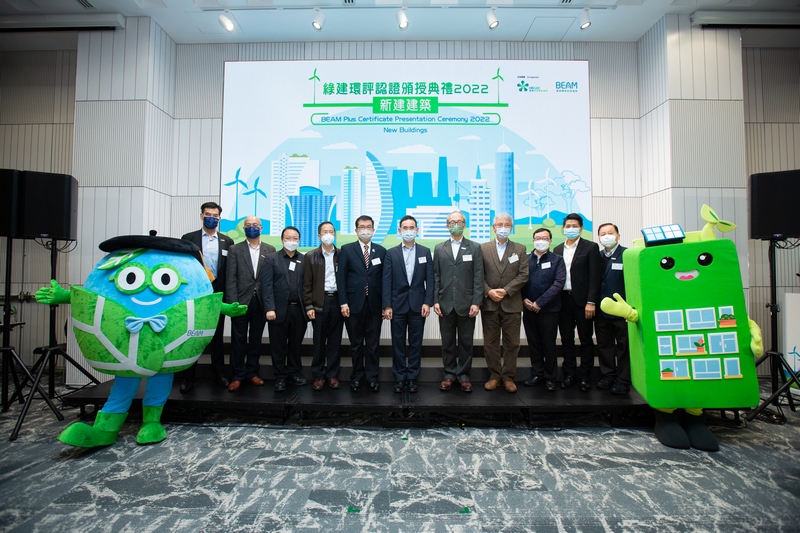 In support of the Government's advocacy for a more sustainable built environment and to strive to achieve carbon neutrality before 2050, special awards have been presented since last year's ceremony to recognise projects that have outstanding performance in reducing carbon emissions and using renewable energy. This year, we are pleased to see that projects are achieving deeper degrees of decarbonisation, and one public sector project is able to act as a "powerhouse" that generates significant surplus electricity for the power grid. Besides, two new awards, namely the most active participation in BEAM Plus New Buildings and the most active participation in Existing Buildings Volume Certification, have been added this year to recognise organisations' enthusiasm in repeatedly joining BEAM Plus and thus creating higher numbers of green buildings.
As of now, there are around 2,200 registered BEAM Plus projects, covering a Gross Floor Area exceeding 73 million sq. m., equivalent to the total pitch area of 7,500 Hong Kong Stadiums. The expected environmental benefit is a saving of 1.4 billion kilowatt hours (kWh) of electricity annually.
For the list and details of BEAM Plus certified projects, please visit beamplusceremony2022.hkgbc.org.hk.