Grand Lisboa Palace Resort Macau is the newest milestone development of SJM Resorts, S.A. (SJM) in the Cotai district, and also the latest integrated resort of the widely-recognised Lisboa brand.
Inspired by the monumental European buildings of the Neoclassical to Belle Époque periods and traditional Chinese motifs, the resort celebrates the grand union of the best from East and West as it honours the legendary, cross-cultural heritage of Macau.
Continuing the Lisboa brand's dedication to perfection, the resort sets a new, elevated standard of hospitality excellence, with close to 1,900 rooms and suites across three distinct and exciting hospitality propositions: the five-star Grand Lisboa Palace Macau, Asia's first Palazzo Versace Macau, and the world's first THE KARL LAGERFELD. It is also the very first integrated resort in the world to house two fashion-branded hotels under one roof.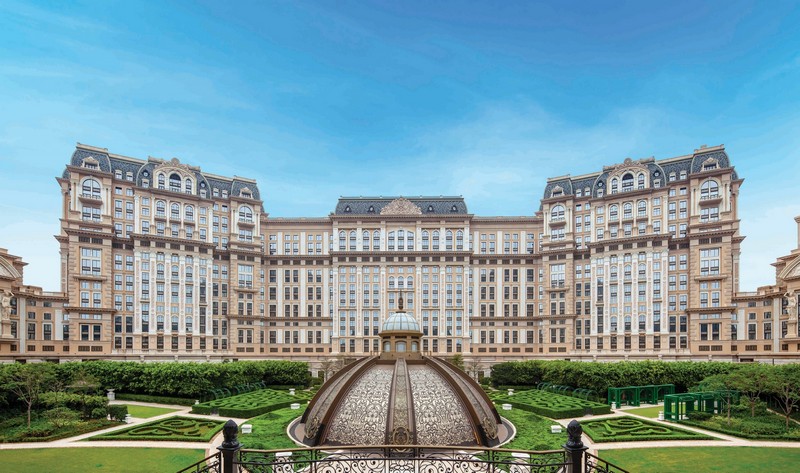 Resplendent and indulgent
Renowned worldwide for his aspirational, cosmopolitan and cutting-edge approach to style, fashion icon Karl Lagerfeld's visionary aesthetics and ethos extended beyond clothing and accessories to interior design, furniture, photography, and even sculptures.
Discover his unrivalled creativity and rock-chic attitude in a lavish and unique blend of Chinese and Western aesthetics at THE KARL LAGERFELD, the world's only hotel tower with the interior entirely designed by and bearing the name of the fashion legend.
Karl Lagerfeld's lifelong fascination with design and style runs through the interiors of THE KARL LAGERFELD, combining bold colours and patterns with tailored silhouettes and an incomparable vision. Entering the lobby, guests are met with a reception wall covered with over a thousand keys, inspired by the movie The Grand Budapest Hotel (2014), forming a unique KARL Kameo artwork.
Throughout the hotel tower are custom-made Chinese-style porcelain vases, handmade in Jingdezhen, with the tallest one standing at 3.5 meters high in the hotel lobby. Their unusual proportions represent Karl Lagerfeld's sophisticated reimagining of modern Chinoiserie via traditional craftsmanship.
Every aspect of the 271 rooms and suites at THE KARL LAGERFELD showcases the designer's inimitable style, from specially commissioned furniture to circular room dividers inspired by traditional Chinese moon gates. The Chinoiserie-inspired room décor, such as eye-catching cherry blossom wall designs, blends effortlessly with Western art deco elements, embodying Karl Lagerfeld's contemporary residential sensibility and distinct aesthetic vision with absolute hospitality and style.
The Spa at THE KARL LAGERFELD on Level 3 of the hotel tower fuses fashion, luxury and beauty into a one-of-a-kind experience that reflects the world of Karl Lagerfeld in unconventional dark and gold tones. Across six elegant treatment suites, guests can enjoy therapies that focus on prevention rather than cure, using science-based, precision products from award-winning skincare brand 111SKIN in their Macau debut, for an exclusive spa experience unlike any other.
For guests seeking further relaxation, the temperature-controlled indoor and outdoor swimming pools offer an oasis of style and well-being, with décor incorporating overscale traditional Chinese elements and custom mosaics. In addition, the Gym combines Karl Lagerfeld's rock-chic aesthetics with advanced cardiovascular Technogym® equipment, where guests can train their stamina in an invigorating environment.
The Spa at THE KARL LAGERFELD reflects the fashion legend's unrivalled creativity and singular vision. Black marble and gold mosaic touches blend stunning elements of Chinese and Western Art Deco throughout the spa, interweaving Karl Lagerfeld's signature modern flair into an environment that induces a true state of relaxation and beautification.
Barr+Wray is responsible for providing the interior design layouts for the spa's wet areas, which are beautified with black marble and gold mosaic touches. Drawing on his passion for the charm of minimalism, Lagerfeld's aesthetic vision for the spa was to sensitively blend elements of traditional Chinese and European Art Deco design. Bearing his signature modern flair, the spa's six treatment suites offer a unique spa experience that fuses fashion, luxury and art to induce a state of relaxation, for guests to enjoy inspirational face and body treatment services.
On completion of its engineering consultancy services for the hotel's spa, Barr + Wray secured contracts for the supply and installation of equipment including fully ozonated vitality pools, saunas, steam rooms, ice fountains and steam shower within the VIP treatment suite.
Experts in Everything Water
Standing on Asia's premier gaming destination on reclaimed land between the islands of Coloane and Taipa, Grand Lisboa Palace Macau offers a total of 1350 contemporary designed guestrooms with 27,000 metres of gaming zone that accommodates more than 1,000 tables.
In addition to its casino, the hotel is renowned for its state-of-the-art, The Spa, located on the 5th and 6th floors. At this elegant destination for health, beauty and wellness, the rich Chinoiserie interiors exude an aura of luxury refined, interwoven with subtle Baroque and Chinese design elements that reference the long tradition of Sino-Western cultural exchange in Macau. Equipped with 14 private treatment rooms lavishly accented with white gold mosaic wall tiles, the facility provides a relaxing sanctuary for guests to enjoy personalised facial treatments and therapeutic massages that incorporate luxury skincare technology from France.
Barr+Wray was responsible for providing interior design layouts for the spa's wet areas together with engineering consultancy for the wet areas, VIP steam showers and the health club. As well as delivering engineering consultancy for the spa and health club, the company was approached to supply and install equipment including fully ozonated vitality pools, UV treated spa pools, 4 saunas, 4 steam rooms, 2 ice fountains and 3 Vichy steam showers.
Dubbed the "experts in everything water" Barr+Wray has established a strong presence in the pool and spa business around the region, since its establishment a decade ago. Targeting the region's hotel and casino resort sector, the company specialises in both the design planning and subsequent installation of steam, sauna, ice and refreshment thermal experiences. Barr+Wray's brand-named clients hail from all over the world.