(9 March 2022, Hong Kong) CBRE Hong Kong announced today that it has been awarded Gold Rating under WELL V2 Pilot Certification Scheme for its office in One Pacific Place by the International WELL Building Institute (IWBI). WELL V2 Pilot Scheme is one of the latest and premier building standard which focuses on enhancing people's health and well-being through the buildings where we live, work and play.
Opened in May 2020, the CBRE Hong Kong office in One Pacific Place, Admiralty, conceptualizes a unique City & Park design theme and features activity-based working (ABW), which enables every employee to do their best work, supported by well-thought-out designs and technologies. The office also incorporates several pioneering features including the CBRE prop tech app HOST and Host Guest Ambassadors, workplace wellness, employee engagement walls, and CBRE's signature RISE Café operated by leading purveyor and roaster The Coffee Academics. Inspired by Hong Kong's unique traits — a blend of fast-paced life fused with nature — the CBRE Hong Kong offices feature plant walls, a lily pond garden, libraries, focus areas, team areas for individual focus work, team collaboration and client meetings, as well as leisure and networking.
CBRE One Pacific Place office is one of the two projects that has been given the final WELL V2 Pilot Gold Rating, out of approximately 187 that have been registered in Hong Kong.
When we started the journey of reimaging our new workplace, we took a bold approach to bring to life CBRE's vision for the future of work, and the approach has paid off. We are proud to demonstrate new ways of working to our clients as well as elevating the client and employee experience to new heights", said Tom Gaffney, Regional Managing Director, CBRE Hong Kong. "WELL is a globally recognized gold standard that encourages companies to enhance employee health and well-being. This WELL Certification not only showcases CBRE's commitment towards keeping employee health and wellness as our topmost priority, but also reflects the company's determination of leading by example for the future of healthy and employee friendly workplaces", continued Mr. Gaffney.
Created through seven years of rigorous research and development working with leading physicians, scientists, and industry professionals, the WELL Building Standard is a performance-based certification system that marries best practices in design and construction with evidence-based scientific research.
CBRE Hong Kong office earned the distinction based on ten categories of building performance — Air, Water, Nourishment, Light, Movement, Thermal Comfort, Sound, Materials, Mind and Community — and achieved a gold level rating. The office has done particularly well in several areas including Air Quality, Nourishment and Construction Materials owing to the installation of the Indoor Air Quality (IAQ) monitors to monitor the real time IAQ data of the office, the healthy food options provided by the office's own RISE café and food vending machine, in addition to the LOW VOC emitting materials installed during the construction process.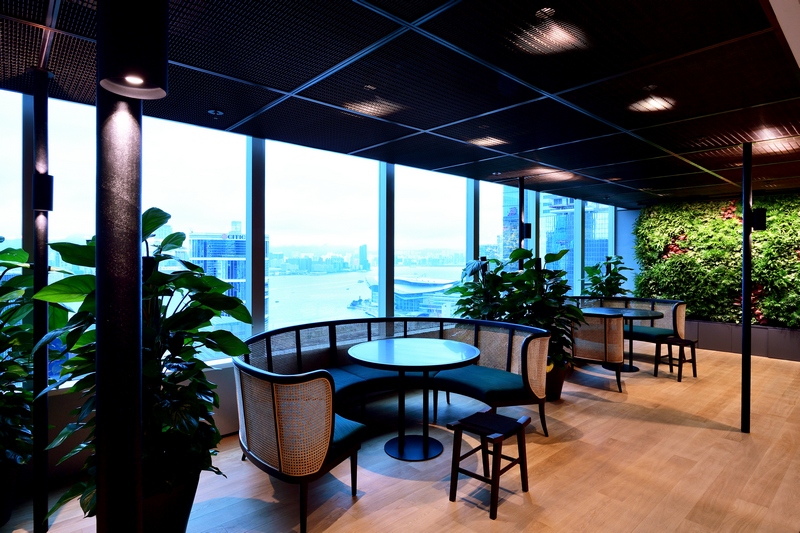 "Health and wellbeing represent key indicators for employee retention, engagement and productivity. It will continue to be an integral part of design and operations as we see new waves of issues. WELL certification offers a holistic framework that passively improves our workplace by focusing on our people, extending efforts beyond traditional corporate programmes and delivering preventative solutions that support our physical and mental health, and allows for 100% participation. As real estate professionals, it is important we recognize this, lead the market and practice what we preach," Róisín Murray, Workplace Strategy and Ideation Lead, CBRE Hong Kong.
"With ESG playing a much more prominent role in how companies operate, it is imperative for companies to consider getting both LEED/BEAM and WELL Certification, playing their part in contributing to a more sustainable environment as well as improving employees and occupiers' health and wellness," said Shashank Gangil, Sustainability Manager, Property Management, CBRE Hong Kong.
WELL is grounded in a body of evidence-based research that explores the connection between the buildings where we spend approximately 90 percent of our time, and the health and well-being impact on the people inside these buildings. To be awarded WELL Certification by IWBI, CBRE Hong Kong office underwent rigorous testing and a final evaluation carried out by Green Business Certification Inc. (GBCI), which is the third-party certification body for WELL, to ensure it met all WELL Certified Gold performance requirements.
In 2021, CBRE Hong Kong supported Goodman, Hong Kong's leading industrial logistics and business space provider, to achieve WELL Health Safety Rating for its portfolio of ten industrial buildings. This achievement is a first for the Hong Kong logistics sector. The team is also currently helping some technology companies achieve WELL V2 Certification for their new offices.