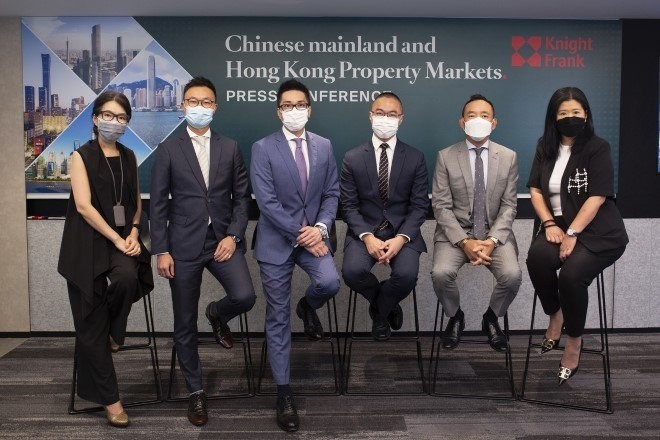 At a press conference held in Knight Frank Hong Kong office this afternoon, Thomas Lam, Executive Director, Head of Valuation & Advisory, Antonio Wu, Head of Capital Markets, Greater China, Patrick Mak, Executive Director, Head of Kowloon Office Services & Head of Tenant Representation, Greater China, Wendy Lau, Executive Director and Head of Hong Kong Office Services, Martin Wong, Director, Research & Consultancy, Greater China, and Helen Mak, Senior Director and Head of Retail Services, presented their forecasts for Hong Kong and Chinese Mainland's property markets for 2021.

Chinese mainland residential market:
Martin Wong, Associate Director, Research & Consultancy, Greater China
With the rapid economic growth in Chinese mainland, higher government infrastructure investment, and the acceleration to develop high-quality urban projects, it is expected that the overall housing demand will remain strong this year. As residential property prices in leading mainland cities have been heating up in the past few months, the central government is starting a new round of regulatory measures to curb the property price upsurge. It is expected that the growth in home prices will gradually slow down in the second half of the year. In 2021, home prices in first-tier cities will increase by 4-6%, while that in other cities will increase by about 2%.
In the Greater Bay Area, property price growth in Guangzhou and Dongguan temporarily lead other GBA cities this year, with a year-on-year increase of 9%. Developers in Hong Kong and the mainland remain optimistic about the prospects of GBA. In 2021, it is expected the land sales auction amount to reach RMB 800 billion, a new high since the establishment of the GBA. Residential property prices in the GBA will continue to outperform other mainland cities by rising 5-8%.
Hong Kong Residential Market:
Thomas Lam, Executive Director, Head of Valuation & Advisory
As the COVID situation and unemployment rate are improving, the housing market is booming, we anticipate the residential supply, construction volume and completion volume are likely to meet the target this year. We believe the total residential sales will reach about 60,000-62,000 transactions this year. The supply of first-hand private residential flats for the coming 3-4 years is around 82,000, 12% lower than the government's estimation of 93,000.
Currently the home prices are 2.2% down from the peak in 2019. Recently, the first-hand residential sales have been booming, reflecting that buyers' purchasing power remained. We believe this good momentum will carry on and spread to second-hand market. The property market performs better than our expectation, the home prices are expected to increase by 0 to 3%. As for luxury property market, prime prices are less likely to be affected by the unemployment rate and affordability, hence price prices are expected to increase up to 5%. Overall, we expect property prices ranged from 6 to 10 millions and super luxury homes to outperform. While the completion of nano flats will drop after 2022 which may be impacted by the recent relaxation to mortgage rules.
We estimate that the government's land sales revenue for the 2020/2021 fiscal year will be approximately HK$100 billion, a sharp rise of 40% from last year. Whether the target can be achieved would depend on the market responses to Central Harbourfront sites.
Hong Kong and Kowloon Office Market:
Wendy Lau, Executive Director and Head of Hong Kong Office Services
Although vacancy rate of Grade-A office buildings in the core area of Central did not deteriorate further in April, vacant office space in non-core business areas continued to rise this month. As for rents, the high vacancy rate puts a certain pressure on rents, with rents trending downwards. We expect Grade-A offices on Hong Kong Island to fall by 5-10% this year. Although some office buildings still record high vacancy rates, with COVID-19 pandemic gradually easing, and the economy picking up, investor confidence has been restored, and the unemployment rate has fallen. We believe the overall Grade-A office rents on Hong Kong Island will stabilise in the second half of this year. We are confident that Grade-A office rents on Hong Kong Island may rebound in the first half of 2022 and increase by 1-3%.
The pandemic has affected the global economy and business activities. Companies generally put cost savings, operational efficiency, and provide flexible working environments and lease terms as the top priorities. Nevertheless, we have discovered some new trends in the office market. Under a low rent environment, many companies have opted to "re-centralise", improve the building specifications of office buildings, consolidation, or start to increase headcount due to the decline in the unemployment rate and reconsidering the expansion of office space, I believe the above factors will help the vacancy rate drop to some extent.
Patrick Mak, Executive Director, Head of Kowloon Office Services & Head of Tenant Representation, Greater China
Despite the Kowloon Grade-A office rent falling in 1H 2021, cost-optimisation and downsizing are still the main theme for Kowloon office occupiers. Centralised Kowloon office vacancy rate reached a historical high and rent faced tremendous downward pressure with more vacancy looms in and a weakening demand. For decentralised Kowloon, office vacancy rate and rent remained stable and supported by relocation demand from Centralised Kowloon.
There is limited Grade-A office supply scheduled for this year but there will be abundant Grade-A office supply to be introduced in 2022 & beyond. The upcoming supplies are mainly located in decentralised Kowloon. We expect the Kowloon office market rent to stabilise in 2021 with a growing rate of COVID-19 vaccination in 2H 2021.
Capital Markets:
Antonio Wu, Head of Capital Markets, Greater China This year, Hong Kong's Covid-19 vaccination programme began at the beginning of the year, and the pandemic has slowly eased. Investors have regained confidence and market sentiment has improved. In the second quarter of this year, the investment market recorded of HKD 35.77 billion of transactions, which has reached 60% of last year's total. It is expected that this year's entire year will reach 90 billion dollars of transactions, a sharp 50% increase from last year, but whether this can be achieved depends on the opening up of borders. If borders open in the fourth quarter of this year, I believe it will attract many Chinese investors into the market, we hope that the investment transactions can be restored to the level before COVID-19.
As for the performance of various types of properties, industrial buildings (especially data centres and warehouses) benefited from the pilot scheme for land premiums with standard rates and retail properties attracted by rents that have stable returns performed best. I believe the transaction value of these properties will be on a par with last year, or even surpass last year. As for office building investment, strata title properties with lower price tags will be more popular with investors than en-bloc properties.
Hong Kong Retail Market:
Helen Mak, Senior Director, Head of Retail Services
Affected by Covid-19, total retail sales in 2020 dropped by nearly 25% YoY. Among them, luxury goods recorded the largest decline, with sales reached only HKD 30 billion, compared with nearly HKD120 billion luxury goods sales in 2013, a 75% decline. Based on the projections of retail sales in the first three months of this year, we conservatively estimate total retail sales this year will reach HKD 360 billion. If borders reopen successfully in the third or fourth quarter of this year, it is believed that there will be more room for growth in retail sales, especially luxury goods, cosmetics and medicines that are popular with mainland tourists. However, retail rental this year is still facing downward pressure, especially for retail properties with a slightly larger area or traditional flagship stores. In Central and Queen's Road Central, where luxury brands have always chosen to set up shop, nearly 15 storefronts were vacated in the past year or so. Since the number of visitors has dropped significantly after borders closed, the retail industry in Hong Kong has been severely hit, and the take-up rate has slowed down. Only in recent months have three of these shops been leased by new tenants. We expect Hong Kong's retail industry to continue to face challenges, but the retail street shop tenant mix in the core area of Central is being adjusted. It is believed that the retail tenants mix will be diversified, changing the retail landscape of Central.