(4 October 2018, Hong Kong) The Construction Industry Council (CIC) organised the Inaugural Asia Pacific Regional Building Information Modelling (BIM) Group Meeting and Forum on 26 – 27 September 2018 in Hong Kong with the support from the Development Bureau, Architectural Services Department, Hong Kong Geographic Information System Association, Hong Kong Housing Authority, Smart City Consortium, The Hong Kong Institute of Building Information Modelling and West Kowloon Cultural District with a view to explore the BIM implementation in the Region.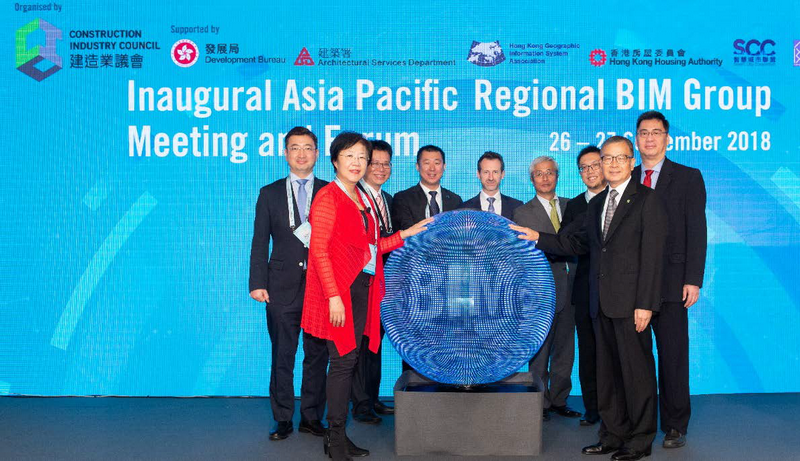 Mr. CHAN Ka-kui, Chairman of CIC, and Ms. Ada YS FUNG, Chairperson of Committee on BIM and representatives from European Union/ United Kingdom, Japan, Korea, Macau, The People's Republic of China, Singapore, Thailand and Vietnam officiated at the formation ceremony of Asia Pacific Regional BIM Group. Chairperson of Committee on BIM, Ms. Ada FUNG representing Hong Kong, has been appointed as the chairperson of the first term of the Group
Ir HON Chi-keung, Permanent Secretary for Development (Works) has also attended the forum. He introduced the development of BIM in Hong Kong and mentioned that we have already entered the era of digitization, it is necessary for industry stakeholders to adopt technology and innovative methods, such as BIM to enhance productivity and quality of the works.
Mr. CHAN Ka-kui mentioned that the CIC strives to promote construction safety, productivity and sustainability in Hong Kong. The forum resonated well with the CIC's innovation and technology agenda, that is, bringing together global and local BIM talents for advancing BIM related technologies to address the challenges faced by the construction industry in Asia Pacific Region.
Ms. Ada FUNG believed that the Asia Pacific Regional BIM Group would become a good platform for various economies of Asia Pacific Region to share their valuable experiences and motivate wider adoption of BIM in their economies. She hoped that the economies of Asia Pacific could leverage on each other's competencies and join force to bring BIM development forward. Hong Kong could act as a collaborative hub to get more economies in the region to involve and build rapport for long term success for everyone in the Asia Pacific Region.
BIM and related technologies is a new tool to holistically manage information relating to real estate developments and construction projects from planning to design, from tendering to construction and operational stages. The adoption of BIM is now a non-reversible global trend amongst the construction industry. In recent years, an increasing number of countries mandated the use of BIM to improve the productivity of their construction industries and economies.
For more information about BIM, please visit http://www.bim.cic.hk.