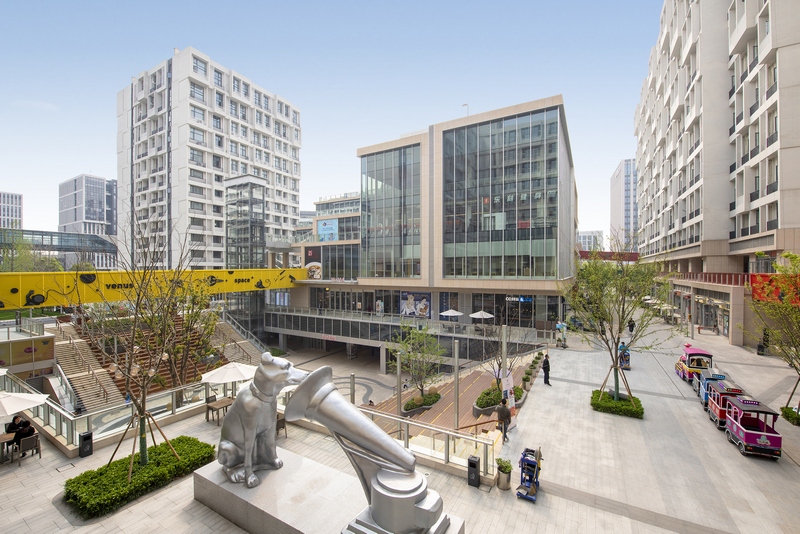 Consider what drives our world and you might logically conclude that it's infrastructure. But keep drilling down and you'll come to a realisation that connection and community are the real engines of humanity. Infrastructure is an enabler and, if its done right, will shape hubs that are self-sustaining miracles of ingenuity.
(按此瀏覽中文版)
Transit-oriented development (TOD) is the art and science of creating high-traffic, pedestrian-friendly, mixed-use areas around transport infrastructure, such as rail. This is a holistic approach that incorporates planning, design and construction to boost public transit ridership, walking and cycling, and includes commercial and residential real estate, within a liveable community.
In the extremely population dense urban clusters of China's biggest cities, innovative concepts and approaches such as TOD are demanded when creating the arteries that will come to define commerce and communication for generations. Leigh & Orange is behind some of the best of these rail-based, transport hubs.
Connected thinking
Leigh & Orange (L&O) has been continuously involved in the design and development of railway and infrastructure projects, undertaking works for MTR Corporation and the Kowloon-Canton Railway Corporation over the past three decades. L&O's master planning for projects in Hong Kong, mainland China and further afield has created a portfolio of works that integrate transport networks with mixed-use developments.
Stations are the point where transport networks connect with places. Well-designed stations have an elevated role connecting people and communities. They enhance and improve the quality of life and movement of traffic throughout a railway network. They create new connections and opportunities.
A landscaped courtyard with retail and amenities space has helped forge a seamless connection to the underground rail at Xiangyuan Road Station, on Hangzhou's Metro Line 10. The 2019 project with a GFA of 111,700 square metres by L&O for Zhejiang Vanke Narade Real Estate was across a site area of 27,300 square metres.
Notably, the project was based on the thinking that infrastructure could be used more efficiently if cultural and event spaces connected with the existing context and new developments. This idea of engagement with the community has driven the creation of a sports playground, roof garden, urban farm and communal facilities at different levels up from basement level 1. Above the 43,400-square-metre basement retail and car park are four, 50-metre tall office blocks among 68,300 square metres of aboveground commercial space.
In Southern China, the Future Times development is helping build out the ambitious Qianhai New District, the emerging financial centre west of downtown Shenzhen. The setting here is relatively more open, on a site abutting a metro maintenance depot.
Unlike the work in Hangzhou, Future Times relies more on nature to draw people to infrastructure. The project uses the concept of a multi-dimensional "green carpet" to seamlessly connect the site with its surrounds. Accentuated by event spaces and programme, the green carpet is a strategy to provide breathing space and public realm for the future financial district.
Not due for completion until 2024, the project's GFA of 544,800 square metres includes offices, serviced apartments, a hotel, retail space and housing.
Future Times Phase 2B will extend the layers of green space, weaving green corridors between the planned architecture, including schools, through a basement courtyard and roof gardens, before they meet in a "Green Heart" at the centre of the "Central Park".
Within this Central Park a collection of low-density building typologies is designed for different office and commercial uses, including midrise offices, office villas, stand-alone retail pavilions and a basement retail street.
Part of the fabric
The design of railway stations and the infrastructure related to them is a key part of L&O's design expertise.
The most recent addition to the company's portfolio is Hin Keng Station on MTR Corporation's Shatin-to-Central Link. Operated just about a year ago, the above ground station sets new standards for an open, elevated railway station in Hong Kong by integrating solutions for functionality, sustainability and aesthetics.
The station's 5,000-square-metre green roof can recycle, conserve and supply water to the vertical greening elements that helps it merge into the surrounding natural hilly and wooded terrain. The generous openings at the roofline and elevations enable optimal natural lighting and cross-ventilation.
While sustainable landscape design, public art and other visual flourishes are important, the technical details of any transport-oriented project go a long way to determining its success.
Other high-quality access points to transport that bring people into the public realm are the Lei Tung Station and South Horizons Station on the MTR South Island Line (East).
The work at Lei Tung Station was technically challenging. At 60 metres below ground, the station is one of Hong Kong's deepest, built to serve a housing estate situated on a hill. The work here had to meet multiple demands: improve transport and increase pedestrian flows within the estate, and create new access to and from the estate.
Approaches to the station are boosted by using high-speed, high-capacity lifts to move people through, and there are pedestrian subways beneath arterial roads that slice through the neighbourhood.
Community connection is a crucial part of the design of the South Horizons Station, where the art of local students decorates a mural on the platform level, or where a glass façade is used to reflect the skyline nearby.
The takeaway
If the concept of layering the capillaries that feed these transport arteries sounds like history repeating, you'd be right: trade and the marketplace sprang up in human prehistory, market towns were a formal arrangement in the Middle Ages, and urban agglomeration was accelerated by the Industrial Revolution. But these processes have taken time to evolve. Creating a textured development quickly, one that releases the value in the community's investment in infrastructure, can be complex.
Planners need a comprehensive understanding of the systems and economics at play within cities. Mastery of transit and infrastructure design, zoning, and an understanding of urban regeneration tactics are key, in addition to core competencies such as architecture and master planning. Where it's done well, the World Bank says a multi-disciplinary approach to TOD includes other professions and enables cities to prioritise inclusion and resilience. In a world clamouring for resources, this sustainable approach takes the lessons of the past and makes for a brighter future.