(19 July 2016, Hong Kong) The property market weathered a difficult period during H1 2016, with challenges faced in the stock market, RMB depreciation, weak economies and most recently Brexit in June.  According to Colliers' latest property research and forecast report, Hong Kong's property market has been slow and shown a lack of clear direction following the deceleration of Hong Kong's economy in the first half of 2016. That said, Hong Kong property has emerged generally unscathed with the exception of the retail sector indicating there is light at the end of the tunnel, albeit within a shifting market place.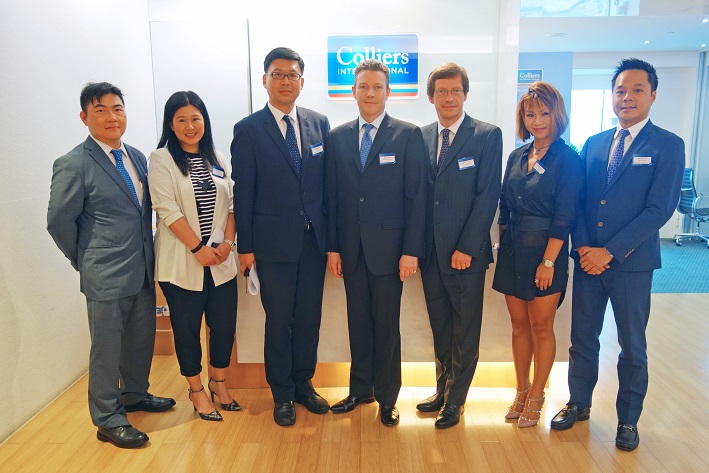 "We have seen the number of investment transactions over HK$100 million has dropped by 44% compared with the same period last year. Rental values have moved as forecasted with the exception of the luxury residential market, as MNCs cut back on expatriate packages. Capital values have declined but not as much as expected due to a very loose monetary environment", said Daniel Shih, director, Hong Kong Research and Advisory.
The recent Brexit is creating opportunities for Hong Kong and APAC property markets, especially in the residential sector as it has been under pressure for adjustment the most. "The result of the EU referendum will probably lead to further downward pressure on the already very low global bond yields, increasing the relative attraction of the current 3-6% yields on core investment property," said Andrew Haskins, executive director, Asia Research and Advisory.
Speaking at a Colliers' press conference today, Nigel Smith, managing director, Hong Kong said, "Office net absorption has weakened due to the uncertainties in the global economy.  With local economy decelerated to 0.8% in Q1 2016, home price corrections continue and have decreased 10% from their September 2015 peak."
"Retail sales remain sluggish putting further pressure on rents allowing some retailers the rare opportunity to lease iconic stores in prime locations.  Following the end of industrial building revitalisation scheme, we expect the market will be driven by end users in the future.  Leasing momentum for warehouse space remained weak with yields likely to rebound as prices soften," Smith added.
The following summary from Colliers International Hong Kong Property Research and Forecast Report Q2 2016 highlights the findings and projections for below property sectors:
Office Market
 Amid uncertain economic conditions, weaker net absorptions were observed across major submarkets. Grade A rents continued to grow underpinned by the tight vacancy environment. Relocations, consolidation and downsizing led the leasing activities and contributed to the weaker absorption. Colliers expects the overall rental growth to stabilise in the second half of 2016.
Residential Market
 With negative real interest rates persisting and the pace of interest rate increases likely to slow, the Hong Kong residential market has stabilised in Q2 2016 despite growing economic worries over Brexit. Colliers forecasts home prices would experience a soft landing of 10-15% in 2016. Given the severely stretched affordability, local home prices could fall by 30% or more over the next three years if China's economy continues to decelerate further. In the leasing perspective, increasing global risks will weigh on the luxury residential sector. Colliers predicts luxury residential rents to fall 5% in 2016.
Retail Market
Challenges in the Hong Kong retail sector remains with the strong Hong Kong dollar, weakening Chinese tourist arrivals and changing tourist consumption pattern further squeezing sales across the board. Some international brands seize the opportunity of falling rents to lease iconic stores in prime locations with the purpose of increasing brand awareness. On the other hand, mass market retail brands, such as fast fashion, activewear and cosmetics, as well as overseas food and beverage operators, have become more active in looking for space. However, these tenants cannot afford rents that established luxury brands can, thereby putting further downward pressure on rents. Colliers predicts rents and capital values of prime street shops will decline further in 2016, down a total of 10% and 24% respectively. Colliers expects that investors seeking yield continuing to show interest in mass-market shopping malls, and recommends owners of retail properties to explore new retail concepts and try to attract a broader mix of tenants.
Industrial Market
Thanks to the rebound in commodity prices, the slowdown in Hong Kong's total export moderated in Q2 2016. However, leasing demand was still under downward pressure amid weakening logistics demand as global shock exacerbated. From the sales perspective, the revitalisation scheme for industrial buildings ended in March 2016 (exemption for conversion to data centre) should restrain the investment demand for wholesale conversion. Colliers predicts industrial property yields to edge up further with softening prices in the second half of 2016.