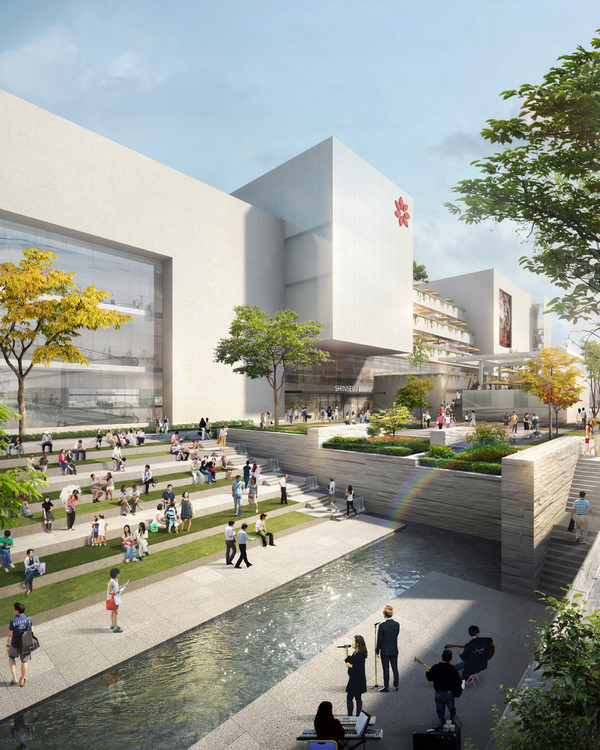 Known as one of the premier world-class brands in South Korea, Shinsegae has begun construction on the nearly 145,000 m2 Kimhae Center located in South Gyeongsang Province, South Korea.
Designed by The Jerde Partnership, the new centre integrates outdoor culture and community spaces with five levels of retail and entertainment, along with major transportation facilities.
As one of the largest multi-use retail centres in the province, Kimhae Center combines three major project components: an on-site bus terminal, which is directly connected to a Shinsegae shopping centre that includes new-to-market tenants and intimate seven-screen cinema; and an adjacent E-Mart discount anchor.
The bus terminal has completed construction, and pilings for the commercial centre recently started. The centre's signature community spaces incorporate a large outdoor public park and entry plaza at street level, terracing café decks along the upper levels, and a rooftop Sky Park garden.
Reflecting the elite brand of Shinsegae, Jerde created a modern design that blends with multiple open spaces to enhance connections to the local Kimhae landscape and culture. The multi-level retail centre's clean, contemporary architecture is sculpted to provide distinct visibility along the main Kimhae-daero highway and parallel metro line.
On the opposite side along JEONHA-ro, the project's main entry is highlighted by a new community park designed with a minimalist aesthetic, including horizontal banding and patterned concrete, floating elements with warm lighting, outdoor seating, and geometric landscape. The park also has a sunken cultural event space composed of a public amphitheatre, performance area and serene water features.