(5 July 2018, Hong Kong) —— Cushman & Wakefield, a global leader in commercial real estate services, today released a special report titled, "U.S. – China Trade Tensions – Potential Impact on China's Commercial Property Markets". According to the report, U.S. – China trade relations have become increasingly heated in recent months, with both sides threatening to up the ante by adding new products to be hit with import tariffs.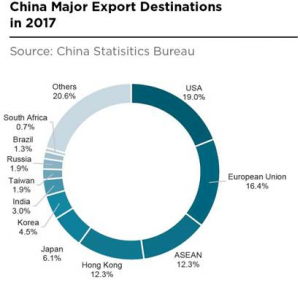 Since the first measures were announced, several rounds of high-level talks between the two sides resulted in an agreed ceasefire in May. But no sooner had the rhetoric between the world's two largest economies cooled somewhat, in mid-June the U.S. proceeded with previously announced tariffs on US$50 billion worth of "industrially significant technologies" from China. There was an immediate retaliation from China with levies on an equal amount of U.S. exports to the country. Trade tensions continue to escalate at press time, with the U.S. potentially targeting US$200 billion worth of Chinese imports and China's Ministry of Commerce announcing it is considering "quantitative and qualitative" countermeasures that reportedly could hurt American businesses in the country.
Where the current trade row leads cannot be predicted with any degree of certainty, as high level discussions among senior policymakers on both sides are ongoing and the situation remains highly fluid. With real estate being a pillar of the global economy and linked to a host of industries in both China and the U.S. affected by trade frictions, what could be the impact on commercial property and investment in China? This report indicates that the property market in China could stand to see a wide variance of impact, from minor to significant, with the degree of any possible hit hinging on how leaders on both sides progress in ironing out critical trade differences.
Sabrina Wei, Head of North China Research, Cushman & Wakefield, said, "Though China's property market is likely to be highly resilient to trade penalties and able to withstand a high degree of friction, it could see significant negative impact should a full-blown trade war break out."
James Shepherd, Managing Director of Research, Greater China, Cushman & Wakefield, said, "As China loosens certain policies that would benefit foreign investors, we do not anticipate U.S. investors and developers of real estate will be singled out and treated any differently than other foreign players even in the event trade disagreements escalate."
Kevin Thorpe, Chief Economist and Global Head of Research, Cushm.an & Wakefield, said, "A trade war would be very damaging to China's economy if the U.S. stopped buying, it would also be very damaging to the U.S. economy. The result would be much fewer immediate options and much higher prices in the U.S., both of which ultimately hurt most U.S. consumers and businesses. For the U.S. and China, the trade war scenario is a no-win situation."
This report examines some of the practical effects on the office, retail and industrial property sectors in China stemming from an increasingly heated trade dispute with the U.S. It also looks at the potential impact on real estate investment and outbound capital flows from China into U.S. property markets, as well as the trade challenges for China in the larger macroeconomic backdrop.