(June 2021, Hong Kong) From July, Hong Kong residents will be able to shop at the award winning Danish design brand, Normann Copenhagen's vast collection of designer furniture, lighting and home accessories. Normann Copenhagen is opening a mono-brand store in coveted furniture retail destination, Queen's Road East, Wan Chai, where the brand aims to challenge conventional thinking and make the ordinary extraordinary through great designs. Established in 1999 by Jan Andersen and Poul Madsen, the Normann Copenhagen brand encompasses a wide and continuously growing collection of furniture, lighting, textiles and home accessories. The products are sold in more than 83 countries throughout the world and have collected more than 80 design awards along the way. For Normann Copenhagen's team of in house designers, sustainability is always front of mind when it comes to creating original products that are aesthetically appealing and highly functional, whilst minimising any negative impact to the planet. The brand ensures quality, responsibly sourced materials are manufactured in an environmentally-friendly way to produce products that will last a lifetime.
This is the designer's third Asian investment in the span of just two years, after a successful opening in the capital of the Philippines, Manila, in October 2019 and in Guangzhou, China in December 2020. Normann Copenhagen identified that the desire for Scandinavian design has increased exponentially in Hong Kong over the last few years, rising to popularity to its emphasis on contemporary design, sleek lines, the use of high-quality sustainable materials, and their proportional construction, making them a perfect fit for Hong Kong's compact and efficient living spaces.
As the heart of Hong Kong's vibrant lifestyle and business district, Wan Chai was deliberately chosen for the location of the flagship store, where it will appear at home amongst like-minded international designer fashion and furniture showrooms. The new 2,000 square ft. store is designed to convey the values of the Normann Copenhagen brand to Hong Kong's affluent residents, who are among the
wealthiest in the world. The interior, carefully selected by Normann Copenhagen's creative team, is intended to quench the thirst of the city's design focussed residents for furnishings that radiate luxury and status while reflecting the ambience of Hong Kong's more compact living spaces.
Normann Copenhagen's CEO and co-founder, Poul Madsen, made the following statement about the firm's heightened engagement in the Greater-China market:
"The Greater-China market is well known to us, and we have over the recent years noted an increasing interest in Danish design among the expanding middle to upper class. With the opening of the two new franchises at key locations in Hong Kong and Guangzhou, we now have the opportunity to position the Normann Copenhagen brand directly in front of our consumers. It's been important for us to find a local partner with a deep knowledge of the market and who is closely networked with local professionals, which we believe can open many doors for us. At the same time, it was important for us to collaborate with our partner Instant Services, whom we have confidence in because we share the same vision for Normann Copenhagen."
Ken Tam, Managing Director of Instant Services Hong Kong also added "As Scandinavian furniture continues to be one of the most popular interior design trends, we see Normann Copenhagen as a brand with great potential to thrive in Hong Kong. Their modern interpretation on Scandinavian design with emphasis on minimalism and ergonomics is what makes them a perfect fit for the city's living spaces. In addition, the brand's selection of sustainable and all-natural materials aligns with Instant Services' corporate vision of environmental consciousness."
Getting to know Normann Copenhagen Normann Copenhagen's expert team of in house designers and engineers have amassed a wealth of over 20 years of experience which has resulted countless innovative designs. To understand the DNA of the brand, the following hero products from over the years are the ones you need to know:
Form Chair
In record time, Form has become one of Normann Copenhagen's most popular designs. The name Form reflects the designer ́s inspiration drawn from the design of chairs throughout history. With a soft silhouette that merges with a rigid frame, Form is Normann Copenhagen's idea of the perfect chair.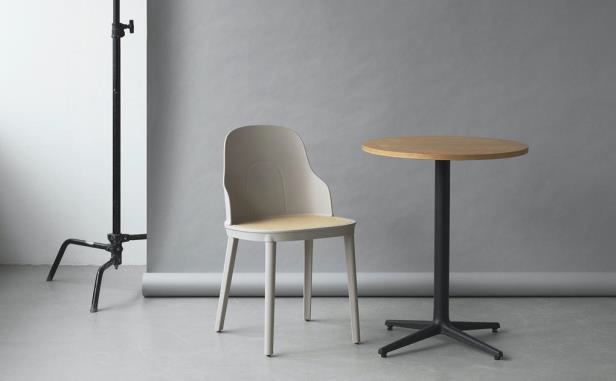 Allez Chair
Normann Copenhagen's latest collection was several years in the making and resulted in the brand's first component- based chair, based on a 'knock down' principle and made in pure polypropylene for both indoor and outdoor use. The Allez chair invites you to take a break from a hectic urban lifestyle, where space is often limited and mobile design is key.
Hyg 2-Seater Sofa
Hyg is an exclusive lounge series, inspired by the Danish concept of "hygge". Hygge is all about feeling good – security, warmth and comfort all form part of its DNA, and it is precisely these qualities that provide the template for Simon Legald's Hyg lounge series. Soft lines and encircling contours create a cozy and pleasant space. Hyg is made for "hygge".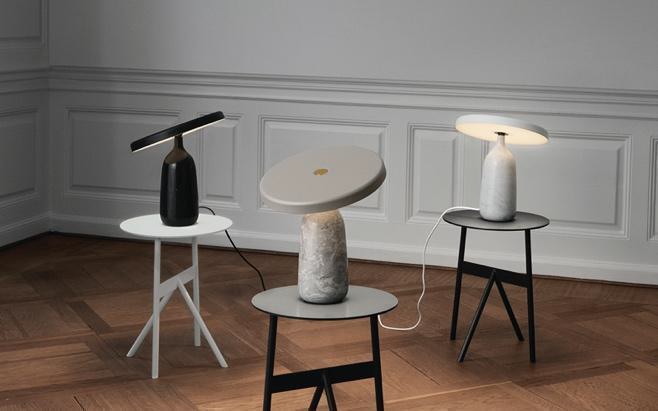 Eddy Lamp
Eddy, the table lamp, is an art of proportion: an airy shade floats above a weighty, organic base, creating a design in balance and motion. Steel and marble make up the main elements, while golden shimmers of brass put the dot on the 'i' on this atmospheric lamp.
Amp Lamp
Inspired by the glow emitted from the tube amplifier of an old 60's radio, Amp is characterised by its high-quality materials of glass and marble that add a visual fragility and sensuous heaviness. A sophisticated range of lamps, Amp has a nostalgic and at the same time, contemporary feel.
Little Bird
Little Bird is a range of irresistible decorative figures designed by designer Jan Christian Delfs. Inspired by his family, the six different sizes in the range each represent a particular character in the family. The simple, but expressive, design represents a well-balanced mix of purity, abstraction, minimalism and, not least, cuteness.