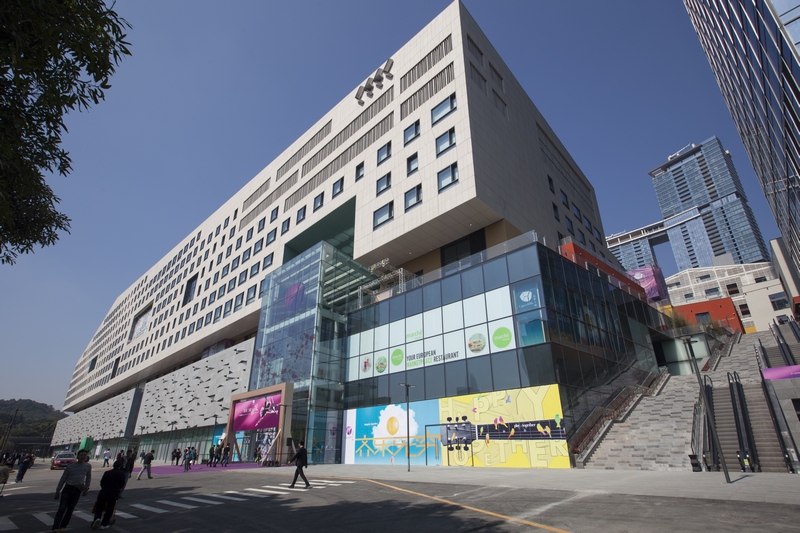 Set to bring a retail buzz to Shum Yip Land's Shenzhen development, UpperHills, ARQ's Hong Kong office, led by Peter Brannan, was responsible for the exterior and interior design of the retail mall and the exterior of the retail podium. The project, situated in north Futian District in Shenzhen, is part of a mixed-use development that marks Phase 2 of Science Valley (Kezhigu).
Occupying a site that measures 96,266 square metres in area, the development consists of retail, offices, a 5-star hotel, and SOHO lofts with a total floor area of 831,830 square metres. With construction completed at the beginning of 2018, the retail element of the project covers a total floor area of 167,000 square metres spanning five stories over 27 metres.
Comprising three distinct components – The Centre, The Galleria and the Town – the retail element is organised across five interconnecting levels. Each level boasts its own unique characteristics, designed to relate and integrate harmoniously with each other horizontally and vertically.
"The project comprises a retail mall, a luxury retail street and a retail village on the roof of the podium. Each strata is designed to complement the other, without diluting each component's strong individuality, character and purpose," explains Brannan. "Each one offers a distinctly different retail component to provide a unique retail experience and destination in Shenzhen," he adds.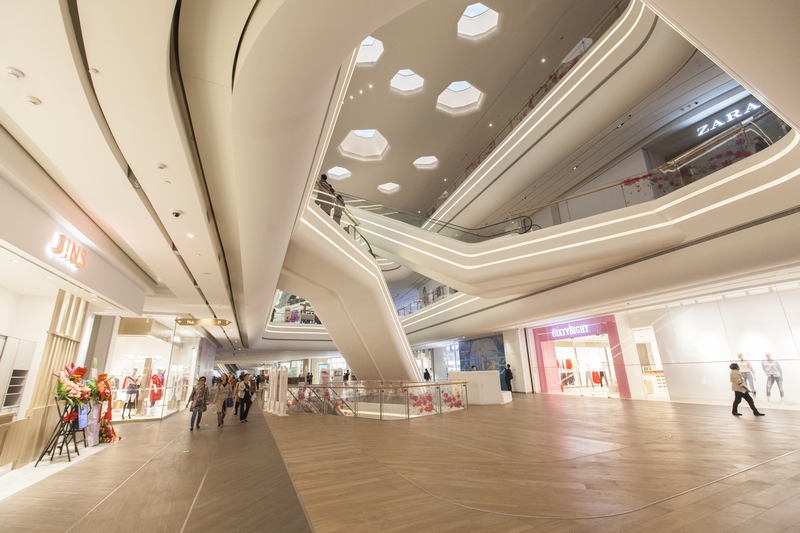 The Centre is the largest of the three components and contains quality up market retail in a fully air-conditioned environment. The key tenants Global Miami-headquartered architectural firm, Arquitectonica (ARQ) has unveiled its latest project in China Defining a new retail paradigm include a large department store, supermarket, food court, multiplex cinema with IMAX theatre as well as several major apparel brands. Connected directly to the Metro, bus terminus, car park, two offices towers, the hotel, The Galleria, The Town and SOHO, The Centre offers maximum footfall and irrigation.
One of the design features is a series of interconnected trapezoidal shaped spaces that provide a clear, distinct circulation path. Angular shapes also provide visual interest and allow maximum visibility to all tenant shop fronts. Within each space is a void which provides natural light from the prominent skylights above. These work to allow for vertical circulation, and visual and physical connectivity to all floors.
The stunning skylights are designed to provide optimum and non-obstructive utilisation of the plaza spaces above. A central space at level one provides a focal point and a venue for exhibitions, seasonal promotions and festivities. Modern in character, The Centre comprises interior spaces awash with light monochromatic tones that combine natural and manmade materials designed to provide a young, fresh and dynamic feel.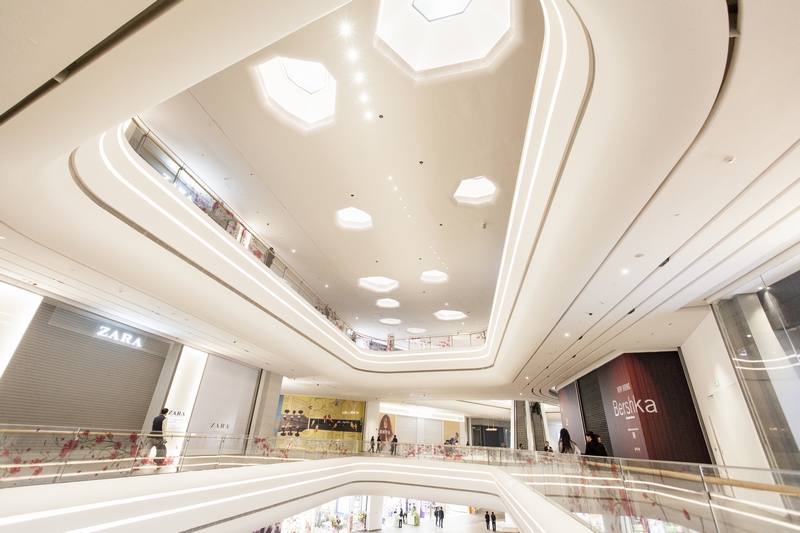 Complete with the Street
Moving through the development, The Galleria sets a benchmark in luxury retail and offers an elegant two storey external street presence at Level Two which is served by two dedicated dropoff plazas complete with valet parking facilities. The West Plaza is shared with a luxury department store, while the East Plaza links effortlessly to the 5-star hotel and The Centre. It also offers an elegant, covered retail experience designed to resemble the historic arcades of London, Paris and Rome and to attract visitors to well-known luxury brands.
From a design perspective, a key feature of The Galleria is the glass skylight which provides an important environmental canopy, typical of ARQ's design. Situated atop the luxury stores this feature helps to capture cool breeze while dispersing warm air to create a pleasant and comfortable space within. Also comprised of natural materials, The Galleria's facades are designed as giant portals in natural stone, which eloquently provides a framework for the tenant-designed shop fronts within.
At the heart of the development lies The Town, which effortlessly connects all project components and is perhaps the most distinctive element of the project. Located on the third floor landscaped roof deck its one and two storey spaces house galleries, restaurants, bars, studios, home-product shops, tea rooms and coffee shops.
Sitting adjacent to luxury residential development to the north, and Lotus Hill and Beacon Hills parks linked via a series of bridges, its dynamic grouping is positioned in a series of interconnected streets, alleyways and piazzas open to the natural elements.
Materials and colours are interspersed to promote a sense of movement and dynamism, with sculpture, artwork, lighting, landscaping and signage strategically entwined to support the architecture in promoting the movement and form of the place.
For Brannan it is designed to create an atmosphere that is young, modern, cutting edge and hip: "The energetic mood of The Town is created by interweaving public open spaces framed with irregular shaped buildings of differing heights and volumes.
We are proud with the outcome and believe it defines a new paradigm for retail, workspace and lifestyle," he concludes.