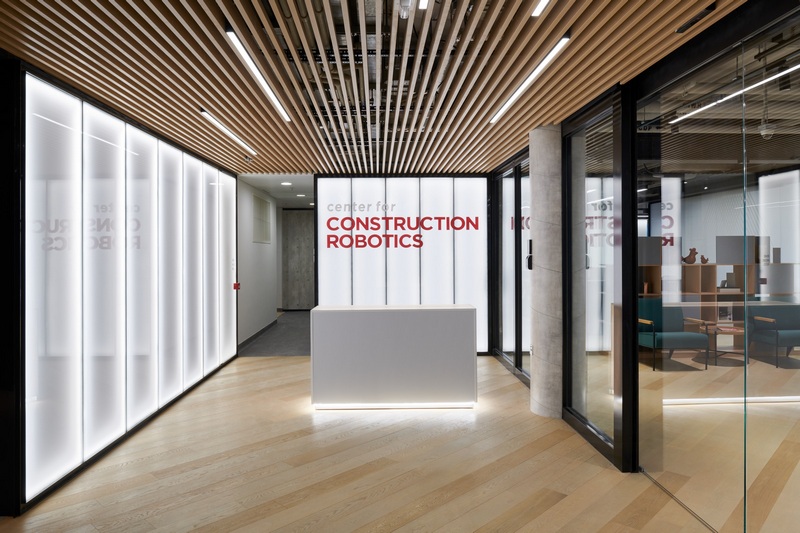 Project background
Commissioned by the Hong Kong's leading technology research university -HKUST, to design a research centerand laboratory for robotics construction, led by the top engineers and professor who co-founded world leading drone company DJI. This research centerwill house tenths of engineers and visiting professors from foreign university such as Tsinghua university and UC Berkeley.
Design concept
Inspired by the natural physics and nature in which simplest geometry play an important role in the making of natural world and man-made world, the overall design was a celebration of simplest straight line, rectangular, diagonal lines, with an important play and design by dimensions and proportions, with reference to ancient Greek and roman classical architecture.
Spatial planning
A first challenge was the provision of a 2-meter wide common corridor across the main façade, our design approach was to widen the corridor to create a grand reception area and an exhibition space. The interior was a collection of large space, workstation plus hot desk occupies seventy percentage of the space, with a large laboratory space on one end and a large tech-talk / seminar room on the other end, with provisions of breakout space, pantry, meeting rooms and phone booth space. The overall planning was a practical and functional one to meet the engineers' 'formfollowfunctions'.
Colortone & materials
Thechoiceofmaterialscame naturally, with a concept playing tribute to the nature and engineering, we picked the simplest form of natural materials and colours to play together with simplest geometry form. Natural engineered timber, black metalframeandlid-upglass wall, alongside timber strip ceiling form the reception area. Opened high ceiling in grey acoustic paint finishes give the space some depth, juxtapose with timber and white colour finished furniture. Besides timber flooring other areas are covered by woven vinyl designed with various diagonal patterns, such as the one to pair with 'spaceship-like' ceiling-hung led-strip lighting.
Project Name
The Hong Kong Centerfor Robotics Construction (HKCRC)
Project Owner
The Hong Kong University of Science & Technology (HKUST)
Location
Building 17W, Hong Kong Science Park, Shatin, Hong Kong
Area
13,000 sft (exhibitionarea,concierge, hotdeskarea,workstations,
conference room,seminarroom,meetingrooms,breakoutspace,
Laboratory)
Design Team
4N design architects
Completion
Q3 2020
Fit-out Contractor
PacificPlanInteriors
Flooring
Bolon Woven Vinyl, engineered Timber Flooring
Glazing system
Celestra Hauserman System
Furniture
Kokuyo Hong Kong
Acoustic Paint Ceiling
Kwong Man Kee Engineering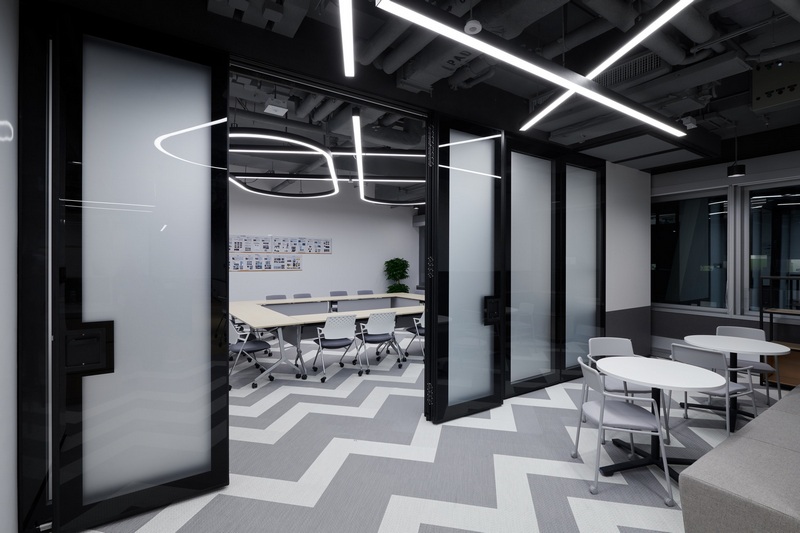 Visit 4n.com.hk for further details.