Founded in 1972, DLN Architects (DLN) is a respected world-renowned architectural practice with a diversified portfolio, and a leading industry pioneer in Hong Kong and Asia.
DLN's name is synonymous with many iconic architectural projects, from mixed-used projects to large-scale integrated designs, creating significant value for customers through rendering of its outstanding design services throughout China, Southeast Asia and other regions.
Currently, DLN is involved with several large-scale design and construction projects in China, including those located in more than 30 mainland cities, including large-scale urban construction, conference centres, hospitals, hotels, shopping centres, sports stadiums as well as office spaces and university dormitories highlighted in this article.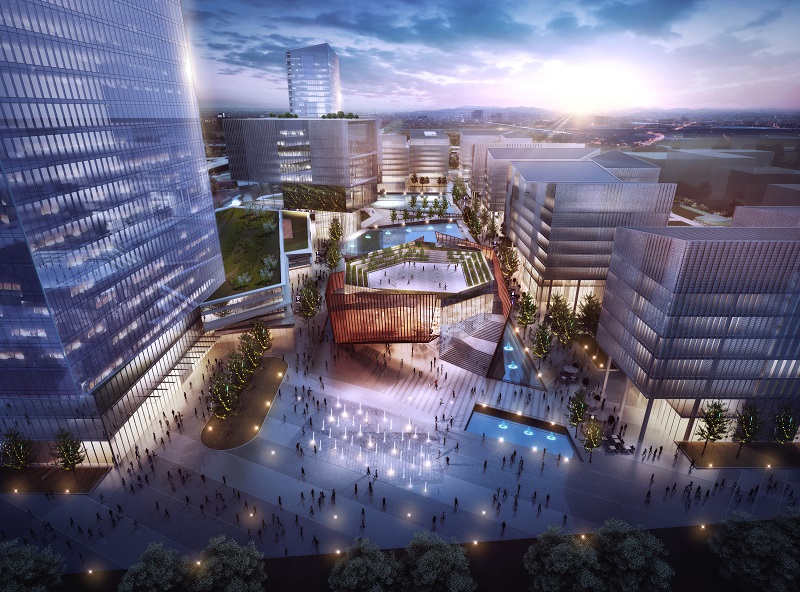 Nanjing Jiangbei New District Big Data Industrial Park
Located at the southern part of the new district, this project covers an area of about 100,000 square metres, to provide for seven functions including R&D, business, dormitories, exhibition and conference centre, cooling towers and supporting facilities.
With the project is surrounded by roads on all its four sides, the architectural team has set up protective facilities and green space on the eastern and southern sides of the park, to enable its occupants enjoy transport convenience while being close to nature. The western and northern sides of the venue are more impressive visually and therefore designated as a window to the outside world. The park's two tallest tower blocks are tucked away in the corners, with office space distributed in both of them. Resembling two open fans suspended in mid-air, the main entrance combines with the tower blocks to constitute a U-shaped skyline.
The project's greening ratio exceeds 30%. The architectural team has created and optimised shared space as a dominant design theme, whereby the central waterscape and low-storey green spaces are integrated, while a small but independent office space is designed to provide for a spacious and natural work environment.
A horizontally developed central water feature runs through an ecological garden, with a water platform connecting the main pedestrian flow with the office buildings. The central landscape intersects with the central axis to form an ecological garden, resulting in a multi-layered spatial experience.
As opposed to traditional industrial parks with R&D and office-style buildings, this project's design emphasises the presence of a largescale green platform with a high lvel of privacy for its single blocks. To enhance the ecological aspects combined with a versatile and fun work environment, every independent office block is designed with a three level atrium on the second storey to offer a shared interactive space.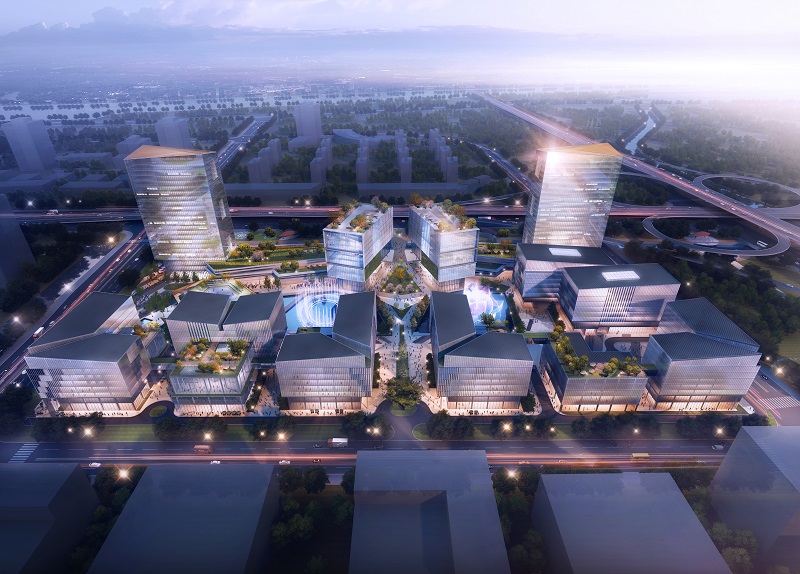 Jiangbei New Area Modern Modern Industry Innovation Centre
Located at a biomedical research hub of Jiangbei New District, the innovation centre covers an area of about 300,000 square metres and is scheduled to commence construction in November this year. Based on the "low-carbon energy saving and resources recycling" principle, a balanced proportion of glass and aluminium will be achieved for the building façade to minimise light pollution, while increasing vertical greening to reduce energy consumption.
Based on modern office trends and needs, DLN is dedicated to creating a highly-efficient work environment to strengthen interaction and invigorate creativity and health. The appearance of this innovation hub draws inspiration from the biomedical concept of genes, to create a streamlined-shaped building with an intertwining façade. The innovation centre project references three major sectors – life and health; smart manufacturing and software technology. While demarcating the different zones, the team has designated a number of concourses to keep each industry involved separate and independent while making for an ecological chain inside the centre.
Jiangbei New Area International School
Located at Pukoupian District of Nanjing and Jiangbei New District, the campus covers an area of more than 50,000 square metres with a view of Laoshan National Forest Park to the north and Yangtze River in the south. This intrinsic environmental advantage is harnessed to facilitate student learning in a natural environment.
In line with the master city plan of Jiangbei New District, to build a modern city and one characterised with water and woods, DLN has created a six-metre long "green ribbon" that runs through the entire campus space, releasing as much green shared space as possible and providing a corridor to shelter teaching staff and students from rain.
The academic block, student dormitories, and amenities will be suspended above the "Green Ribbon." All three of them have their own distinctive shapes and forms and this irregular-shaped architectural style alludes to a "treasure box filled with knowledge." The building blocks look as though they are casually positioned, instead of projecting a sense of order, to denote a liberal learning environment unconfined by space and time. This is attuned to the modern pursuit of free innovations, sustainable developments and self-rejuvenating, which underline the concept of modern education and a diversified learning environment.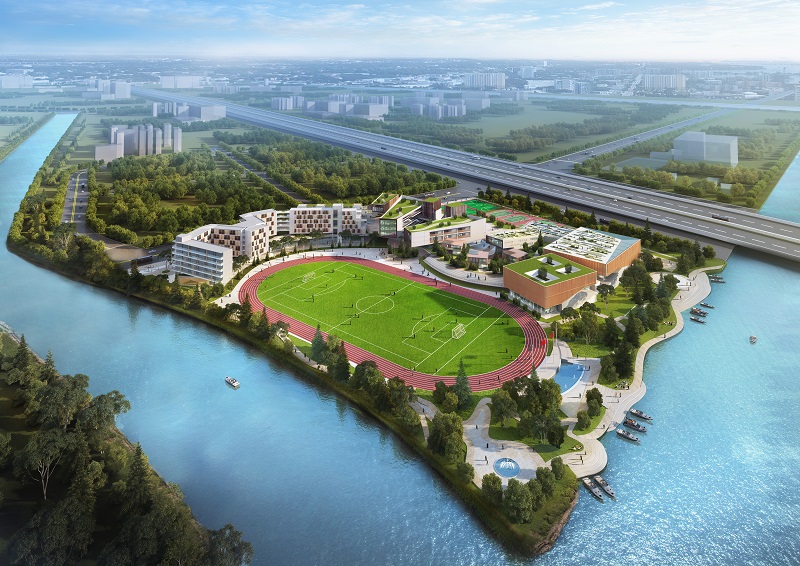 Guangzhou Huamei International School Technology Building
DLN's design takes four factors into consideration: to create an education building and a future landmark, be attuned to state policy, integrate with the future "Internet Plus" trend and attain sustainable development and green building standards.
In order to achieve the building's visionary look, the team draws on the notion of a "smart browser" as the main design concept, referencing the future development of information technology through the glass boxes of LED screens. Besides transmitting messages and facilitating live telecasts, the building's central area appears to be surrounded by glass boxes while the screen is in sleep mode, to highlight the ingenuity of the building design.
In terms of overall layout and to avoid making the atrium seem overly vacant, DLN designed a landscape corridor, leveraging on the uneven heights of the staircases, auditorium, stage, green plaza space and connecting them with the corridor to provide easy access for teaching staff and students. The Technology Building is equipped with science, art and learning centres. The three seem independent of each other but are actually interrelated. The team started its design work by having the space reorganised and functional installations replaced. All classrooms are equipped with movable partition walls and can be resized, depending on the number of users on hand. Interspersing the glass boxes with monitor screens, the architectural team ensured privacy for the three building components while making them spatially connected, to foster a learning environment that faces outdoors, creating a natural environment for students and teachers alike.