(20th October 2015 – HONG KONG) – New York-based Extell Development Company, a premier luxury real estate development firm, has announced a first-ever international partnership with JLL, a global management firm with more than 230 corporate offices operating in 80 countries worldwide. With an expansive real estate portfolio exceeding 20 million square feet, Extell, which handles its own sales and marketing internally, is partnering with JLL to facilitate an international campaign for its upcoming luxury residential development, One Manhattan Square.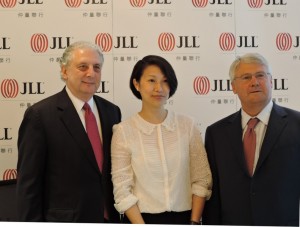 "This new partnership provides tremendous opportunity to our firm," said Gary Barnett, President of Extell Development Company. "As international buyers continue to search for residences in New York City, a partnership with one of the most respected global services firms allows us to expand our sales presence outside of the United States."
To mark the official international launch of Extell's portfolio, both firms will participate in a series of upcoming exhibitions this November, including stops in Beijing, Hong Kong, Shanghai, Singapore and Kuala Lumpur. To present One Manhattan Square's offerings, senior-level representatives from Extell will be on-hand in various marketplaces.
"We couldn't be more pleased to partner with one of New York City's top real estate development firms to market this project," said Scott Latham, Vice Chairman of the New York Capital Markets Group, at JLL. "Given One Manhattan Square's unique offering, incredible river and cityscape views, coupled with Extell's stellar reputation, we expect the development to have a strong international appeal. We are looking forward to seeing the positive response at our exhibitions this November."
As one of the top real estate developers of residential, commercial, retail, hospitality and mixed-use properties, operating primarily in Manhattan, Extell properties are distinguished by sophisticated design, gracious floor plans and first class amenities. In collaboration with world-class architects and design professionals, the firm has developed some of Manhattan's top-selling luxury condominiums, including the record-breaking One57, One Riverside Park and The Carlton House.
"We take great pride in our work, and we strive to provide the highest quality to our buyers," said Anthony Mannarino, Executive Vice President of Extell Development Company. "One Manhattan Square is one of our largest projects to date, offering a large variety of residences and layouts at extremely attractive price points, including what will be the largest amenity package in Manhattan."
With more than 50 years of experience in Asia Pacific and 81 offices in 16 countries across the region, JLL was recently named 'Best Property Consultancy' in seven Asia Pacific countries at the International Property Awards Asia Pacific 2014 and won nine Asia Pacific awards in the Euromoney Real Estate Awards 2013.