DP Design redefine the movie-going experience for families International cinema company Cinemaxx has recently unveiled Asia's first family focused movie theatre in Karawaci, Indonesia. in a distinct departure from the traditional cinema experience, the Cinemaxx Junior space incorporates designated play areas both outside and within the screening area to provide a cinematic experience which blends visual entertainment and physical activity for children and their guardians.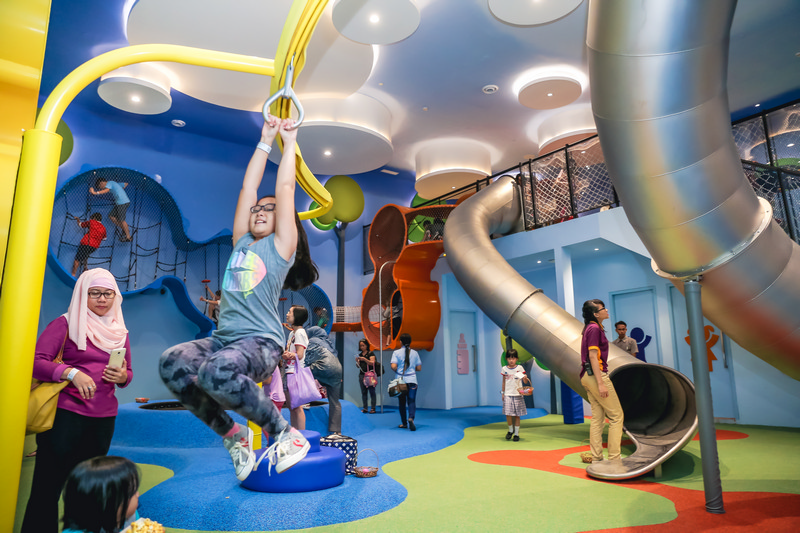 Lights, camera, distraction
At traditional cinemas, parents are forced to contend with restless children in a hushed environment, often at the expense of their own enjoyment. In contrast, as a dedicated family space with the play element fully integrated, at Cinemaxx Junior there is no need for strict silence and focused attention. Instead, children and their families are free to ascend the theatre's yellow "Wall-o-lla" climbing tree, slide down one of the four wall-mounted tube slides and plunge into the colourful ball pit at the foot of the screen without disturbing the average cinema-goer.
At full capacity, the cinema can accommodate up to 106 people, which translates to approximately 30 families per 3-hour session. The first hour is dedicated to play, with children free to roam throughout both the external play area and the screening room itself. The film begins at the top of the second hour, with children encouraged to return to the seating areas, which range from more conventional cinema seats to plush bean bags, reclining lounge chairs and sofa beds. Children can cuddle up with their parents for the duration of the movie or elect to rush back into play, bounding onto the giant trampolines or swinging on the flying fox. This progressive approach to play, the lollipop tree interior décor and the emphasis on tactility and social interaction creates a fully immersive environment for kids that is ripe for exploration.
A cohesive, custom environment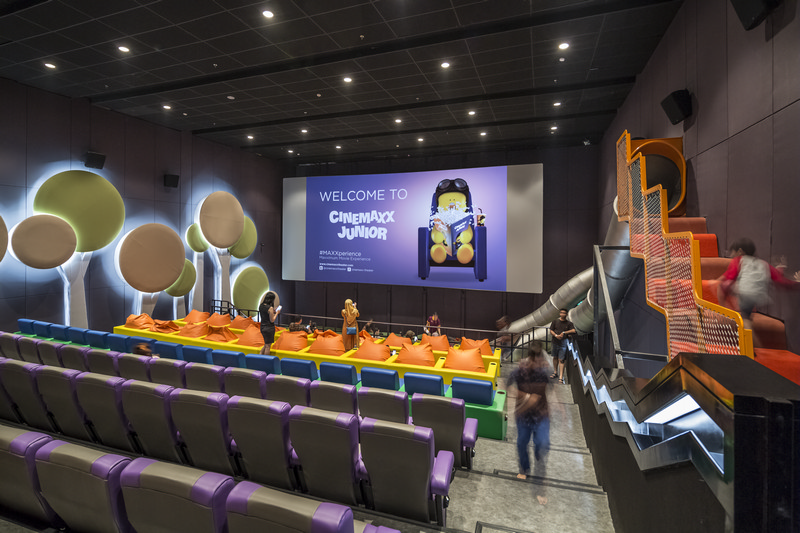 With bonding time such a rare commodity amidst hectic city life, having an experience that can be enjoyed by parents and children alike is a precious resource. With this in mind, DP Design, the interior designers for the project, have created a vibrant environment specifically designed to cater for the needs and desires of children and their families. Spacious nursing and changing facilities are provided, along with a number of bathroom fixtures installed at child-friendly heights. Considering the high level of activity expected in the screening area, the sound and lighting design has been adapted, with a lower volume but a general increase in illumination through a mixture of diffused cove lighting, wide-angle downlights and nondirectional track lighting to create a safe but easily navigable space.
The seamless blending of play and cinema at Cinemaxx Junior is an innovative and memorable mix, one sure to be enjoyed by all.