(9 November 2020, Hong Kong) Gammon Construction Limited ("Gammon") has become the first company in Hong Kong to have its greenhouse gas emissions inventory verified against the latest (2018) version of the ISO 14064 carbon accounting standard, Part 1: Specification with guidance at the organization level for quantification and reporting of greenhouse gas emissions and removals by an accredited third party.
Implementing the ISO 14064 standard helps corporations to track performance and progress in both the reduction of greenhouse gas emissions and increase of removal.
A more comprehensive standard than previously, the latest version of ISO 14064 considers a much broader range and significance of indirect emissions, in addition to looking at the boundary for different gases, their overall significance and the accuracy of data collection methods.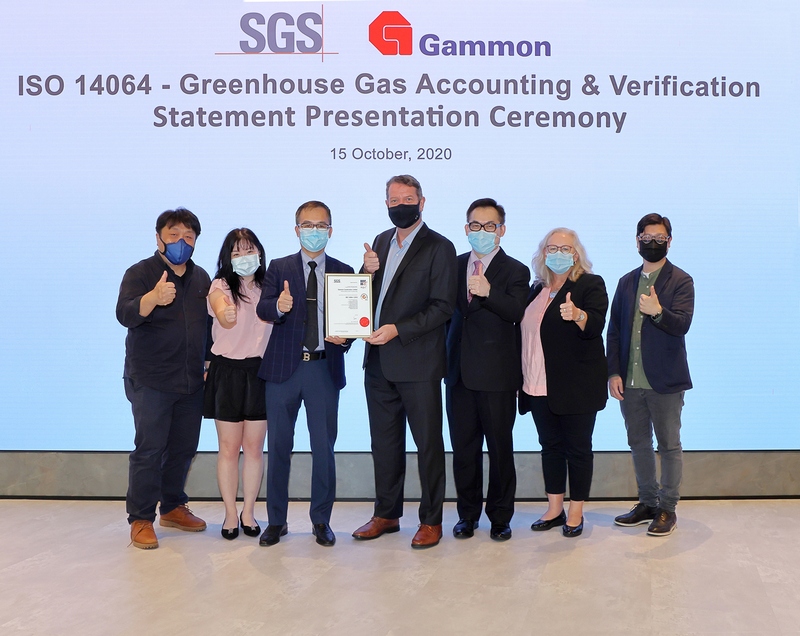 Emma Harvey, Group Sustainability Manager of Gammon Construction said, "Verification gives us confidence in the accuracy of our data as the basis for considering meaningful carbon reductions. It also brings Gammon's accounting processes in line with global best practices of increasing visibility of indirect emissions, particularly within supply chains, and demonstrates our expertise in this area." "Given the looming climate crisis, finding the carbon reduction opportunities in our emissions inventory is essential. We have recognised this need in our 'Responsible Growth – 25 by 25' strategy carbon target" said Eddie Tse, Senior Environmental Manager. "We are also seeing growing interest in life cycle carbon assessment so it's important that we are able to provide an accurate understanding of our construction phase carbon emissions for our clients," he added.
For further information, please visit www.gammonconstruction.com.