Founded in Hong Kong in 2000, HEAD Architecture (HEAD) works across a range of interior and architectural projects for an array of industries. Amongst these, the practice has been involved in the design of broadcast venues since its inception, starting in 2001 with a small web studio for NOW TV in a ground floor building in Hong Kong's Lan Kwai Fong.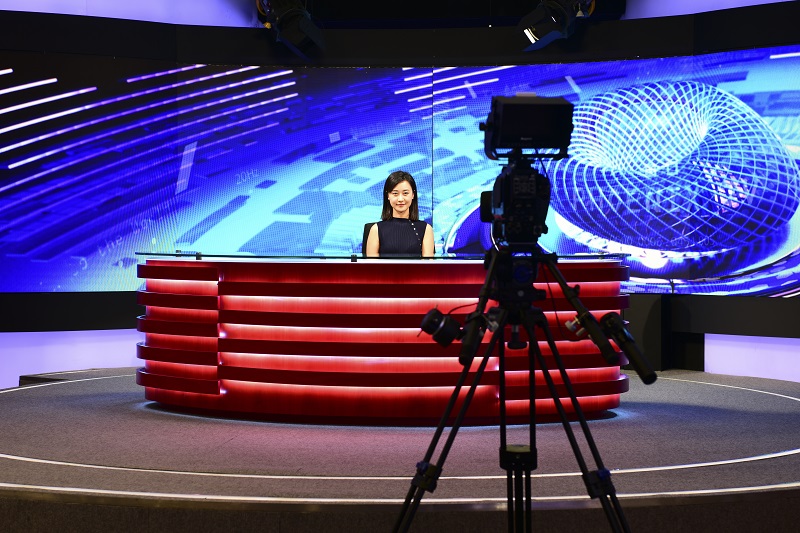 Phoenix Beijing – Main News Desk
Today within the broadcasting industry, the firm's name has become synonymous with the interior design of cutting edge studio facilities in Hong Kong, mainland China and across South East Asia, with successful projects completed for clients including Bloomberg, TV5 Monde, Eurosport Asia, and international Chinese broadcaster, Phoenix Satellite TV (Phoenix).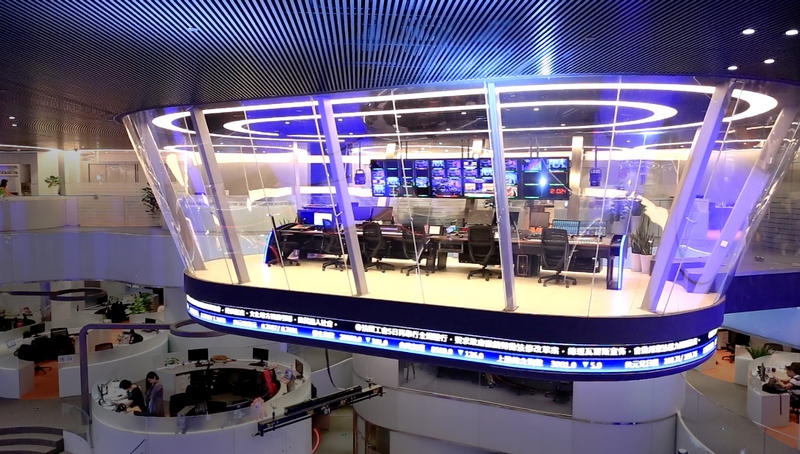 Renowned for its interior design work for Phoenix's award-winning headquarters in Hong Kong's New Territories, which opened its doors almost a decade ago, HEAD has more recently completed its state of the art studios in Beijing after being invited to join the project by Phoenix's founding Chairman and CEO, Liu Changle.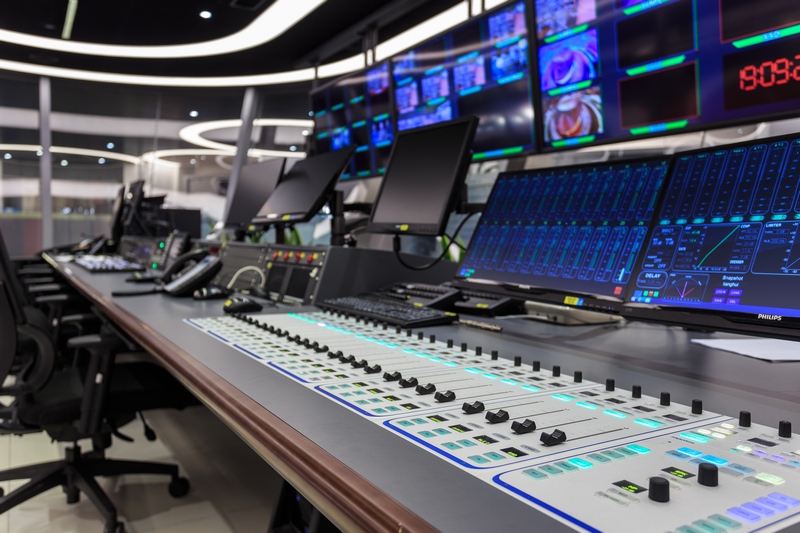 As Mark Panckhurst, Director of HEAD explains, their relationship with Phoenix began in Hong Kong around 2006, when they were responsible for the interior design of the Tai Po studio within a newly converted factory building. Here they worked alongside leading broadcast, audio-visual and media systems integrator, Ideal Systems. The project was completed in 2009 and was so successful that they were approached again in 2012 to start the drawings for Beijing.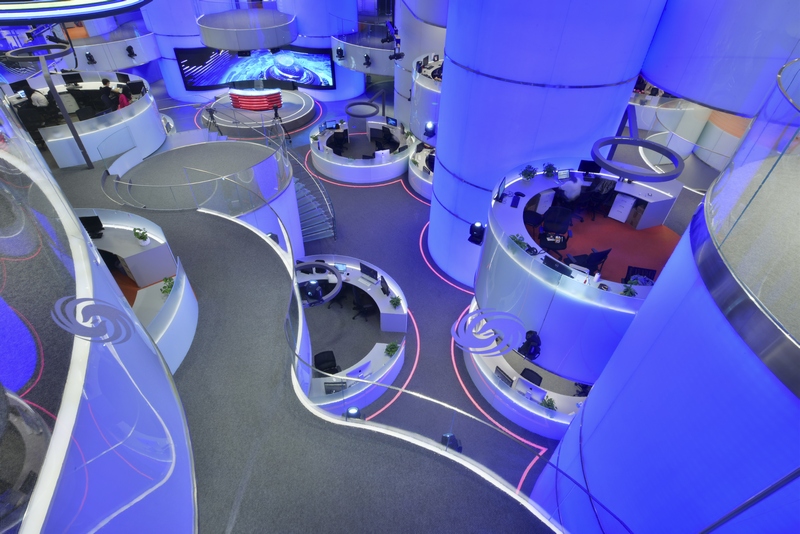 "Broadcasting is an exciting environment to work in and it's always interesting to be involved in a project where the end result is a space where there is so much going on. With millions of people in China watching the space every day and so many important visitors to the space, whether politicians, advertising partners or affiliate networks, it should never be underestimated how much the look and feel of the interior contributes to the broadcaster's brand. In this sense, the interior design of both studios encompasses much more than the building and the equipment it houses," said Panckhurst.
From the outset of the Hong Kong project, Phoenix presented a brief that went beyond pushing the boundaries of technological and functional practicality. Phoenix's vision, says Panckhurst, was clear and stunning. HEAD's role was to accommodate this vision and at the same time to moderate it to take into account structure, acoustics, lighting, flexibility and adjacencies.
"Our job was to take the sketches of what they wanted to be seen from a particular camera and to make it work. As with all our clients we liaised closely with them and their suppliers to make it possible to showcase the technology and professionalism on camera. This would become a prominent feature of the design concept and one that is particularly apparent in the Hong Kong studio where behind the News Set sits the Control Room, which is completely visible to viewers in all its glory. The production team and their monitors become a backdrop for the camera," he adds.
Senior Correspondent, Theresa Xiao Tian Fu, is impressed. "The Phoenix International Media Centre in Beijing is marvelous," she said. "Visitors are amazed by the spectacular, futuristic architectural design and those of us employed here think the studio's layout is wonderful. It's a masterpiece of modern times."
Panckhurst himself attributes much of the project's success to the inspiring leadership of Phoenix TV's Deputy Head of Phoenix InfoNews Channel Wang You Nian. "From the outset Mr. Wang has been a passionate design advocate, constantly engaged with the project team to achieve innovation at every turn. It's great for a designer to have such a visionary client."
For the Hong Kong project, circular motion was also a big theme, with a spiraling staircase down to the set, which while not necessary for circulation, creates an opportunity for impressive wide-angle and vertical shots.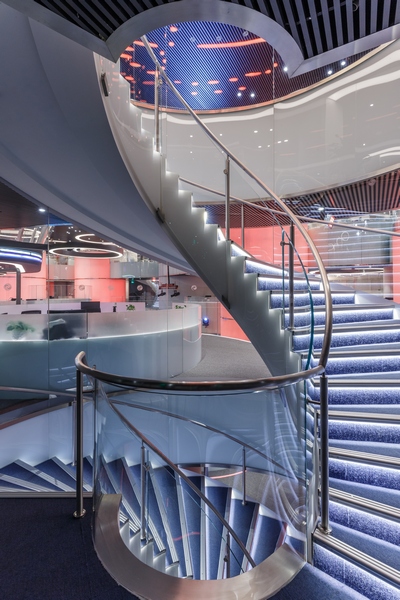 An undeniable success, such features, including three staircases, one for shooting and two that are more functional, have also been incorporated into the Beijing studio. It is a look that has become something of a Phoenix trademark. And while most TV studios are surprisingly small and use green chro makey screens, and wide angle lenses to produce the effect, Phoenix have invested in creating spacious and vibrant studios that provide an impressive and dynamic backdrop for the news that can be shot from every angle. Indeed, the state of the art facilities that HEAD had a big hand in creating in Hong Kong close to ten years ago are as impressive now as they were then. Indeed, aside from the addition of new technologies such as augmented reality and motion capture that keep Phoenix ahead of its game, little has changed.
According to Panckhurst, Phoenix had the same vision for the Beijing project in terms of what they wanted to see on camera, but HEAD were given new opportunities in terms of design. The challenge, he says, was to try to outdo what they had done in Hong Kong close to a decade earlier.
(Images of Phoenix Beijing – Above Left: Feature Staircase, Below Left: Building Interior designed by BIAD)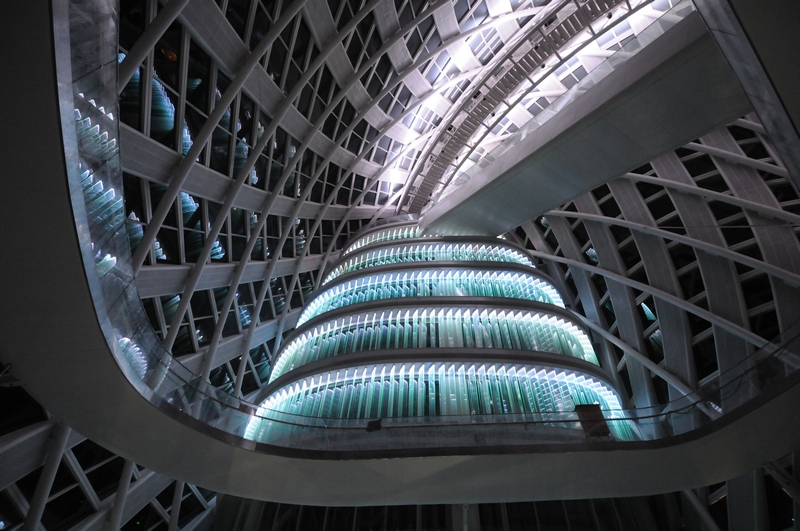 "The space we were given to work with was bigger and taller, and essentially a three-storey concrete box. So instead of having a large spread out plan, it was stacked up and we were able to create a 3D space by stacking up these cylinders where you could look out across the valley in the middle."
"It is an unusually shaped space because you're shooting up and down a lot more, but we built physical models and used a lot of 3D modelling techniques to understand how it would work and look from every possible camera angle. We also worked with new ways of shooting, such as ceiling mounted tracks and floor jibs that allow the cameras to fly around the space. LED lighting is another big feature that allows whole sections of wall space to change colour on demand."
And while technological advances progress ever into the future, HEAD continues to work with local partners across the region to turn client's visions into reality. Indeed, following the success of its previous projects and the reputation it has garnered in the industry, its latest offering is the completion of a project for Hong Kong-based Chinese newspaper, Ta Kung Wen Wei Media Group.