(23 May 2023, Hong Kong) Today, Dyson unveiled three new products that bring together automation, advanced software and intelligence with best-ever cleaning performance, giving a glimpse into Dyson's vision of the future of clean homes, borne of decades of expertise in filtration, airflow, motors, software and robotics.
(按此瀏覽中文版)
"Robotics, sensing, intelligence, these are all areas that are typically considered 'future technology' but at Dyson, they have long been part of product development. Our engineers have, and continue, to employ these technologies to reduce the cognitive burden on our owners, saving time, energy and effort in maintaining a healthy home – a true set-and-forget mindset. Our future vision is of a home that can look after itself. The new technologies launched today are the embodiment of this – the most powerful robotic vacuum cleaner, intelligent, large-room purification, and, for active cleaning, new cleaner head technologies that offer adaptive, multifunctional cleaning when and where you need it." – John Churchill, Chief Technology Officer, Dyson
According to the latest Dyson 2023 Global Dust Study, there has been a significant change in Hong Kongers' cleaning attitude over the past year, with over half (56%) of the respondents said they are only motivated to clean their home when they see dust, and only 1 in 4 of them clean their home regularly. In addition, Hong Kongers spend 20 minutes a week vacuuming their homes, 5 minutes less than the global average. Sensing, software and automation sit at the heart of Dyson's new machines. By understanding surroundings and the task at hand, a product, whether a vacuum or purifier, can automatically respond to tackle the challenge most effectively. This starts with intelligent, accurate sensors and relies heavily on embedded software, electronics and automation, as well as core mechanical technologies like motors, filtration and pick-up to tackle the task at hand, properly.
Product overview
The Dyson 360 Vis NavTM robotic vacuum marks Dyson's next step in intelligent robotic vacuum cleaners: the most powerful robot vacuum with six times the suction of any other. Engineered with unique Simultaneous Localisation and Mapping (SLAM) technology, the Dyson 360 Vis Nav™ has a 360-degree, vision system with fish-eye hemispheric lens which remembers where it has been, sees where to clean, and is intelligent enough to create dust maps of your home. The high-level processor collects data from 26 sensors for a range of tasks, including dust detection, obstacle avoidance and wall detection, to clean right to the edge.
It features a new, full-width triple-action brush bar: for hard floors, soft 'Fluffy' nylon for large debris pick-up and anti-static carbon fibre filaments to remove fine dust, and stiff nylon bristles to dig into carpets. Dual link suspension allows the machine to climb up to 21mm, and its low profile lets it clean under furniture up to 99mm. After its 50 minutes of run-time, the machine will automatically return to its dock to recharge. The MyDyson app provides deep cleaning reports after each clean.
"Robotic vacuum cleaners should be highly effective machines that intelligently clean your home, so you don't have to. Enabling these autonomous cleaners relies on highly complex algorithms, visual interpretation, dust sensing capabilities and powerful motor technology. Dyson engineers have taken everything we've learnt from developing our vacuum cleaners, combined it with intelligent software, to develop the Dyson 360 Vis Nav™ – the most powerful intelligent robot vacuum cleaner." – Jake Dyson, Chief Engineer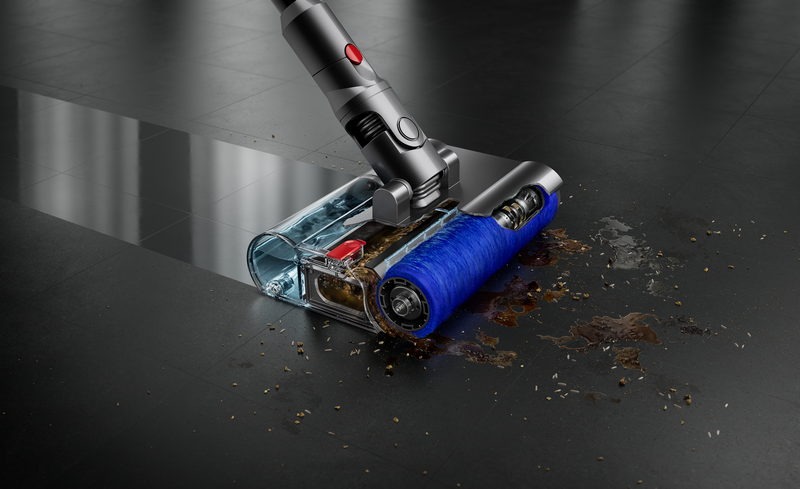 The Dyson Submarine™ wet roller head, available with the Dyson V12s Detect Slim Submarine vacuums, delivers just the right amount of water to effectively remove spills, stains, and small debris from hard floors. To achieve an optimum 'clean floor' finish without over saturating, the wet roller head has been engineered with an eight-point hydration system, using a pressurised chamber for even water distribution across the full width of the roller.
The motor-driven microfibre roller removes spills, tough stains and small debris, covering flooring up to 1,184 ft2, thanks to a 300ml clean water tank. A durable plate extracts contaminated water from the wet roller and deposits it into a separate waste-water tank to ensure no dirt and debris is transferred back onto the floor. Designed with a low profile and full-width brush bar, the Dyson Submarine™ wet roller head allows for effortless manoeuvring underneath furniture, cleaning dust, debris, and spills from even the most awkward places.
The Dyson Purifier Big+Quiet Formaldehyde is designed specifically for large, open-plan spaces, with the Dyson HEPA Big+Quiet Formaldehyde purifier engineered specifically for simplicity in shared, commercial spaces. New Cone Aerodynamics delivers 10-metre projection and new CO2 sensor indicates when to ventilate. Alongside its powerful projection, the Dyson Purifier Big+Quiet is engineered to operate quietly, producing just 56 decibels of noise – making it our quietest yet most powerful purifier.
The five-year HEPA H13 particle filter traps up to 99.95% of ultrafine particles, whilst the new K-Carbon filter removes gas pollutants and 3x more NO2. The lifetime Selective Catalytic Oxidation filter destroys formaldehyde permanently. Sensors constantly monitor the indoor air quality, sending live data to the MyDysonTM app.