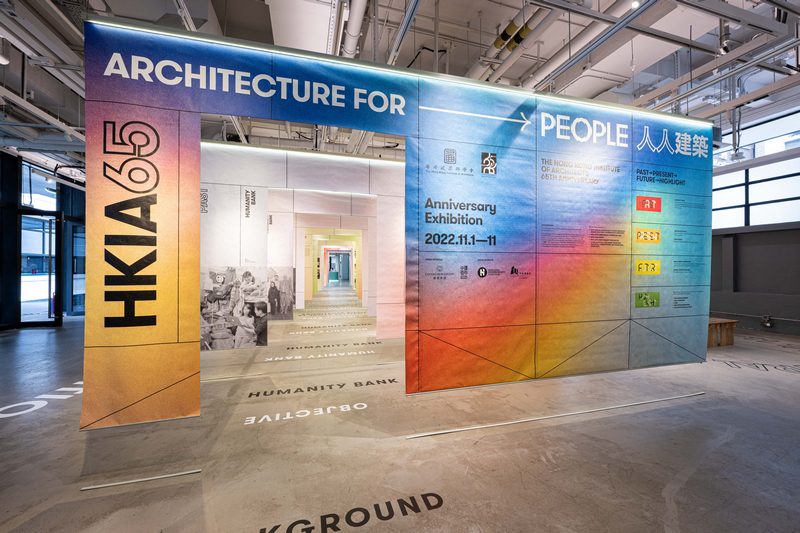 (7 November 2022, Hong Kong) "Architecture for People" – HKIA 65th Anniversary Exhibition, organised by the Hong Kong Institute of Architects (HKIA) at Central Market officially opens on 4 November. The exhibition showcases the endeavors of local architects and their works, keeping up with the progress and developments of the city and embracing humanity in the spirit of promoting better living and sustainable development. Visitors to the Exhibition can enjoy free admission between now and 11 November 2022.
(按此瀏覽中文版)
The opening ceremony of the HKIA 65 Exhibition was held on 4 November at Central Market. Ar Ho Wing Yin, Winne, JP, Secretary for Housing of HKSAR, Mr. Albert Su, Chief Executive of Tung Wah Group of Hospitals and Ms. Angie Chung, Deputy General Manager of Central Market, Chinachem Group, were invited to officiate at the ceremony, being in the company of Ar Donald Choi, President of HKIA, Ar Benny Chan, President-elect of HKIA and Ar Derek Lau, Chair of Board of Internal Affairs of HKIA.
Mr. Albert Su, the officiating guest of the ceremony, remarked at the ceremony that the concept of Architecture for People is greatly appreciated as it brought the profession and general public closer to each other. "Architectural design is not merely about buildings and spaces, but also about creating social impacts. The collaboration between HKIA and NGOs is meaningful in a sense that it creates opportunities for architects to contribute their expertise and knowledge to help people in need, to improve their quality of life, and to address the challenges they encounter," he said.
Humanity Bank: Serving People with Architectural Expertise
As part of the public interface of its 65th Anniversary campaign, HKIA launched Humanity Bank (www.hkia.net/humanitybank), an online platform which curates projects and stories undertaken by members over the years benefitting people, communities and the environment. As a start, some 50 projects were published. They include voluntary services, community workshops, architectural projects and public art installations that deliver positive social impacts. The setting up of Humanity Bank aims to promote the concept of Architecture for People and enshrine the humanity values of architectural works for community care. More projects will be added on to the online platform regularly for enriching the collection.
Present: Architecture for People in Action
Current collaboration includes the redesign and renovation of the Palliative Care Unit of the Scenic Resort (Nursing Home) administered by St. James Settlement. In addition, HKIA has teamed up with the Hong Kong Institute of Engineers to form a volunteer group amid the pandemic. The group visited the Salvation Army's Nam Shan Residence for Senior Citizens, Po Lam Residence for Senior Citizens and Nam Ming Haven for Women to inspect the ventilation, isolation facilities and planning of operation space during the lockdown. Suggestions for improvement were made.
Motivating the Future Generation to Create Healthy City and Healthy Space
HKIA organised the Post-Covid [ ] Space Design Competition earlier this year to encourage tertiary students to submit their creative ideas of healthy and people-centric space design for the city. Over 40 entries were received. Winners received the awards at today's Ceremony.
First Prize winner is Yeung Ho Pak's team from the University of Hong Kong, who has designed a Post-COVID isol-lective Space, providing isolated spaces for people while visually connecting them. The concept is considered practical and easily executable by the jury panel. Second Prize goes to Chung How Yu from University of Hong Kong whose work "Post-COVID [Smell] Space" was inspired by the impact of the coronavirus on the olfactory of people. Third Prize is awarded to Cornell University's Chan Lok Tim and his team, who has designed a "Post-COVID Healing Space" featuring installations and light design. The winning entries will be showcased at the HKIA 65th Anniversary Exhibition.
HKIA and the Youth Federation will co-organise a workshop for secondary school students on 5 November as a side event of the exhibition. Students, guided by professional architects, will pitch their proposals on creating environment /space for wellbeing.