(21 February 2023, Hong Kong) The Hong Kong Institute of Urban Design (HKIUD) organised the 2nd Greater Bay Area Urban Design Awards (the Awards) with the support of 4 founding institutes from Macau, Guangzhou, Shenzhen and Zhuhai of the Greater Bay Area Urban Designer Alliance, and the lead sponsor CreateHK of the Hong Kong Special Administrative Region Government. The award list of the Awards has officially been announced earlier at the GBA webpage in January.
(按此瀏覽中文版)
The award winning projects will be showcased at the Greater Bay Area Urban Design Awards 2022 Roving Exhibition from 20th February to 12th March 2023 at the Central Market. HKIUD wishes to encourage urban designers within the Guangdong-Hong Kong-Macao Greater Bay Area (GBA) to deepen their collaboration and exchanges by sharing practical experiences and best practices. And showing the public appreciate how excellent urban design solutions are closely related to our life and to deliver the final goal of renewing our cities for better health, sustainability and livability at the same time.
In 2022, the Award have received a record high of over 280 project submissions and nominations under the Professional Category, Student Category and the new category Urban Video Design Competitiom from the GBA cities, among which 69 projects were nominated for awards. The international jury panel was impressed by the fascinating projects of subtle elements and themes in sustainable design with nature-based solutions approach and well-organized green design features, while focusing on preserving cultural heritage and strengthening the connection between neighbourhoods. The winning projects are universally recognized for reaching remarkable achievements in urban design excellence.
Furthermore, serval projects from Hong Kong teams are awarded this year. These include Advance Promenade near Wan Chai Ferry Pier, Phase II Development of Oil Street Art Space, Lung Mei Beach Bathhouse, Wan Chai Promenade submitted by Architectural Services Department of HKSAR Government, and West Kowloon Terminus Express Rail Link by AECOM Asia Company Ltd.
These projects signify the iconic development of urban design in Hong Kong in parallel with the GBA cities. All the awarded project design details will be also displayed for public in the roving exhibition at Central Market from 20th February.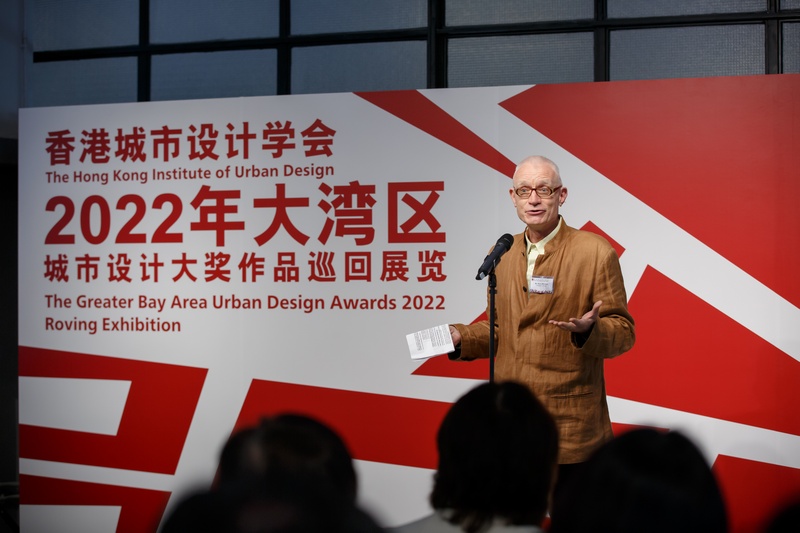 Details of the GBA Urban Design Awards 2022 Roving Exhibition (Hong Kong) are as follows: The exhibition will be divided into 5 sections, presenting projects from the Built Project, Urban Intervention and Plan/Concept in Professional Category, following with the Student Category and urban design video competition. General public will be able to find out the design concept from the panels and short video display.

HKIUD will hold an awardee sharing session on February 27, 2023. The public and professionals are welcome to participate. The details are as follows:
The GBA Urban Design Award Webinar series #5: