18 April 2016 (Hong Kong) – Knight Frank launches the latest Hong Kong Monthly Report. The Grade-A office leasing market witnessed robust relocation activities last month. Residential sales in March rebounded, with more units launched in the primary market and more deals closed in the secondary market, but prices continued to fall. Meanwhile, the drop in retail sales and visitor arrivals continued to put pressure on retail property rents.
Office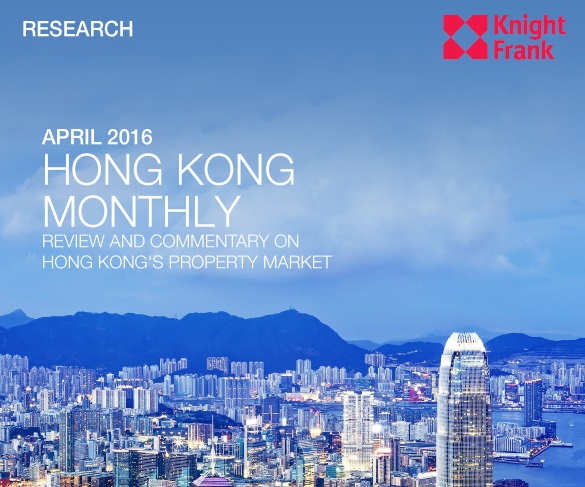 The lack of available space continued to limit Grade-A office leasing activities in core business areas last month. To avoid the high office rents in Central, some firms with a long presence in the area relocated to non-core areas.
The Kowloon Grade-A office leasing market saw a number of relocation deals involving insurance and sourcing companies in March. Office rents in Kowloon East, however, have been under pressure from the increasing supply coming on line.
Despite the economic uncertainties in Hong Kong and the Mainland, David Ji, Director, Head of Research & Consultancy, Greater China, expects office rents on Hong Kong Island to increase 5% this year, given extremely low vacancy rates. Office rents in decentralised areas, however, could drop 5% in 2016, given abundant supply in the pipeline.
Residential
According to the Land Registry in March, residential sales volume rebounded 45% month on month from the lowest level in 25 years, reaching 17,106.
With potential buyers expecting increasing supply and a further drop in home prices, residential sales are expected to fall to around 50,000 units this year. Although luxury home prices overall are expected to drop 5% this year, prices of super-luxury houses and apartments should remain firm. Mass-market prices could drop up to 10% in 2016.
Retail
Amid deteriorating visitor number and retail sales, Hong Kong's retail industry is seeking new elements and new angles to rebalance business.
The art atmosphere has been well-cultivated in the city, particularly in the SoHo and NoHo neighbourhoods, Meanwhile, landlords are also bringing elements of art into their malls. One successful example is K11 Hong Kong, another example is H Queen's, a gallery-featured commercial building at 80 Queen's Road Central, which is scheduled to open mid-2017, providing an interesting alternative to the city's shopping scene.
Looking ahead, the retail market is likely to continue going through a period of readjustment to reduce its dependency on Mainland visitors spending. As rents drop, it is becoming more affordable for lifestyle brands to take up space in core shopping areas.