(8 May 2019, Hong Kong) Hong Kong remains the most expensive Asian city to build in, according to the International Construction Costs 2019 report published by Arcadis, the leading global Design & Consultancy for natural and built assets. Only four Asian cities rank within the global top 50 for high cost of construction with almost all other Asian cities being among the cheapest for construction.
Hong Kong ranks 1st in Asia, followed by Macau, Tokyo and Singapore, as the most expensive city to build in, and ranks 3rd in the world. Megacities in China are among the world's cheapest cities to build in along with Kuala Lumpur, Jakarta, Mumbai, New Delhi, Bengaluru and Bangkok. The report details and ranks the relative cost of construction in 100 of the world's major cities. Hong Kong's ranking remains the same despite an increase in the size of the index from 50 cities in 2018 to 100 in 2019.
According to the GDP data released by Census and Statistics Department, Hong Kong's economy showed continued growth of over 3% for 7 consecutive quarters starting from Q4 2016, ending in Q3 2018 and it dropped to 1.3% in Q4 2018 based on the preliminary figure. Several major long-term civil projects reached completion, including the Hong Kong-Zhuhai-Macau Bridge and the West Kowloon Railway Station. There is a potential to leave a gap in ongoing capital works, but the funding for Capital Works projects approved in 2017/18 and 2018/19 by Hong Kong's Legislative Council increased substantially comparing with 3 preceding years. The approved funding in these two years are close to the level at 2012/13 and 2013/14 suggesting there is a healthy pipeline of projects in 2019 and 2020.
Despite the increased number of approved works, Arcadis expects that there will be a reduction in the level of construction activities, especially on residential developments due mainly to the shortage of land. In addition, there is also growing uncertainty around the impact of the US-China trade war and the local property market on future construction output. Construction costs are expected to drop by 2% in 2019 and a further 1% in 2020.
The Asian cities ranking in Arcadis' International Construction Costs 2019 are below: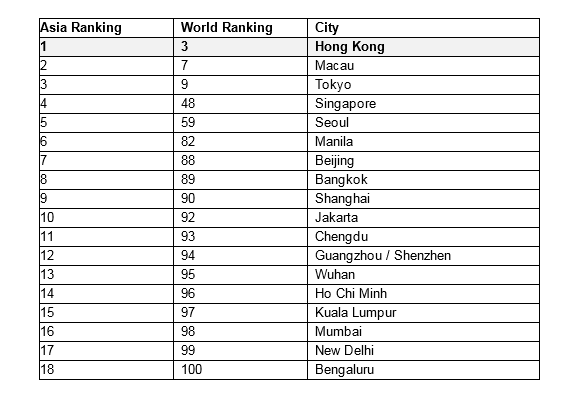 Francis Au, Head of Hong Kong and Macau at Arcadis Asia, commented: "Hong Kong's construction industry has some core challenges including a relatively low technology adoption rate and a pressing need to improve productivity levels among its aging workforce. Innovation and digitization present an opportunity for the Hong Kong construction industry to increase productivity and lower costs. Investment in smart city initiatives now will be crucial for success in the future. In 2018, HK$1 billion was outlined by the government for the establishment of the Construction Innovation and Technology Fund (CITF) to encourage the construction industry and its practitioners to adopt innovative construction methods and new technologies. The pilot project of Hong Kong's first Modular Integrated Construction (MIC) for the Pak Shing Kok Disciplined Services Quarters shows a move towards a smarter future for the industry."
Based on Development Bureau Technical Circular (Works) issued on 27 December 2018, all public capital works projects with estimates greater than HK$30 million shall use Building Information Modelling (BIM) technology. BIM aims to produce an overall better product, improve productivity such as reducing rework and errors, saving time and reducing cost.
The full report can be downloaded here.