Injecting a much-needed dose of 21st century architectural splendour into the area, the recent opening of Hysan Development Company Limited's environmentally-friendly and technology-driven Hysan Place in Causeway Bay signals the reinvigoration of a district that has for decades been known around the world as Hong Kong's premier shopping destination and office district.   
Hysan Place is the latest milestone development in the company's long-standing history in Causeway Bay. With roots in the district since the 1920s, Hysan is the largest commercial landlord in Causeway Bay and Hysan Place is the only significant new mixed-use commercial building offering "AAA" grade office space and a brand new shopping mall to open on Hong Kong Island this year. 
A  mixed-use building covering a total gross floor area of approximately 66,000 square metres comprising 15 levels of office space and 17 floors of retail outlets, Hysan Place is also the first Hong Kong building to attain United States Green Building Council's Leadership in Energy and Environmental Design (LEED) Platinum pre-certification. 
"The original vision for Hysan Place was conceived by former Hysan Chairman, Peter Lee," states Hysan Director, Design and Project, Dr Chan Lai Kiu. "As well as providing the city with an unrivalled retail and office centre, he also wanted to do something for Causeway Bay and address the issues of pollution and traffic congestion that have plagued the district in recent years." 
Hysan's approach to sustainability has, in fact, been developed over many years. The company has a long history of owning high quality buildings that incorporate green provisions such as landscaped gardens and building set-backs. Sunning Plaza's front area, Hysan Avenue's greenery and Lee Gardens Two's upper-level garden are good examples. 
"At Hysan Place, we have  included a range of energy-saving green solutions that have been put in place to promote a building with a high quality working and shopping environment with better air quality, natural lighting and cooling controls." 
Green features set Hysan Place apart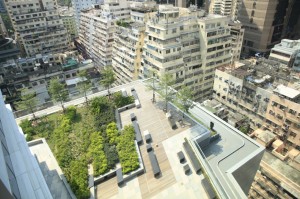 Hysan Place now stands as a leader in relation to the inclusion of a wide range of green features built into the design for the benefit of customers, office workers and the immediate surroundingarea in Causeway Bay.
These include the curtain wall, with operable vents, light shelves, solar shading, flexible drapery system and low emission double glazing, while the rainwater harvesting system brings better water efficiency.  
Green building materials used wherever possible have included FSC certified wood, high use of recycled content and regional products, while the setback and core orientation of the complex improve the street environment in the surrounding area. Other green features at Hysan Place include a Sky Garden on the fourth floor of the shopping mall and other green spaces for people to enjoy.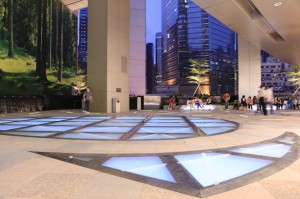 Additionally, a free cooling system utilises outside fresh air for direct space cooling, while the hybrid cooling system  combines stack and wind effect in the lower zone of the retail mall. Elaborating further, Dr Chan explains that there are several large openings on the lower levels of the building, which act as "urban windows" to enhance natural air ventilation and improve the microclimate. 
"These openings will also lessen the "wall effect" caused by uniform high-rise developments which adversely impact air circulation and help retain good visual permeability," explains Dr Chan. 
Healthy indoor environment 
"Hysan Place provides a healthy indoor environment that promotes the use of natural light and ventilation. Light shelves on the building's exterior are designed to direct natural light deep into each office, while the curtain wall incorporates protective sunshades and double-glazing to keep it from getting too bright or too hot." 
"Most floors also have operable vents, so that tenants can create their own ideal temperature and the healthiest ventilation mode, while a rainwater harvesting system makes use of rainwater collected on the roof, exterior walls and ground level for irrigation and air conditioning." 
Hysan Place offers Grade-A office space in the heart of dynamic Causeway Bay with easy access to all means of public transport, including a direct link to Causeway Bay MTR station. 
"With an area of approximately 1,500 square metres in rectangular design, floors in the Hysan Place office tower offer a high-efficiency ratio of about 92 per cent with top building specifications," says Dr. Chan. 
Panoramic views across Victoria Harbour from every office floor are complemented by exceptional light and air quality, achieved through the building's sustainable design. Apart from an impressive 3.1m clear headroom, the floor plan designs also offer a significant level of flexibility, so that work areas can be altered for different functions with ease and are supported by exceptional technical specifications and other business amenities. From the ground floor entrance, efficient double-deck lifts ascend into a spacious double–height sky lobby on the ninth and tenth floors. This lobby has a Sky Light Ceiling which is another energy-saving feature. A photo sensor of natural light helps control the artificial light in the lobby and the façade in order to save energy.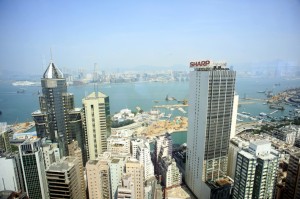 Causeway Bay is a vibrant 24-hour district, bringing an unrivalled diversity of lifestyle amenities to office tenants and providing a work-life balance to people working in the district. 
Technology assists customers
There is a huge LED Conical Wall flanking the west wing of Hysan Place, bringing the latest information of the mall to shoppers. Another worth-noting hardware is the express double-decked elevator system that is capable of rapidly transporting occupants and customers to various sections of the building from both street and basement levels.
A central restaurant booking system is also installed throughout the mall for added convenience for customers and eliminates the need to queue for a table at the many restaurants on the dedicated dining levels. Upon receiving their reservation tickets, shoppers can leisurely focus on their shopping at a leisurely pace, while the status of the queue at their restaurant of choice is constantly updated on a flat panel by the escalators on each level.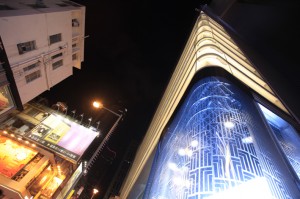 "Hysan Place is a clear demonstration of Hysan Development's commitment to green solutions in Hong Kong and we are proud to be the pioneers of new building standards that will serve as an example in relation to future developments in the area," says Dr Chan. Hysan Place is the first LEED Platinum pre-certified composite vertical mall with integrated office space in the world and is also a Hong Kong BEAM Platinum pre-certified project. The project also won the Merit Award in the New Building Category (Building under Construction – Hong Kong) of the Hong Kong Green Building Council's Green Building Award 2012. "Hysan Place's sustainability features are the result of  Hysan Development's intensive green research and development focus and will bring outstanding benefits to our tenants, visitors and other stakeholders alike."