The long-awaited iSquare looks set to become one of Tsim Sha Tsui's greatest landmarks of luxury and prestige and so it comes as no surprise that the developers chose UA cinemas, Asia's sole proprietor of IMAX technology, to become their anchor tenant.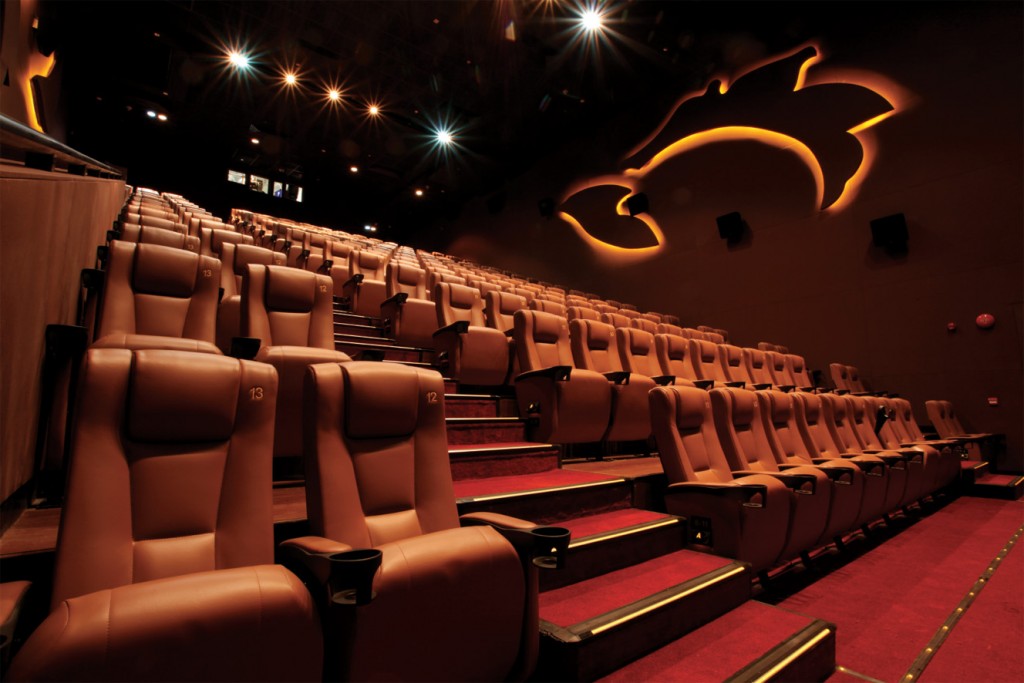 Providing the biggest IMAX Theatre in Hong Kong, UA iSquare marks the first theatre in the city to be fully customised to host IMAX's proprietary digital projection technology that combines powerful laser-aligned digital sound system and custom-designed theatre geometry to deliver the world's most immersive movie experience. 
Whether it's a question of coincidence or branding synchronicity, UA IMAX was the obvious choice for the developers, who back almost five years ago first approached cinema operators in the city for proposals to build a high quality state-of-the-art theatre at the iSquare site. 
"In December 2004, UA committed to seven IMAX systems, four for Hong Kong and three for China.  Megabox in Kowloon Bay was the first IMAX Theatre in the city and what we see at UA iSquare is Hong Kong's first and only theatre built around exact IMAX specifications.  It really is quite a coo for UA Cinemas and Tian Teck Group and is really very exciting", says Bob Vallone, Director and General Manager of Lark International Multimedia Ltd and UA Cinema Circuit Ltd. 
"What differentiates the IMAX from a normal cinema is a steeper seating deck and an enormous screen that is tilted slightly forward so that each audience becomes totally immersed into the movie, whether its in IMAX 2D or 3D.  The whole theatre is geometrically perfect and the sound system is 12,000W compared to the more traditional 4,000W surround sound.  Images from traditional film are converted frame by frame with pixels compressed, and the result is flawless", he adds.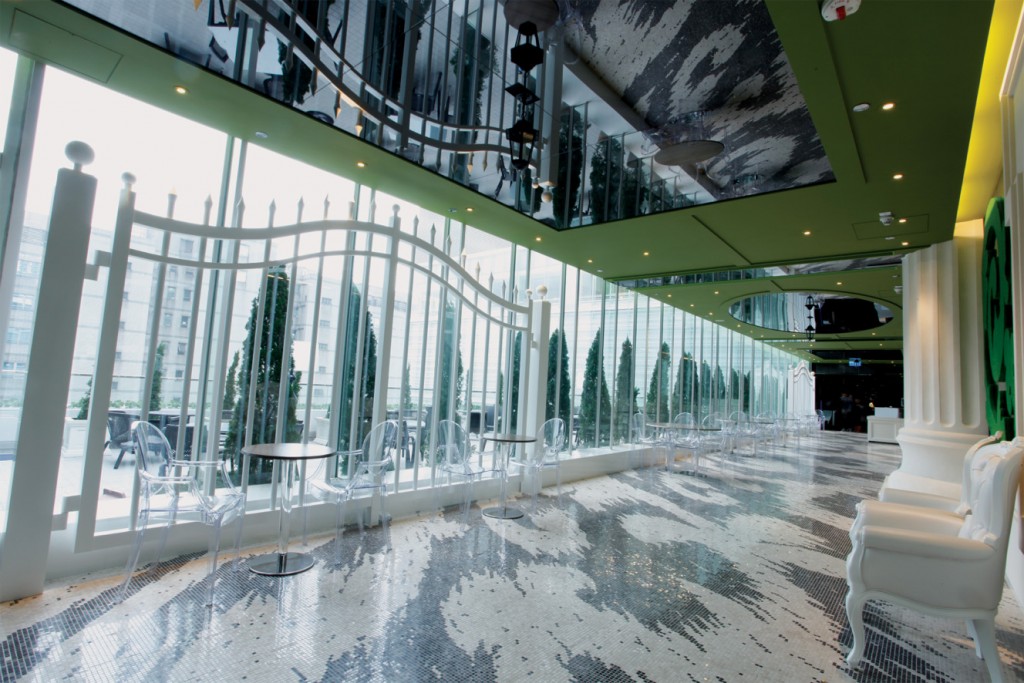 UA iSquare is indeed groundbreaking.  With a total of 981 seats in five theatres and designed by renowned Hong Kong architect, Alexander Wong of Asiacity Architects, who was also responsible for the impressive renovations at City Plaza, UA iSquare seems to rise up from Nathan Road's bustling streets to take audiences on a visual dialogue that results in an impressive journey of design that can only be described as something that becomes part of the total movie experience. 
This is a journey that starts with the Jewel Box Office, inspired by the world of luxury hotels and exclusive jewellery stores, where guests are greeted and served over a concierge-type glass counter reception that could have been designed as a showcase for precious diamonds.  A huge plasma screen encased in a giant oval mirror of antique gold shows trailers of the latest movie offerings whilst extravagant mosaic flooring and sensuous backdrops accentuate the effect.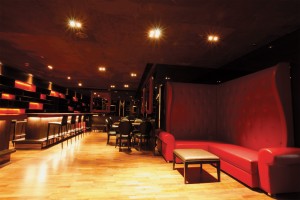 Meanwhile the Black and White Bar appears as a piece of modern art with clusters inspired by black and white pearls, where classically patterned wallpaper on lilac glass panels are shown off under radiant spotlights.  The feeling of opulence continues to the eighth floor, with the Garden Room, which, complete with its giant columns and ornate gateways, feels like you are entering the conservatory of a grand country mansion. 
On to the restaurant area, where deep burgundy walls are adorned with abstracted deer mounts and displays of fine wines, and the feeling is far away from the old traditional cinemas many of us grew up with.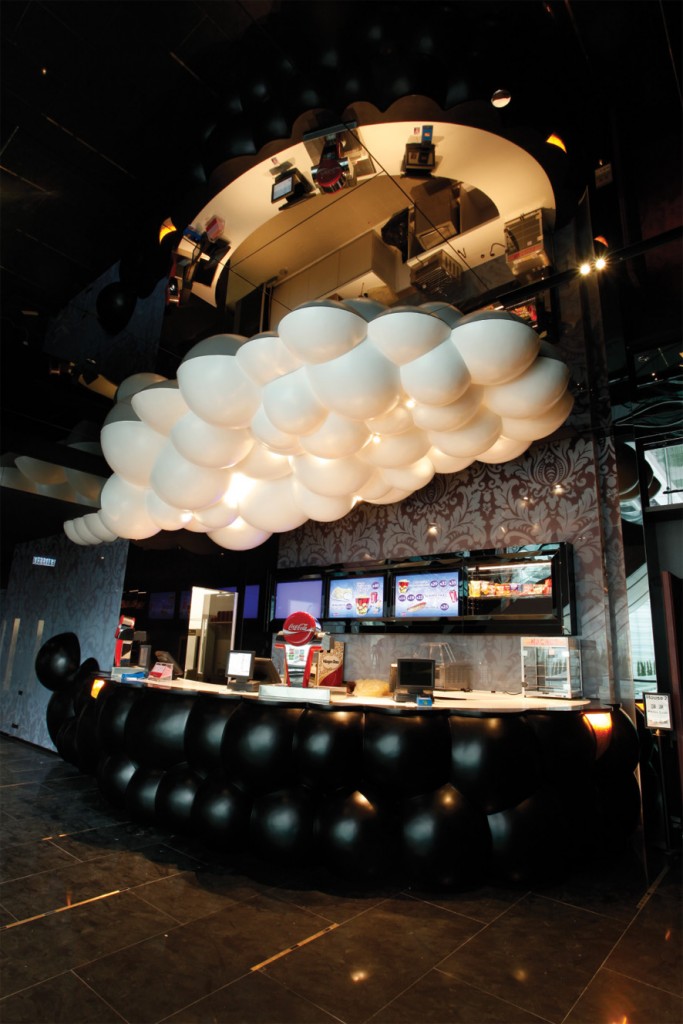 Aside from the IMAX Theatre on the M1-M2 floor, houses 1-3 and the exclusive 38-seat Phoenix Theatre, which can be booked for private screenings and events, all feature stadium design, with space in between each row set at around 1100-1200mm. 
All houses boast 22-24 inch seats from acclaimed British brand, Ferco, as well as Dolby EX Surround Sound and digital projection systems for both 2D and 3D movies.  But it really is the IMAX Theatre that sets UA iSquare apart from its competition to deliver what has been described as the world's most immersive movie experience.  
With a screen measuring around 11.8 metres by 21.3 metres and designed and positioned to maximise every viewers field of vision, crystal clear images are enhanced via dual-projection technology where optical sensors monitor and fine tune the image to ensure brightness and contrast is perfect. 
IMAX's laser-aligned digital sound system is just as impressive, pre-calculating positioning to guarantee precise and accurate sound distribution via a re-mastered soundtrack that is pumped into five discrete audio channels pinpointed to any location in the theatre.  
UA iSquare officially opened its doors in a grand opening ceremony held on December 16th that truly captured the hearts and minds of close to 1000 invited guests.  And what better film to showcase iSquare's high-tech opulence than Avatar, James Cameron's latest release that finally made its debut to audiences around the world only at a time when technology had caught up with his vision. 
Whilst advance ticketing was nothing short of impressive, with over 70,000 tickets sold in Hong Kong in only ten days, breaking the previous opening day record set by Titanic, at this time it's difficult to say whether the film itself or the groundbreaking design and technology of UA iSquare provided the backdrop, only that the evening was a total bombardment of every sense possible.  Whether you count yourself as a regular movie-goer or not, UA iSquare is certainly an experience you can't afford to miss.