The talk of the town, an inner city diversion and an example of inspired design by young guns from Hassell Architects utilising recycled materials, the recent temporary Urban Coffee Farm and Brew Bar installation was a welcomed concept and temporary addition to a previously ignored part of the Melbourne CBD.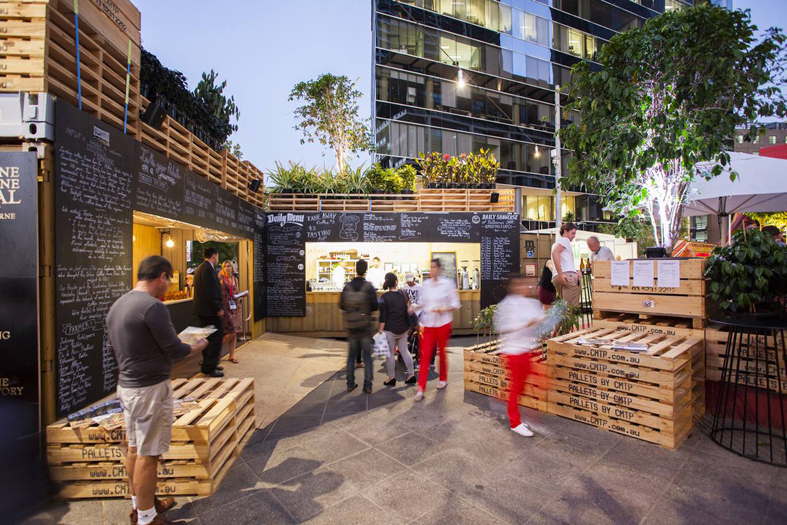 A highlight of 2013 Melbourne Food & Wine Festival – an annual celebration of the vibrant food and wine culture for which the city is globally renowned – this year's event saw crowds eagerly flocking to sit amongst a collection of old recycled shipping containers, timber pallets and packing crates constructed to evoke the atmosphere found in terraced coffee plantations around the world, with the added bonus of patrons also being able to enjoy a java or two as produced by the country's leading baristas while there.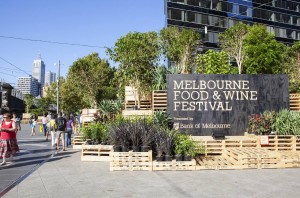 Located at Queensbridge Square, known locally as the "Red Stairs", the Urban Coffee Farm and Brew Bar took a previously drab and seldom used urban space and converted it into a "must see" for enthusiasts of cutting edge design, supporters of sustainable building and the imaginative use of recycled materials, and the city's many coffee connoisseurs.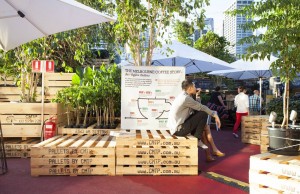 Further promoting recycling and sustainability, while summoning the journey of coffee beans from plantation to palette, was the use of 120 previously abandoned mature coffee trees sourced from a disused coffee farm in New South Wales, used to create the jungle-like surroundings. An additional 1,500 plants further added to the overall atmosphere.
The use of recycled shipping containers and timber pallets in the installation was also reminiscent of the shiploads of cargo, including coffee that has arrived into port city Melbourne over the decades as introduced by the successive waves of immigration that now accounts for the diverse ethnic mix of the city.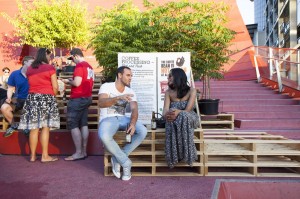 "The inspiration for the Urban Coffee Farm and Brew Bar comes from a desire to evoke the still somewhat mysterious and exotic geographies associated with the source of coffee, in a sustainable way," stated Brenton Beggs, Landscape Architect at Hassell.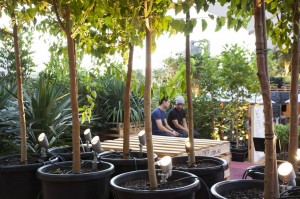 "The use of recycled shipping containers, and wooden pallets, plus the sustainable reuse of abandoned coffee trees brought to life the story about coffee, in particular its origins, production and transport into cities around the world, such as Melbourne. The result was an atmosphere that conveyed the sense of a coffee 'jungle' in the heart of a modern urban jungle as constructed using recycled materials and trees that that also related to the surroundings."
The most flavoursome coffee in the world is acknowledged as being produced within twenty degrees of the Equator in the shadow of mountain ranges and under the shade of the existing forest canopies. It is also not unusual to stumble across plantations growing in jungle areas that have seemingly sprouted from the bare ground beneath and this element of surprise was conveyed with the installation of the coffee trees and the creation of this unexpected, but welcome, jungle landscape within an urban environment.