(8 June 2022, Hong Kong) Leigh and Orange Macau Limited (L&O), by forming a joint venture with Mecanoo International B.V. (Mecanoo) and PAL Asia Consult Limited (PAL Asia), is pleased to announce that the Cultural Affairs Bureau of Macau has awarded the joint venture on 31 May 2022 a contract for the design of the new Macau Central Library construction project. L&O will act as the Executive Architect and Executive Interior Designer for this project.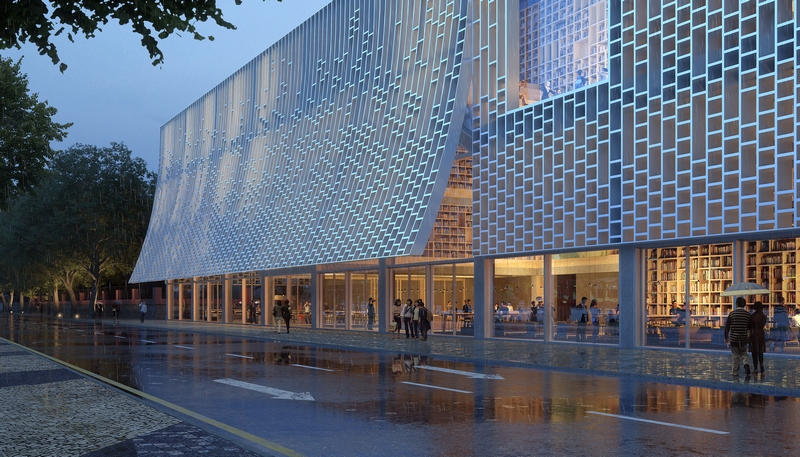 The new Macau Central Library, adjacent to Tap Seac Square, is located on the site of the former Hotel Estoril. Once completed, the new library will complement the existing Macau Central Library. The new Macau Central Library will provide 15,000sqm of facilities, including the main library space, meeting rooms, study zones and communal reading areas. The existing mural from the Hotel Estoril will be re-integrated into the new building to preserve a link between the historic past and the proposed design. The lattice design of the façade draws inspiration from the aesthetic of the bookshelves and acts as both a shading element and light filter to the building.
"L&O is excited to be joining hands with Mecanoo and PAL Asia on this exciting project. The project team look forward to collaborating with the Cultural Affairs Bureau of Macau to realise this landmark project. The New Central Library will be an important cultural venue in Macau, and we are honoured to play a key part in helping to crystallise the vision of the Bureau," said Ivy Lee, Managing Director of Leigh & Orange.
Building on the experience gained in Macau projects throughout the years and to service our clients better, L&O is also pleased to announce the opening of its Macau office. As part of our strategic expansion, this regional expansion will strengthen L&O's service capabilities and further develop our long-term business growth in the Greater Bay Area and enable L&O to accommodate the growing demand for its architectural services in Macau and the surrounding cities. By leveraging our expertise and experience across the full spectrum of market sectors, L&O is confident about our commitment in delivering our services to meet the opportunities presented in the Macau, Hengqin and the other adjacent cities.