QBA 2012 Project Outside Hong Kong (Non-Residential) Finalist – Located at the junctions of three prominent streets, Shanghai Wheelock Square is currently the second tallest skyscraper in PuXi, Shanghai.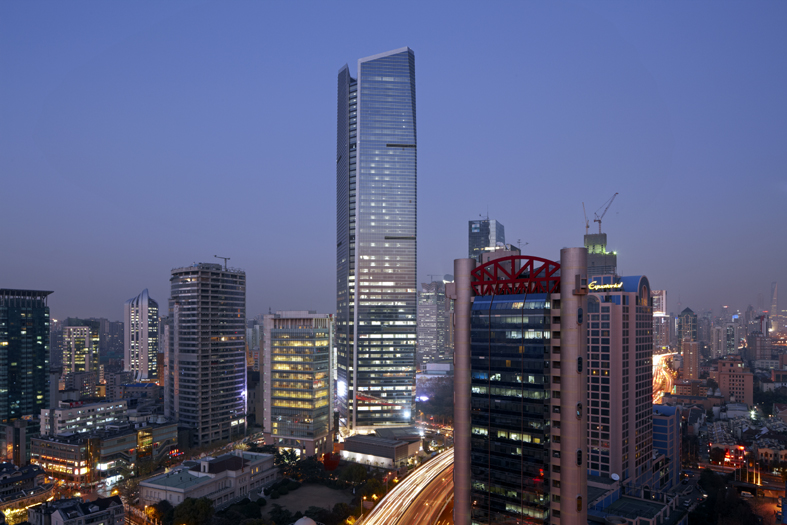 In this 12,675 square metre parcel of land, there is a 4-storey basement of 33,000 square metres, a 61-storey Grade A office tower of 107,000 square metres, 2 detached pavilions of 5,600 square metres  in-total for retail, food and beverage and a piazza linking the adjacent Jing An Park.
The project has been rated as one of the 10 landmarks in Shanghai (2011), the Most Efficient and Best Commercial Office (2011).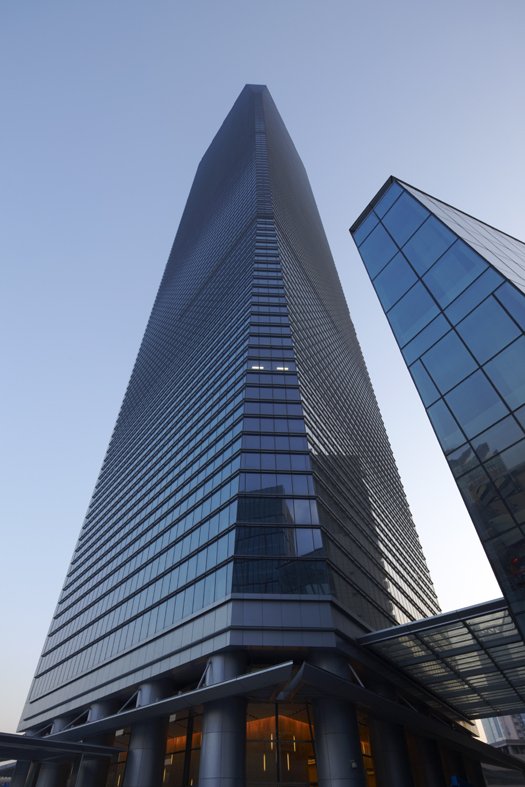 Situated at the junction of West Nanjing Road, HuaShan Road and West YanAn Road, Shanghai Wheelock Square was a significant project in Shanghai Jing An District developed by Whaf China Development Ltd.
In the master layout design planning, Leigh & Orange considered the conservation of district green-area of Jing An Park and located the tower back to the street junction to maximize the integral piazza opposite to Jing An Park on Hua Shan Road.
The architecture is orientated and sculptured to address neighboring significant buildings and to capture the view of the bund. Along the high-end retail street, Nan Jing Road, a sculptural retail pavilion was designed, then revised and fine-tuned to reach a balance between the Developer's design requirements, the street-scape and the expectations of the local authorities.
A neat curtain wall on a simple building form addressing the views to WangPu River and corners away from sensitive neighbor becomes the timeless identity of the tower. A detached retail pavilion along Nanjing Road was a positive response to the authority's demands and streetscape with continuous shopping experience.
Along Yan An Road, there is another retail pavilion which provides food and beverage dinning space. It is designed to house the energy tower which consists of a number of centralized cooling towers and exhaust flues, chiller plants and gensets at the basement levels of the pavilion away from the main tower. This approach keeps the Grade A office space free from potential vibration and disturbance of the major plants.
Spanning over 10 years in the process of design, submissions and construction, the Shanghai Wheelock project succeeded in overcoming challenging issues in geotechnical concern of the city with fast growing metro system, planning concerns in the territorial development of commercial street as well as the increasing national concerns of energy conservation in building the Grade A office space in Pu Xi.