(1 February 2018, Hong Kong) Swire Properties today celebrated the topping out of its newest triple Grade-A office tower, One Taikoo Place. Set to become a new landmark on Hong Kong Island, One Taikoo Place is a core component of Swire Properties' HK$15 billion Taikoo Place redevelopment project, which will see the developer further transform Taikoo Place into a major commercial hub in the city.
(中文简体版请按此)
Spanning 1 million sq ft in total, over half of the tower has already been secured by major multinational corporations. Swire Properties is pleased to announce that One Taikoo Place will be home to two key tenants: Baker McKenzie, one of the world's largest international law firms, and Facebook, the world's best-known social network. Currently based in Central, Baker McKenzie will relocate its entire operations in Hong Kong to One Taikoo Place, taking up five floors totalling 100,000 sq ft. Facebook, a current tenant at One Island East in Taikoo Place, will move to One Taikoo Place and take up 100,000 sq ft of space.
In addition, several other multinational companies from a wide range of sectors have chosen One Taikoo Place to house their Hong Kong offices, including: world-renowned communications conglomerate Interpublic Group, which includes global advertising networks CMG, FCB, Mediabrands, McCann and MullenLowe Group; leading insurance firm MetLife Asia Limited; and top international law firm Simmons & Simmons.
Guy Bradley, Chief Executive, Swire Properties said, "The topping out of One Taikoo Place is a major milestone in our ongoing transformation of the district. With the redevelopment of Taikoo Place, we intend to redefine Hong Kong's office landscape, not only by creating exceptional office space to suit the modern worker, but also by looking beyond bricks and mortar and creating vibrant places where our expanding business community can thrive."
Don Taylor, Director, Office at Swire Properties added, "We are delighted to be welcoming so many great tenants to One Taikoo Place. The growing number of high-profile corporations who have chosen to relocate from the city's traditional CBD and make this area their home is an endorsement of Taikoo Place as a location and testament to its increasing status as one of the most desirable business addresses in the city."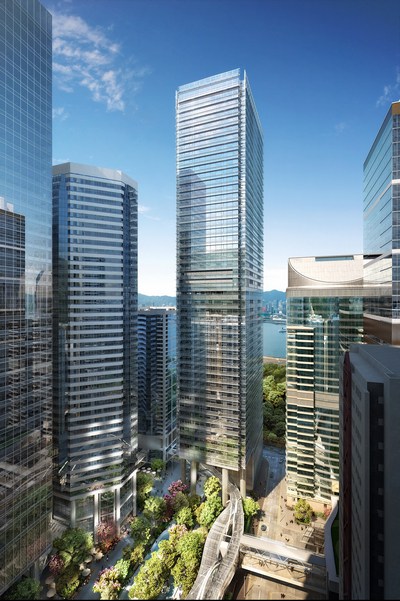 One Taikoo Place At a Glance
Located in the heart of Taikoo Place, One Taikoo Place is the first of two new triple Grade-A office towers in the Taikoo Place redevelopment project. Designed by Wong & Ouyang (HK) Ltd, the tower features expansive glass walls, with each floor designed to provide an abundance of natural light and offer panoramic views of Victoria Harbour. In accordance with Swire Properties' vision to become the leading sustainable development performer in its industry globally by 2030, the office tower has been built to the highest sustainability standards, achieving Pre-certified Platinum for LEED BD+C: Core and Shell Version 2009, and Provisional Platinum for BEAM Plus New Buildings Version 1.2 green building standards. One Taikoo Place is scheduled to be completed in the third quarter of 2018.
The Transformation of Taikoo Place
An outstanding feature of the redevelopment is the introduction of Taikoo Square and Taikoo Garden, designed by the award-winning London-based landscape architectural practice Gustafson Porter + Bowman (famed for the Diana, Princess of Wales Memorial Fountain in Hyde Park). The two gardens, comprising stunning water features, lush greenery and quiet pathways, will provide nearly 70,000 sq ft of open green space for the community to enjoy. In addition, the two new office towers – One Taikoo Place and Two Taikoo Place, along with the eight other office towers at Taikoo Place – will be seamlessly connected by elevated air-conditioned walkways designed by Paris-based design company Hugh Dutton Associés.
Today also marked the official launch of The Refinery, Swire Properties' private members' club at Taikoo Place. Located in Dorset House and managed by The Peninsula Group, The Refinery features a Chinese restaurant and private dining room, bar and lounges, outdoor terrace, as well as an executive fitness centre and saunas. Following the launch of Swire Properties' co-working space Blueprint, the arts and cultural event space ArtisTree and The Loop, a sustainable development exhibition centre, The Refinery is the newest amenity to be unveiled at Taikoo Place, offering tenants an exceptional location in which to unwind and socialise.
"We're committed to building a thriving community here at Taikoo Place, with connected amenities that offer corporations the best of everything – from restaurants to green spaces and recreational facilities combined with uniquely curated tenant engagement activities," said Don Taylor. "As attitudes about work and the workspace continue to evolve, we expect that our ongoing investment in Taikoo Place will strengthen its position as the location of choice for a diverse range of businesses."
Visit Swire Properties' website at www.swireproperties.com.