The creation of the $1 billion Construction Innovation and Technology Fund last year clearly signalled the Hong Kong government's intention to drive further modernisation of the industry. RICS BIM Conference returns for 2019 with a renewed focus on the role of the profession in realising the vision of the "Construction 2.0" strategy.
In use in Hong Kong for over a decade already, BIM has the potential to reshape the built environment both locally and globally. Attendees will join industry experts from the public and private sector to share approaches to furthering the adoption of BIM. Delegates will discuss the benefits of better collaborative and cross-disciplinary working, including cost and waste reductions and safer, more productive working practices. With over 200 delegates expected, the event will provide a platform for in depth evaluation of the vital challenges and opportunities presented by continued modernisation in the industry.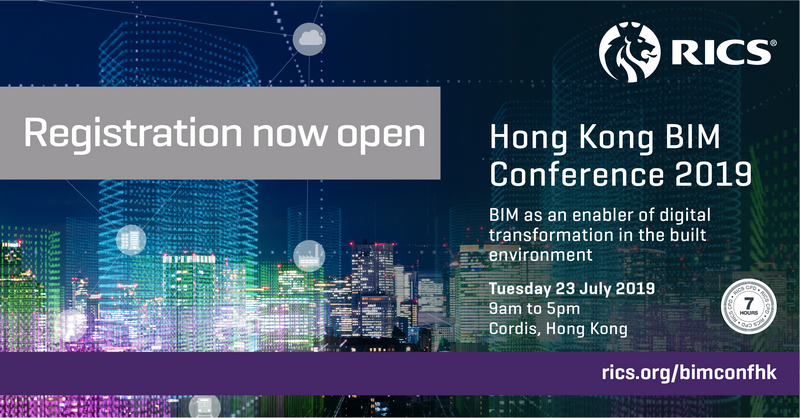 Details
Date: 23 July 2019 (Tuesday)
Time: 9 a.m. to 5 p.m.
Venue: 7/F, The Ballroom, Cordis, Hong Kong, 555 Shanghai Street, Mongkok, Kowloon, Hong Kong
Language: English
CPD: 7 hours
Fee:
Early bird (on or before 28 June)

RICS professionals / Supporting organisations / Sponsors – HK$1,250
Non RICS-professionals- HK$1,500

Standard price

RICS professionals / Supporting organisations / Sponsors – HK$1,400
Non RICS-professionals- HK$1,700

Group booking

RICS professionals (Group of 10 or more)- HK$1,150
Non-RICS professionals (Group of 10 or more)- HK$1,300
Enquiry:
Ms Karina Cheung – email [email protected]; tel 2117 0695
Website: rics.org/bimconfhk