The fair focused on cross-sector collaboration, market demand and innovation to address industry trends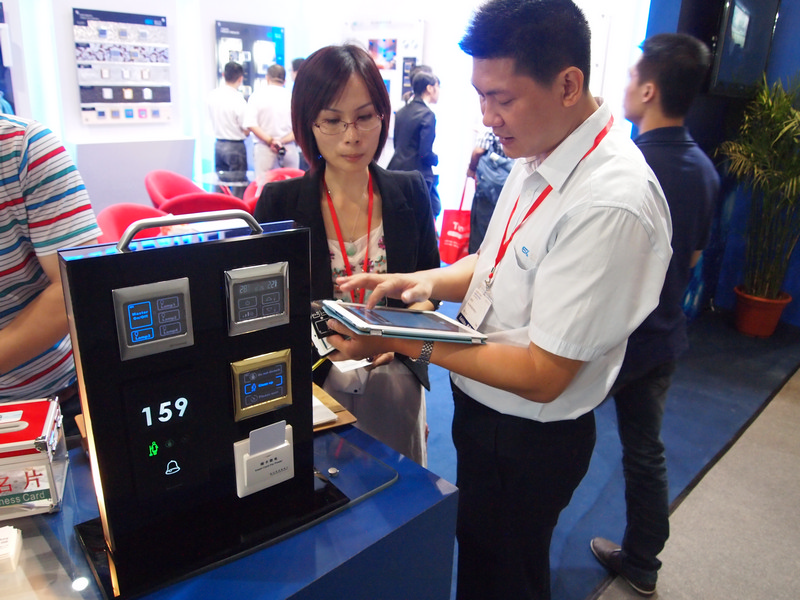 Benefiting from the smart home boom, the second edition of Shanghai Smart Home Technology (SSHT) concluded with great success. The fair was held concurrently with Shanghai Intelligent Building Technology (SIBT) from 31 August – 2 September 2016 at the Shanghai New International Expo Centre in Shanghai. Collectively, the fairs hosted 240 exhibitors from 14 countries and regions who showcased the latest smart home innovations and total solutions. The fairs also welcomed a record-breaking 23,210professional visitors, a 13% increase over last year, from 49 countries and regions.
Commenting on the success of the fair, Ms Lucia Wong, Deputy General Manager of Messe Frankfurt (Shanghai) Co Ltd, said: "I would like to express my heartfelt thanks to the smart home industry for their continuous support. The 2016 show emphasised three core themes: cross-sector collaboration, market demand and innovation. The integration of resources to better join both traditional and technology-oriented businesses is important for future industry development. This year's show welcomed more companies to promote the convergence of traditional building industry, the Internet and smart home industry. Human-centric applications have also become mainstream in the market. SSHT's diversified visitors, ranging from designers and engineers to system integrators and end-users, created a platform for exhibitors to generate business and better understand market demand. During the fair, we organised an array of product launches and seminars toencourage industry players to innovate and develop practical smart living products."
The fair focused on cross-sector collaboration, market demand and innovation to address industry trends
Cross-sector collaboration focus: Exhibitors from diverse fields gathered to foster collaboration and reveal market trajectory
Displaying a full range of smart home products and solutions were featured brands from diverse sectors including Midea, Honyar, Control4, UIOT, SIIC-LongChuang, Appollo, WRT, Crodigy, DigiBird, HDL, Hi-Champ, Sauter, Lierda, Miotlink, World-Linking, ALCATEL, Dr Peng, Walls, Andson, ATTE, Cinemaster, TRI-SUN, Xinghuoyuan, Lifesmart, KEF, Baiwei, AbleCloud, REXENSE, Shuncom, UMEINFO and many others. These companies showcased cutting-edge technologies and addressed the market trajectory and trends, such as:
Decentralised and complete new smart home demonstrated through various scenarios
Midea Smart Technology Co Ltd demonstrated many applications of total smart home solutions in different scenarios. Take the company's M-smart platform for example, which can connect smart home products to the Internet and be controlled by mobile phones. Mr Li Qiang, General Manager of the company, said: "M-smart is an open and decentralised platform, which can connect seamlessly to all of Midea's home appliances and other products manufactured by various companies. The new technologies and products launched at the fair, together with the participation of renowned exhibitors, made the event a success and helped drive development of the smart home industry."
UMEINFO, exhibiting for the first time at SSHT, promoted its total smart home solutions. Mr Zhang Min, Executive Director and General Manager of the company, believes that the future of smart homes will be realised by the use of sensors in different home scenarios. He explained: "The future will be the era of cloud technologies and sensors. Smart phones will not be the primary platforms for controlling homes but will serve as a tool for recording users living habits. The visitor quantity and quality at the fair were both satisfying and we will consider having a larger booth next year."
Smart safety and security, medical and health management
Honyar is a well-known building electrical appliances and smart switches provider. This year, the company showcased its SHC smart control system, which integrated controls for building intercom systems, safety and security surveillance and others. The company also provided smart elderly care solutions such as distant video supervision, night vision, motion detection, alarm functions and more. Mr Wang Xiao Dong, Assistant to the General Manager of Honyar, expressed: "Paying close attention to end-users' needs is the key to increase a smart home manufacturer's competitiveness. Future development trends of the industry will focus on helping end-users tackle difficulties in their daily lives. Smart products that can improve safety and security, environment supervision, health management and elderly care have great market potential."
Shanghai SIIC-Longchuang Smarter Energy Technology Co Ltd focuses on the research and development of smart safety and security technologies, which are indispensable parts of the company's total smart home and smart community solutions. Ms Fei Xiang, Marketing Director of the company, commented: "Safety and security are major concerns for the smart community, and comfort and quality of life are icing on the cake. The functions of safety and security are of great importance and dictate the direction in which we develop our solutions."
Home theatre facilities: Connecting with the Internet and integrating seamlessly into the environment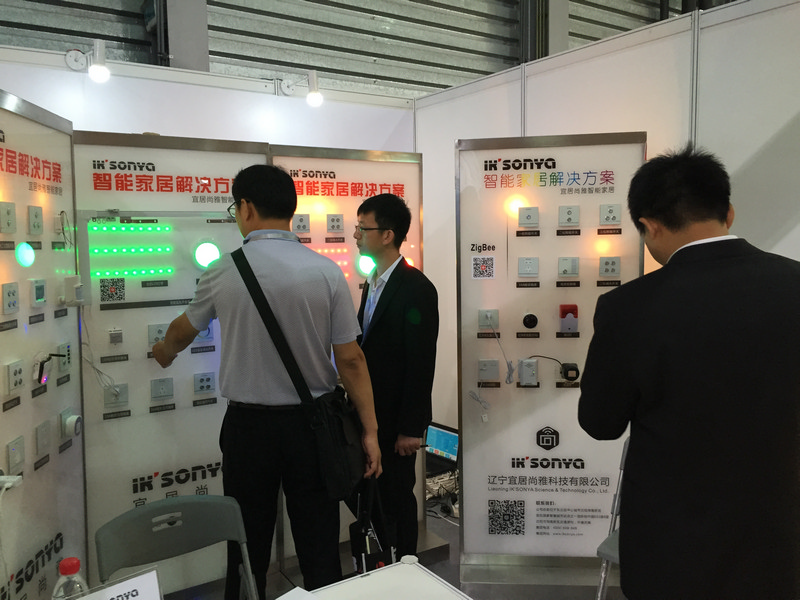 The integration of home decor and smart products is a highlight in the home theatre industry. This year, the fair's Home Technology Zone was once again co-organised by the Custom Electronic Design & Installation Association (CEDIA) to showcase professional and cutting-edge home theatre, audio and video systems and products.
Mr Tom Owens, Director of Global Development at CEDIA, expressed: "The young millionaires in China will start investing in their own country rather than in overseas markets. What is stable and experiencing some growth is the high-end market. The home is changing – it is no longer a place where people just sleep and eat. It is becoming the office, the hospital, the nursing home and much more. SSHT has become more diversified. We keep coming back because the show is becoming the go-to residential electronics trade show in China and that is where our audience is."
From smart homes to smart communities
Extending smart home development from indoors to outdoors was another important industry trend covered at the fair. This trend helped create an integrated living zone that provides smart security services to the whole community.
Ms Fei Xiang added: "The smart home is a combination of infrastructures and connections, and not just a single system. People need to socialise and interact with their neighbours, the community and the whole society. As such, the future of smart home development will extend to smart communities." SIIC-LongChuang showcased its total smart home and smart community solutions, including its U+ Smart Community Living Platform, which covers smart services of property management and sales, eCommerce, logistics and more to offer one-stop smart community services. Commenting on the fair, Ms Xiang said: "SSHT is the first exhibition we participated in after our strategic restructuring and the visitor flow was great. Apart from promoting our products, we learned more about and got inspired by the latest industry and market trends observed at the fair."
Market demand focus: Fair met industry demands and its diversified visitor profile boosted business opportunities
Demand pushes market development forward and the fair gathered diversified visitors with various needs. Some visitors shared their fair experiences:
AVNECT is a company focused on the development, production, sales, design and installation of smart home systems and products. Mr Liu Zhong, Sales Manager of the company, commented: "I participated in SSHT last year and significant improvements have been made. SSHT is the most impressive smart home fair in Eastern China."
Mr Xavier Clement, Group Procurement and Logistics Director of Evaco Group from Mauritius, shared: "Some of the exhibits that caught my attention were the wireless light switches, CCTV systems, enhanced security systems and smart door locks. Apart from working with international suppliers, we also source domestically from China for pricing advantages. SSHT was a good size and well-organised fair."
Mr Wang Lin, Director of the Strategic Alliance, Strategy and Business Development Department at Huawei Device Co Ltd, shared: "This was my first time visiting SSHT and the experience was eye-opening. I sourced security sensors and there were a number of high-quality manufacturers here. My trip to SSHT was a great success."
Innovation focus: New technologies and products introduced to inspire creativity through concurrent events
With increased market demand, the industry innovates to develop new products and technologies. The fair's Smart Home Innovation: New Technology and Product Launch event once again invited renowned smart home enterprises and associations to participate. They included CSHIA, Midea, SIIC-LongChuang, Honeywell, Honyar, iHORN, TianTong, Vstarcam, UIOT, Ponit and Smart Life. The launch was a success with these big names sharing cutting-edge smart community and smart home total solutions, technologies for home entertainment, health management, security and fire systems and more.
Another product launch co-organised by The Alliance Technology, TCL Smart Home and Midea Smart Technology showcased the Smart Refrigerator 533TH1 – the first product to carry the iTecGenesis platform. Besides the traditional functions of a refrigerator, this model also offers home entertainment, recipes videos and smart shopping features. Mr Dai Jiang of Midea said: "As a manufacturer of home and electrical appliances, we are more customer-oriented and transform the selling of products to providing total smart living experience to our clients."
Technical and innovative forums covering numerous important topics were also held with industry experts sharing their views and insights on the following topics:
International intelligent building and smart home standards
The series of forums were organised by the AllSeen Alliance, Bluetooth SIG, EnOcean Alliance, KNX Association, LonMark International, Wi-Fi Alliance, Z-Wave Alliance and ZigBee Alliance.
The AllSeen Alliance organised the "Open IoT Open Source Framework – AllJoyn" event to show how this new technology satisfies the demand for controlling various IoT facilities, services and applications. Mr John Zhang, Director of Standard Operations and Ambassador to China for the AllSeen Alliance, commented: "We invented our AllJoyn technology to connect to smart products of different brands to realise total smart home standardisation. SSHT is an excellent platform for our product and brand promotion."
The ZigBee Alliance presented on the topic of "From Wireless to Boundaryless" to introduce its standardisation roadmap. Dr Wilma Su, Chair of ZigBee Member Group China, said: "The forum was very effective and it acted as an important bridge for industrial interactions."
Mr Ye Xin, Deputy Secretary General of the Digital Home Industry and Application Promotion Centre at the China Intelligent Home Industry and Application Alliance, participated in "A Vision of a Wi-Fi World" forum organised by the Wi-Fi Alliance. He expressed: "I noticed that large associations such as the Wi-Fi Alliance, Bluetooth SIG and the KNX Association held forums led by professional speakers. They shared the latest trends in their areas of specialisation. These forums were very helpful to our future development."
CEDIA Talk: Home Theatre Room Design Training Courses
Another highlight of the show was the Home Theatre Room Design Training Courses held by CEDIA and AVSTYLE. Mr Ken Erdmann,
Co-founder and President of the Erdmann Electric Inc, and Mr Deng Hongxing, custom theatre design expert, demonstrated comprehensive home theatre design solutions as well as forecasted AV development trends up until 2020.
China Smart Home Industry Alliance Forum (CSHIA) (Eastern China)
CSHIA held the "Understanding the Smart Home Market Influenced by Existing Capital Strength" forum to discuss methods for injecting innovation into the smart home industry. Mr Steven Zhou, Secretary-General of CSHIA, expressed: "The show was professional and gathered manufacturers from different sectors, together with diversified visitors. SSHT presented dynamic industry trends."
Talking about the future of the smart home industry, Ms Lucia Wong said: "SSHT strives to advocate and promote smart living. The concept of the smart home is not as simple as using apps to control home appliances. They should focus on users' experiences and provide convenience and easy living environments. SSHT will continue to innovate and grow together with the industry."
SSHT is organised by Guangzhou Guangya Messe Frankfurt Co Ltd, the China Council for the Promotion of International Trade – Shanghai Pudong Sub-Council, Shanghai Hongshan Exhibition Service Co Ltd and the China Smart Home Industry Alliance (CSHIA). The next edition of the fair will be held from 5 – 7 September 2017 at the Shanghai New International Expo Centre.
SSHT and SIBT are both headed by the biennial Light + Building event which will take place from 18 – 23 March 2018 in Frankfurt, Germany. Messe Frankfurt also organises a series of light and building technology exhibitions in China including the Guangzhou International Lighting Exhibition and Guangzhou Electrical Building Technology. The company's light and building technology fairs also extend to markets in Argentina, India, Russia, the UAE and other countries and regions.
For more information on Light + Building shows worldwide, please visit www.light-building.com/brand. To learn more about SSHT, please visit www.building.messefrankfurt.com.cn or email [email protected].