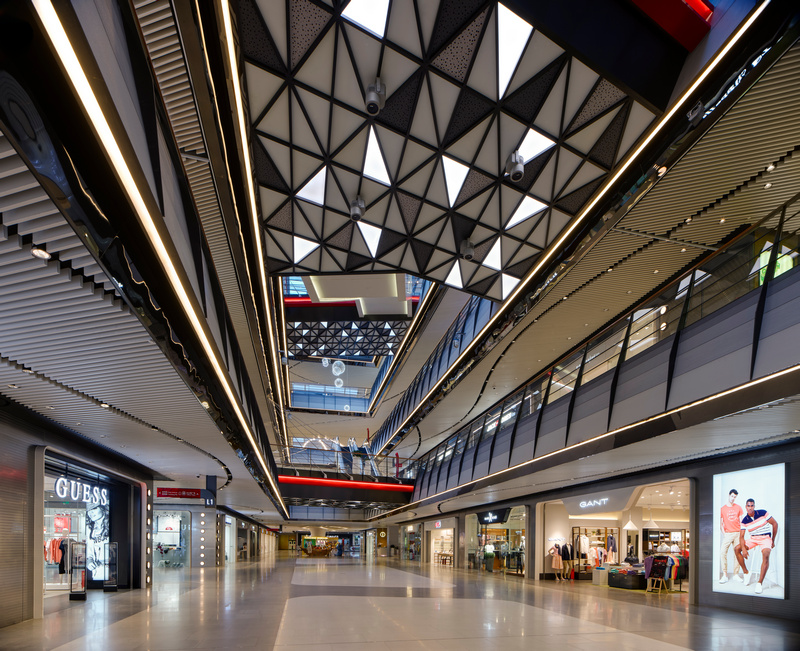 JATO Design International Limited is a creative, multi-disciplinary and award-winning international design firm based in Hong Kong, specialized in Master Planning, Architecture, Interior Design and Graphic Design. JATO was established in 2013 as a subsidiary of Jiang & Associates Creative Design Company Limited (ranked 25th in Top 100 giants 2019 of Interior Design magazine). With years of design experience in Mixed-use, Retail, Commercial, Work Space and Hospitality venues, our project footprint has been able to reach out and cover many major cities which included masterplan for Chengdu Jinniu District Mixed-use Development (298,000 square metre), Nanchang Zhengshen Commercial Development (280,000 square metre), Shenyang Jiuwu Culture City (15,000 square metre), Shenzhen CentralCon Group Bao Cheng πMall (55,000 square metre), Suzhou Longfor Times Paradise Walk (177,000 square metre), Chongqing Sincere Starlight Place (166,000 square metre) and Wuhan Mall City (64,000 square metre).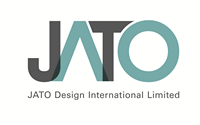 Shanghai's new maritime-inspired Gala Mall, is arguably the most original to date and one that exemplifies JATO's vision of 'Life inspiring Design and Design inspiring Life'.
Situated at Lujiazui Finance Finance and Trade Zone in Pudong, Shanghai and the intersection points of the city and the waterfront, the award-winning project provides a new landmark on a site that since the 1850s has been known for its shipyards and its position as a river gateway to the city. The 70,000 square metre development, which saw its grand opening in December 2017, houses over 120 retail stores across five levels.
Inspired by the concept of shipping and seafaring, JATO values the historical background and unique cultural aspect of the site and the opportunity to provide a social interchange between the river and the city.
Gala Mall's modern industrial design style is complemented by historical maritime design elements that seek to defy the rigid stereotype of shopping-mall design, to achieve an experiential approach that highlights the history and evolution of the city. Thus the commercial space invites visitors to embark on a cruise that anchors the connection between the modern retail experience, while increasing connectivity to the city's cultural district.
Each level is designed to achieve a different mood to cater to every member of the family. Gastronomical delights can be experienced on the lower floor, rising up to international brands, through to 'cool youth', 'warm family', 'life style' and 'cultural convergence'.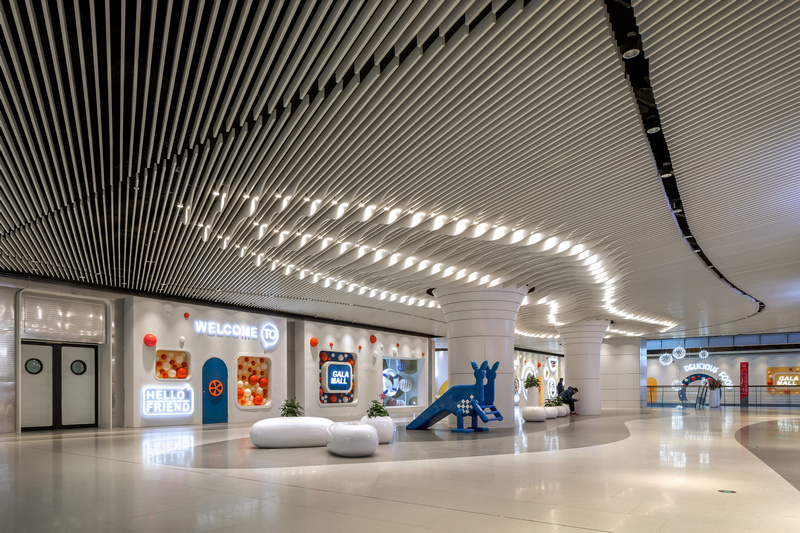 Attention to Detail
JATO's multi-cultural background and experience in China allows the practice to integrate local resources into the whole design process.
Using grey as its main colour tone, blacks and reds are used to outline each layer of space, with curves and industrial features used to reflect the maritime history of the site. Stainless steel, terracotta and fine wood textures are featured in the five link bridges that provide a focal point within the main atrium. The attention to detail – from the bottom of the bridge that reflects the sunlight on the sea, through to elevator buttons modelled as ship rudders and lift cars as cabin doors – is a bonus to the already stunning entrances and skylights, lift lobbies and restrooms that depict almost every aspect of sea travel. Look closely and you will see the varying gradients of floor and ceiling patterns on every level, and the voided edges of the shop fronts that range from pattern laminated glass and terracotta clay through to aluminium and zinc panels.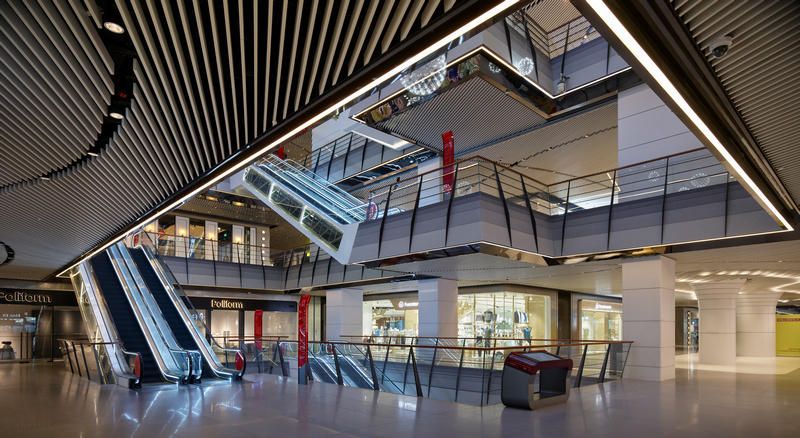 Sustainable and Cost-efficient Aesthetics
JATO chose terracotta, an eco-friendly domestic material made of natural clay, as the main raw material, introducing environmental protection with zero radiation into the interior space.
The frosted surface of the terracotta not only reduces light reflection and pollution, but also crafts a more natural and warmer atmosphere with increased air quality and zero VOC material, rarely seen in today's commercial buildings. Modulated paneling was also integrated into the design process to reduce material wastage and increase cost-efficiency.
Additional features include the integration of an intelligent sun-shading device beneath the skylight in the main atrium, a feature that houses an inbuilt sensor that monitors sunlight penetration. Using carefully selected shading material to create a translucent effect, the device not only reduces energy consumption but also provides a comfortable temperature for all seasons.
With the podium supporting two towers, circulation planning was a major element in JATO's escalator planning. A major consideration was finding a way to overcome the structural and mechanical constraints involved in balancing the amount of leasable space with the challenge of maintaining a feeling of openness and space within the atrium area and creating a unique cruise-like experience with seamless connections between floors.
Here, the solution was to install auto sensor escalators that were stacked on top of each other to create a multi-level network resembling the flow of a river. These vertical travelling devices not only serve as a pump for the circulation system but with both sides of the escalator covered with transparent materials and indirect lights to showcase the machinery, are also a major design feature in what is surely to become a highlight of JATO's ever-expanding commercial space portfolio.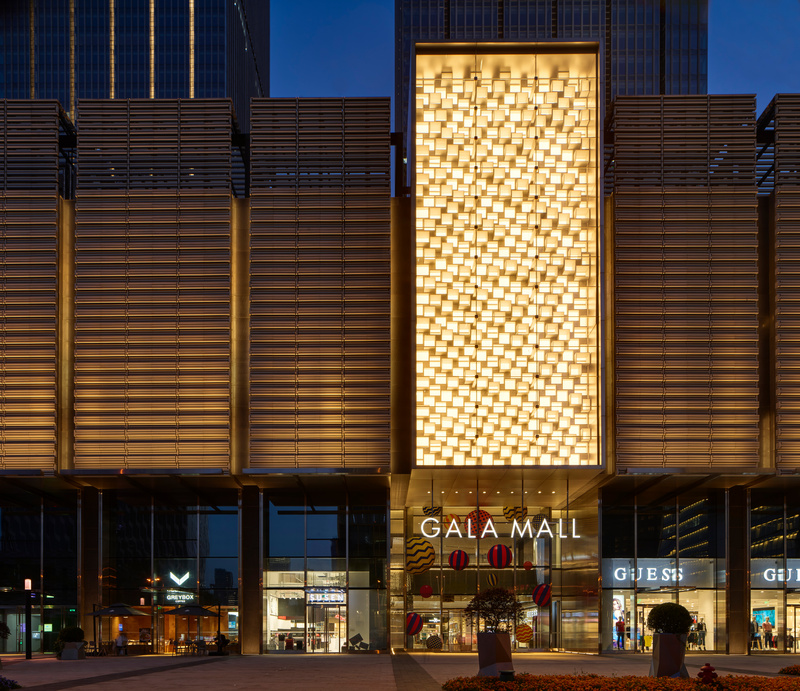 Shanghai Lujiazui Gala Mall
Project Details
Location : No.66 Yincheng Road, Pudong New Area, Shanghai, China
Date of completion : December 23, 2017
Client : CITIC Pacific Limited
Interior Designer : JATO Design, Hong Kong
Project leader : Frank Jiang
Design team : Kali Chan, Isaac Ho, Ivan Woo, Eileen Kwok, Phoebe Huang, Tackey Poon
Partner/ LDI : Jiang & Associates Creative Design Company Ltd
Partner/ Architect : Kohn Pedersen Fox Associates (KPF)
Photographer : Virgile Simon Bertrand