Designed by OMA Asia and located on a newly created public square on Shenzhen's main arterial route, Shennan Road, the new 46-storey (254m) Shenzhen Stock Exchange (SZSE) is ranked as one of the first 3-star rated buildings in China.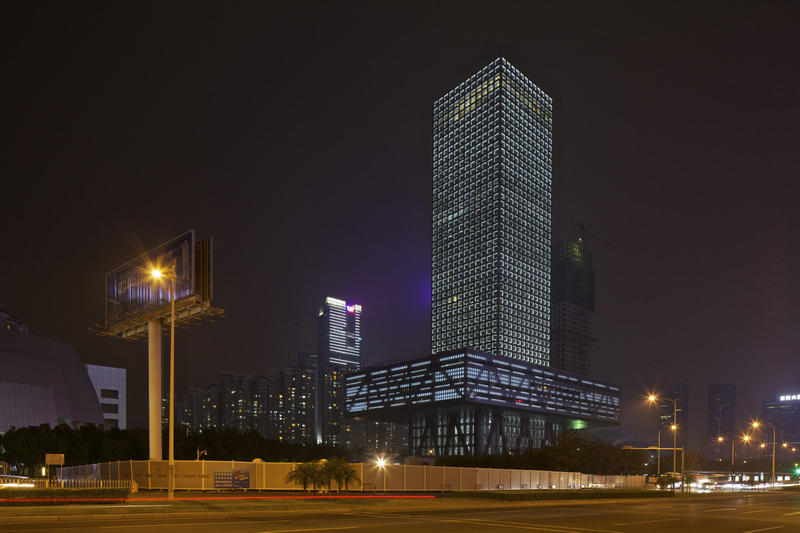 "The Shenzhen Stock Exchange embodies the Pearl River Delta's phenomenal transformation over the past thirty years," stated OMA founder and partner, Rem Koolhaas. "We are greatly excited about the building from an architectural standpoint, but I believe its true significance emerges when viewed in an economic, political, and ultimately social context. We are immensely honoured to contribute to Shenzhen's 21st century landscape."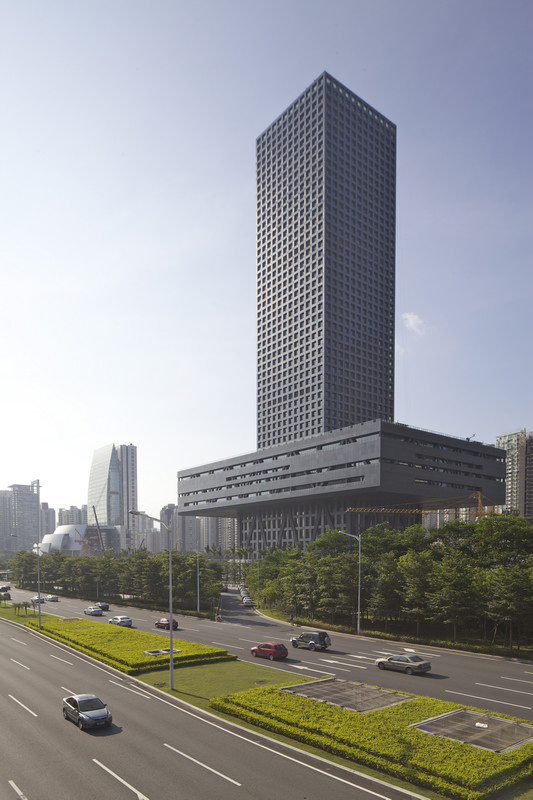 With an area of 15,000m2 per floor and notable as the world's first major stock exchange actually built and designed for the digital era, OMA has created a futuristic trading room where some three dozen exchange managers will monitor market activity on multiple screens. Additionally, there are also dedicated public spaces, including a roof garden, an exhibition area, a ceremonial hall and conference rooms.
China 3-star rating
China's 3-star rating system comes under the direction of the Ministry of Housing and Urban Affairs (MOHURD). Together with the Leadership in Energy and Environmental Design (LEED) programme, the 3-srat rating system is helping to ensure the realisation of green building across the country. By providing an objective and trusted seal of approval, these ratings systems help create accountability, transforming the building marketplace so that environmental performance metrics become part of the economic equation.
LEED is the best-known system and overall more popular in China, but the 3-star rating system is fast catching up, In fact the growth rate in terms of registered projects for 3-star rating Is much faster than LEED for which registrations grew by 30% in 2011 and 29% in 2010, while 3-star grew 191% in 2011. As of October 2011, LEED had 800 registered projects, while 3-star rating had 242 registered projects.
Unique design
Built at a cost of almost $500 million, SZSE occupies the first ten stories of a structure that seemingly defies gravity and traditional structural design, appearing to float above ground level when viewed from a distance thanks to its elevated podium jutting out some 36-metres above ground level.
A green roof feature has also created a new covered public plaza at ground level that also engages the city and its residents. The recessed windows promote the reduced use of energy and minimise solar heat, while allowing all floors of the mixed-use tower to be flooded with natural light.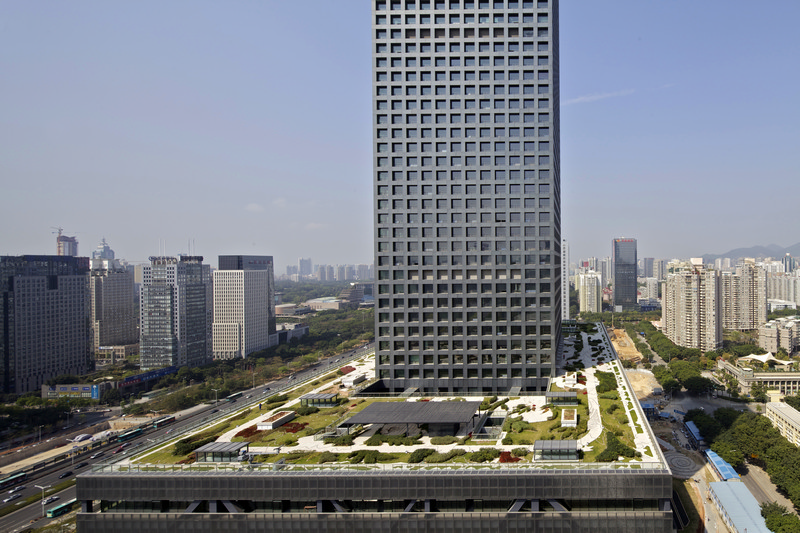 The raised podium and the tower are combined as one structure, with the tower and atrium columns providing vertical and lateral support for the cantilevering structure. The raised podium is framed by a robust three-dimensional array of full-depth steel transfer trusses. The overall simple form is clad in a ceramic-coated textured glass that changes the building's appearance depending on the weather and time of the day or night.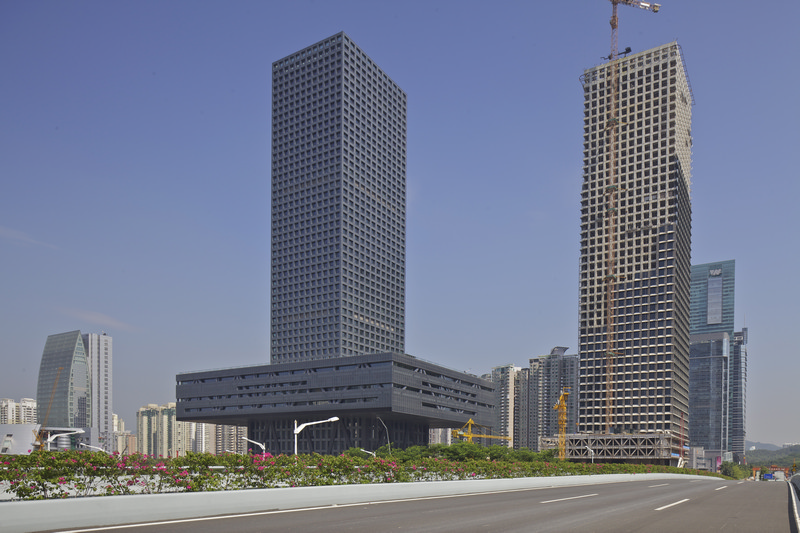 The neutral colour and translucency of the façade change with weather conditions, creating a mysterious crystalline effect: sparkling during bright sunshine, mute on an overcast day, radiant at dusk, and glowing at night. The façade is a "deep façade", with recessed openings that passively reduce the amount of solar heat gain entering the building, improve natural day light, and reduce energy consumption.
The tower is flanked by two atria connecting the ground level outside directly with the public spaces inside the building and a number of executive offices are located just above the raised podium, leaving the upper floors available for lease by other companies.
Occupying a total area of 265,000 m2, the above ground area of 180,000 m2 comprises SZSE offices, Listing Hall, conference centres, a Chinese art gallery, technical operations centre, canteen, restaurant/club, rental offices, registration & clearing house, and securities information company. The below ground area features a vast 85,000 m2 retail area.
"It is exciting to see OMA's extensive research on Shenzhen materialize as a building in the city," stated OMA Partner, David Gianotten. "The experience of building in Shenzhen further informs our vision for the future of the city. SZSE has a simple and powerful concept – it transcends a generic form into an innovative prospect through the simple gesture of lifting the podium."