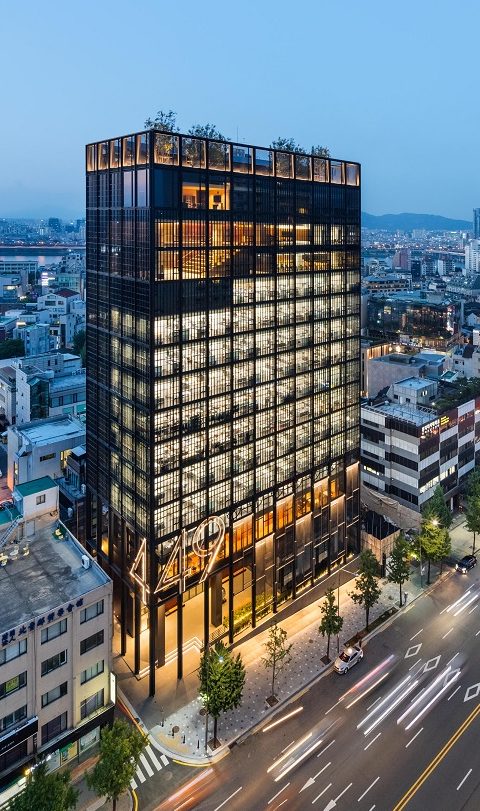 The designers of the 15-storey headquarters of clothes retailer Shinsegae International sought to put a new landmark in the heart of the Gangnam district of Seoul. The resulting building houses more than 500 employees of the company that previously worked in offices spread all around the city. The building has offices, meeting places, design studios, a rooftop garden and, on the ground level, shops which face a public plaza.
The design follows two main themes. One theme is fashion. The crafted grid exoskeleton and moveable facade reflect the constant evolution of fashion. The other is experience. The building is adaptable, reflecting the need for flexibility to keep up with the evolution of fashion. One echo of the dynamism of the fashion world is to be found between the first and fourth floors, where seven steel wheels 2.5 metres in diameter open and close external panels 11 metres high to modulate the amount of daylight admitted.
The design also follows the progressive codes South Korea has for saving energy, which are more rigorous than the LEED standards. The skin of the building uses a range of technologies to reduce heat gain while making the temperature inside comfortable and making the most of natural daylight all year round.
The rooftop garden gives sweeping views of Seoul. It is a peaceful retreat for the occupants of the building and visitors. From the outside, the upper and lower portions of the building look quite distinct. The large wheels and counterweights that move the exterior panels are visible in the lower portion. The grid facade of the upper portion makes the structure a spectacle unlike any other in Seoul.