(12 June 2017, Singapore) Minister for National Development and Second Minister for Finance Mr Lawrence Wong said that Singapore can play a useful role as an infrastructure hub for Southeast Asia or even the broader Asia region in his keynote address at The Urban Land Institute (ULI) Asia Pacific Summit in Singapore. Minister Wong was one of the global line-up of real estate experts that attended the major real estate forum from 6 to 8 June at The Fullerton Hotel Singapore which saw speakers from different real estate sectors and disciplines covering a range of topics including how technology is disrupting the industry, housing and capital markets.
Minister Wong, in his speech on Creating Competitive and Innovative Cities, said that to help meet Asia's huge infrastructure development needs, Singapore could assist other countries in the region in developing long-term urban master plans and implement infrastructure projects. He also argued that master developers should focus on the long term because of the larger plots of land that they work on, and highlighted how master developers in other parts of the world did not just look at maximizing land use but also considered social needs.
The ULI Asia Pacific Summit brought together over 600 decision makers from all sectors of the real estate industry, including institutional investors, funders, developers, advisers, planners, architects and city leaders. The summit is a highlight of the real estate industry calendar as it offers the opportunity for real estate and land use professionals from across the region to share ideas and best practices, as well as make new connections and strength existing relationships.
Other highlights included: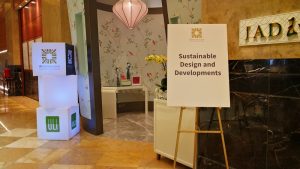 Discussing disruption: International keynote speaker Vivek Wadhwa, a futurist, author and emerging technologies expert, had his audience fully engaged with the topic Amazing or Scary? Technology's Impact on Our Lives, Jobs and Business. Professor Wadhwa argued that as technology gets smarter and cheaper, "if you understand disruption you own the future."
India rising: A panel discussing The Meteoric Rise of India said that while caution and a strong partner are key for foreign investors in Indian real estate, big opportunities are emerging in a number of sectors, many of which are now in the early stages of development. Legislative reform has lowered risk and made India more attractive, RMZ Group chairman Raj Menda argued, citing affordable housing as an area with huge potential due to overwhelming demand. "Affordable housing is now a value-add proposition for investors," agreed Rushabh Desai, head of Asia Pacific at Allianz Real Estate.
Leverage technology with purpose: Sean Chiao, President of Asia Pacific at infrastructure firm AECOM, was a speaker at a talk entitled The Impact of Smart Cities and argued that smart cities need government and private sectors to work together in a panel that also featured Dr. Cheong Koon Hean, CEO of the Housing and Development Board.
Real estate and the effects of the sharing economy: A panel discussing The Future of Workspace and the Sharing Economy argued that landlords need to think about real estate as a service if they are to capitalize on new ways of working. During a discussion, which covered co-working, community and how to attract 'innovation occupiers', the panel agreed that office landlords could learn lessons from the hospitality and retail industry. Delphine Yap-Horsfield, chairman of naked Group, stressed the importance of shared space in naked's Group's coworking hubs, both as an amenity for member interaction and as a revenue provider through events, which she described as a "secret sauce". Duncan White of Colliers International, meanwhile, said landlords needed to consider a "concierge model" to improve the staff experience in their buildings.
The discussion also touched on the threat artificial intelligence poses to white collar jobs, with ULI European chief executive Lisette van Doorn saying: "Human beings' added value is our creativity; workspaces need to foster this more than ever."
The summit also saw the launch of two reports:
Women in real estate: A report entitled Advancing Women in Real Estate focuses on diversity and inclusive workspaces for women in Asia Pacific. After a landmark study on women's career paths in the real estate industry conducted by the ULI Women's Leadership Initiative (WLI) in partnership with EY, the report's authors announced several recommendations to encourage career success for female employees. They encouraged companies to provide challenging job assignments, create a culture that places a high priority on internal and external networks and to be more flexible at work, creating a culture that allows both genders to be involved in their lives outside of work.Singapore could be the first driverless city: Asian cities are some of the world's largest and most densely populated, but the launch of the ULI's Urban Mobility: 10 Cities Leading the Way in Asia Pacific report, produced by ULI and the Centre for Liveable Cities, highlighted transport projects which have improved the environment and in some cases boosted property values. Projects as diverse as a car-free zone in South Korea, a program to encourage cycling in Taipei, and the George Street tram project in Sydney showed the importance of matching solutions to particular places, panelists agreed.
Lam Wee Shann of the Singapore Land Transport Authority explained the city's trialing of autonomous cars, which fellow panelist Richard Paine of Lendlease said could make Singapore the first city to rely on driverless vehicles. "It has the will and a small island is the ideal space to make it work", he said. "We are delighted with the thought-provoking and impactful speakers that have made us think at this year's summit," said John Fitzgerald, CEO of ULI Asia Pacific. "Our industry is coming up with some bold and creative solutions for the issues that are affecting nearly every sector as we enter this new era of technological disruption."
Dr. Seek Ngee Huat, Chairman of ULI Asia Pacific, Chairman of the Board of Directors of GLP and chair of the Investment Committee and Human Resource and Compensation Committee, added: "This year's summit saw more than 600 real estate executives talking about robots, drone deliveries and driverless cars. Who would have thought that these topics would have been on the agenda even five years ago?"
For more information, visit: apacsummit.uli.org