SNC-Lavalin is pleased to announce that it has earned the prestigious Compliance Leader Verification from the Ethisphere Institute, an independent centre for research, best practices and thought leadership. The Compliance Leader Verification is awarded exclusively to companies with the best industry ethics and compliance program that are proactively investing resources in compliance, sending a clear signal that an organization takes compliance and ethics seriously. This certification is valid until the end of 2020.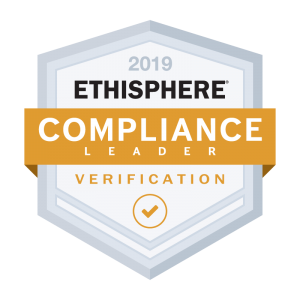 "Ethisphere's recognition acknowledges the efforts we have made to build a strong ethics and compliance program," said Neil Bruce, President and CEO of SNC-Lavalin. "It is by measuring ourself against leading companies that we will continue to improve our program elements, structure and processes. I want to thank all our employees for their commitment to fostering a culture of integrity."
Ethisphere completed a thorough assessment of SNC-Lavalin's Integrity Program and benchmarked it against its 2018 World's Most Ethical Companies data set, providing insight into the programs and practices of leading companies around the world. SNC-Lavalin's performance was specifically evaluated on six main areas: program resources and structure, perceptions of ethical culture, written standards, training and communication, risk assessment, monitoring and auditing, enforcement, discipline and incentives.
"We are happy to award the Compliance Leader Verification™" designation to SNC-Lavalin, said Erica Salmon Byrne, Executive Vice President, Ethisphere. "The structure of the program is exemplary, adopting many leading practices that reflect the company's genuine commitment to integrity in all of its actions. In addition, the visible leadership provided by Neil Bruce and Dr. Hentie Dirker at the helm reflects true adherence to doing business the right way, and communicates that message to SNC-Lavalin employees around the globe."
"We all play a role in maintaining a strong culture of integrity and embedding ethical standards in the decisions we make every day," said Tony Lenard, Regional Integrity Head – Middle East, Africa and Asia Pacific at SNC-Lavalin. "This recognition is yet another testament to our ongoing commitment and focus on doing business the right way, with the highest ethical standards. As a leading engineering end-to-end services provider, we will continue to promote compliance and ethics excellence among our employees and in communities where we operate in Asia Pacific and globally."
For further details, please visit www.snclavalin.com.