By 2050, it is predicted that half of the World's carbon emissions will be from developing countries (in particular, India, China and South East Asian countries).
Modernisation may come at the expense of society and the environment, as the ill-gotten mistakes of an industrialised West pre – Brundtland fail to deter the developing nation's quest for economic prosperity. However, a combination of governmental and private sector commitment to combating climate change has found expression in green building legislation and the establishment of green assessment methods tailored to the tropical climate and regional social economics. This is further testimony to a fundamental step change in the way buildings are being procured, designed and built in South East Asia.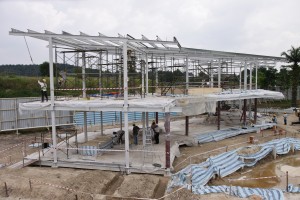 However, whilst examples of environmentally responsive, sustainable built environments in South East Asia exist, the issue of measuring embodied and operating carbon quantity within building development is an area that appears to have been explored to a lesser extent, let alone to the point of carbon neutrality within a particular building typology. Whilst one can be seduced in thinking that the environment is the major component to the green agenda, the balancing of social and economic issues is also equally important.
Sustainable developments provide a balance theory between the needs of Man and Nature through careful consideration and trade – offs between social, economic and environmental parameters of which each should be given equal weighting, but I would argue that an often overlooked parameter is that of local culture. It is with the need for more culturally sensitive and quantifiable 'green' assertions in South East Asian building design and masterplanning that we have been fortunate enough to contribute. This has been from the micro scale of the first carbon zero house in South East Asia (the Idea House), through to the macro scale of an 80,000 acre sustainable masterplan (Vision Valley).
The Idea House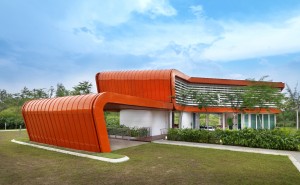 The Idea House is a prototypical dwelling that provides an insight into future tropical living, and is the brainchild of Sime Darby Property – Malaysia's largest land owner and leading property developer; and our practice, Broadway Malyan – a leading international interdisciplinary design practice. Conceived as a test bed for new ideas, the house showcases the latest in sustainable architecture and is the first carbon zero residence in South East Asia. 
A key starting point for any sustainable design is a passive solution that is respectful to the site, the localised climatic conditions, and the local community. To this end, the house goes back to basics by embracing traditional passive design principles that were historically rooted in the Malay Kampung tradition. This provided opportunities for the Kampung's house reinterpretation in light of societal, economic, technological and environmental change in the 21st century. The ability to cross ventilate habitable spaces, employ deep overhanging rooves to provide shade from the solar glare and shelter from the rain, and orientate a long and slender floor plate to permit greater daylight penetration whilst negating solar heat gain to the shorter facades all facilitate lowering energy consumption.
Specification of light thermal mass materials that have an 80 % recyclable content and the ability to dismantle the structure in the future (given the houses' modularity) assist in preserving both environment and, more locally, the site for the next generation.
The spatial configurational analysis of 20 traditional Kampung houses and their modern day counterparts also provided the basis for more objective spatial planning to ensure that the dwelling would not only respond to local socio-cultural needs, but will be future – proofed for changes in social convention. Just as the traditional Kampung was able to expand and contract according to the size of the family nucleus and be internally flexible to cater for a variety of different cultural practices, so too is the Idea House able to expand (and contract) internally by the incorporation of demountable floor and wall cassettes to cater for future expansion whilst adopting a flexibility of internal space for different functions to take place during the course of the day. This approach also negates the potential for compromising thermal performance when altering the exterior envelope. 
The house also embraces new technologies. In addition to testing the latest in low energy appliances and low energy lighting in order to reduce energy consumption, it also explores smart systems that ultimately connects the occupant to the complete operation of the house via the simple touch of an I-phone. The roof of the house generates enough solar energy to not only be self sustaining but also supplies the 21% surplus energy back to the grid. It also harvests rainwater as well as re-uses grey water from the house to collectively ensure a 98% recycled water content for daily consumption. In addition, the project sought to establish an exemplar process of sustainable design – drawing upon the collaboration of a knowledge sharing interdisciplinary team that employed Building Integration Modelling software in order to minimise design, production, and onward construction material waste. This resulted in a 50% saving in design time, and a 75% saving in construction time over conventional detached residential properties.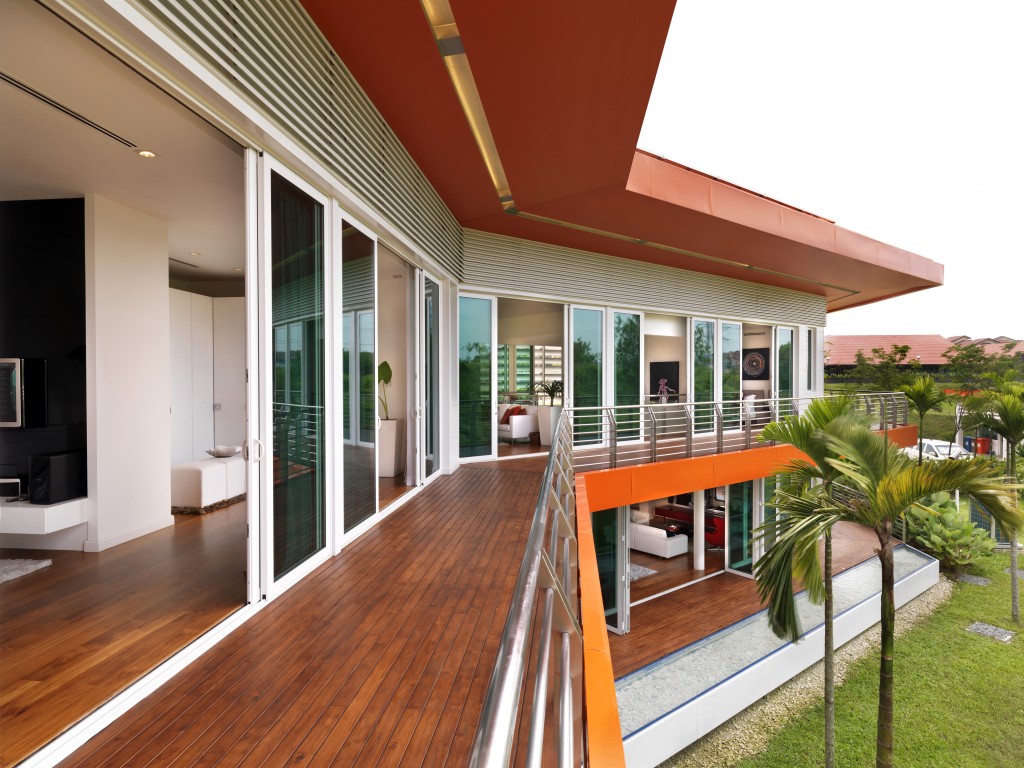 The house has been completed and initial results have demonstrated its carbon zero credentials in terms of operational energy and we are now undertaking a full life cycle analysis to substantiate the very same position in terms of embodied carbon / energy. The Building Energy Index has been used to monitor consumption and energy generation. Based on 7 months of operation, the Idea House is operating at approximately 16800kWh per year. With an average house of similar size and accommodation operating at 35145kWh per year, the house demonstrates that it is able to reduce overall household energy consumption by up to 18345kWh per year, or 52% when compared to a similar house of a conventional specification. When we calculate the energy that is generated by the BIPV, we can quickly see that the energy consumption is offset by the energy generation. If we consider the 7 months of operation, whereby the monthly average energy generated was 1727kWh, we can extrapolate to forecast a 1 year energy generation of 20724kWh per year. If consumption levels of 16800kWh per year are achieved, there will be an energy surplus of potentially of 3924kWh per year, or 19%. 
In terms of water consumption, and based on 7 months operation, the Idea house is consuming approximately 91632 litres of water per year. Rain water collection over the last 7 months equates to a monthly average of 22,150 litres of rainwater, or 265,800 litres of water per year if we were to extrapolate and forecast a 1 year water collection. This means that only 34.5% of the collected rainwater is used. If we were to assume that water consumption was to increase by a factor of 5 (representative of a family consuming 456,250 litres per year), and consider that 50 % of the consumed grey water was recyclable (i.e, 228,125 litres of water per year), a combined total of 493,925 litres of recycled and grey water can be achieved. This is a surplus of 37,675 litres of water, or 7.6%. However, one needs to take into account the increasingly sporadic seasonal differences that can see longer periods of droughts in the future. If we were to factor in inefficiency caused by seasonal anomalies, water efficiency will be approximately 90% – i.e, there will still be the need to rely on 10% water supply from mains supply, as originally estimated.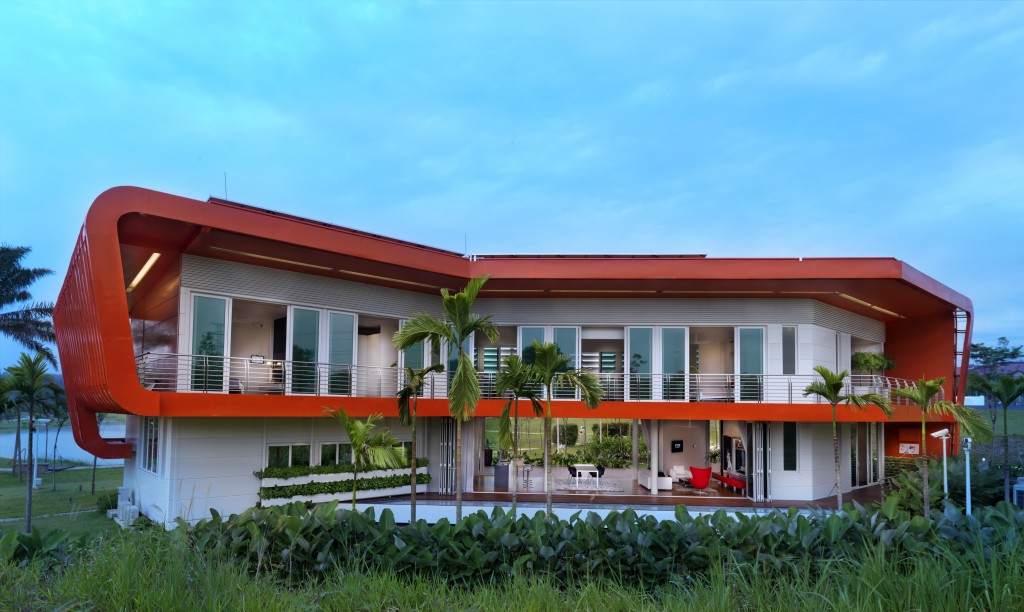 These figures can only be validated once a full 1 year cycle of the house is completed in August 2011. Nevertheless, the data appears promising and highlights the opportunities that rain / grey water and solar harvesting can bring to tropical living. The project has therefore satisfied three undertakings. In the first, it sought to objectively assess and document the development's carbon footprint in order to avoid the potential greenwashing that can take place by the superfluous addition of green technologies. In the second, it embraced the spirit of sustainable knowledge transference from one project to another, as lessons learnt from the past inform the present and future. In the third, and by virtue of the second, it demonstrated how the social, economic, environmental and cultural design and methodology of the Idea House can be applied to the terraced, semi-detached, and block typologies, and thus be true to its original intention of being a prototype house – driven through research, development and innovation, for onward commercial application in the residential marketplace. 
The project has now been documented in a book, entitled Idea House: future tropical living today that profiles the collaborative journey between developer and design team in the creation of such a benchmark for sustainable design in SE Asia.