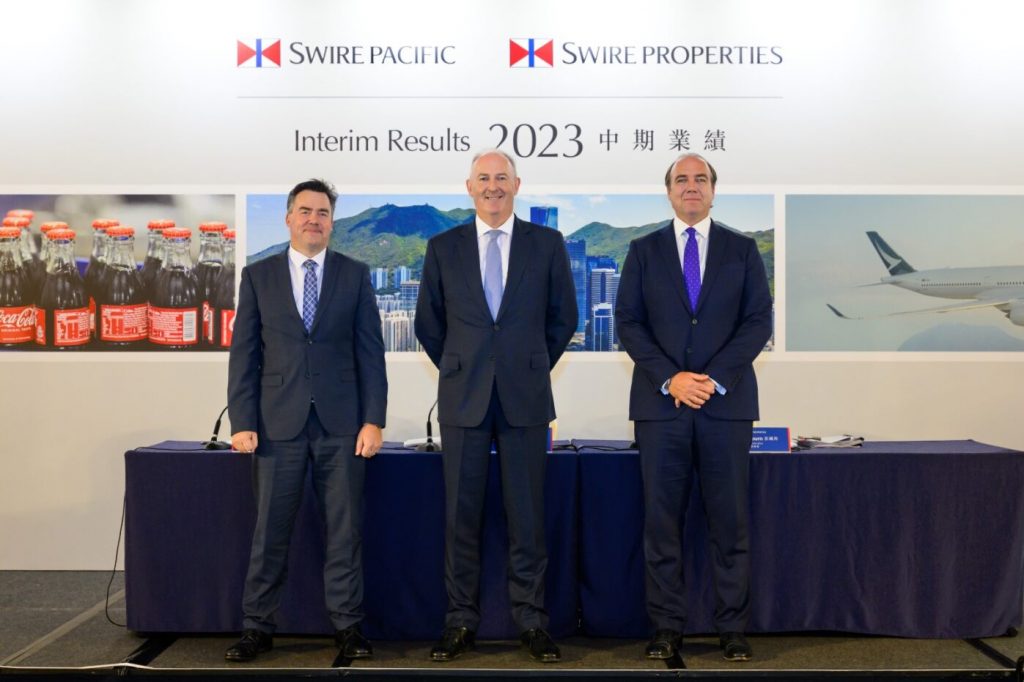 Opening remarks by Guy Bradley, Chairman of Swire Pacific Limited and Swire Properties Limited:
Good afternoon, everyone. Thank you for joining our interim results press briefing.
In the first six months of the year, our core divisions all rebounded. The Aviation Division has been the main driver of these good results as the Cathay group continues to build on positive momentum. Our Beverages Division performed well and our Property Division also made a solid contribution.
The Group recorded a recurring underlying profit of HK$4,879 million, compared with HK$1,272 million for the corresponding period in 2022. At the end of June, we announced the sale of 100% equity interest in Swire Coca-Cola, USA, for a consideration of HK$30.4 billion. If approved, this transaction will crystalise substantial value at an attractive valuation allowing an immediate, significant return to shareholders, and will strengthen our balance sheet further. Furthermore, we improved our shareholder returns with our share buy-back scheme of up to HK$4 billion, which was announced in 2022 and completed earlier this year.
We have remained steadfast to our strategic, long-term plan of continuous investment in Hong Kong, the Chinese Mainland and South East Asia – right across our core divisions of Property, Beverages and Aviation.
Our Property Division performed well overall. Both the retail and hotel portfolios have recovered quickly while the office portfolio has proven resilient in the face of softer market conditions in Hong Kong. We attribute this achievement to our sustained efforts since the lifting of pandemic restrictions and the resumption of tourism and business travel in January 2023.
Swire Properties has now committed approximately 40% of its HK$100 billion investment plan to deliver our long-term growth strategy in our three core markets of Hong Kong, the Chinese Mainland and South East Asia.
In the Chinese Mainland, our Taikoo Li and Taikoo Hui retail-led, mixed-use brands are synonymous with high quality retail experiences and we have several exciting projects under development, including Taikoo Li Xi'an and a new resort-style destination in Sanya. Earlier this year we successfully acquired 100% ownership of our flagship, retail-led development in Chengdu, soon to be renamed Taikoo Li Chengdu, signalling our confidence in the long-term outlook for the sector. The Greater Bay Area remains a key focus area and we are exploring several retail-led opportunities in this dynamic region, including Julong Wan in Guangzhou and Futian District in Shenzhen.
In Hong Kong, our ambitious placemaking strategy continues to transform Taikoo Place. We are excited about introducing new amenities and launching innovative dining experiences later this year to enhance its status as a Global Business District, including the opening of Taikoo Square, with 70,000 sq ft of green space at the heart of Taikoo Place.
Here in Pacific Place, our latest triple Grade-A office tower, Six Pacific Place, is due to complete at the end of 2023. We have also upgraded Five Pacific Place which contributes to the variety of the greater Pacific Place office portfolio.
Swire Properties is recognised for its leadership globally in the field of sustainable development – the Green Performance Pledge is evidence of our commitment to helping our office tenants realise their ESG ambitions.
The first half of this year saw a marked increase in profits from Swire Coca-Cola. The business in the USA continued to perform well, and was driven by price increases and an improved product mix. In the Chinese Mainland, we also made substantial profits thanks to an increase in volume. Regarding our new bottling business acquisitions in Vietnam and Cambodia, we recorded a strong performance in Vietnam in the first six months of 2023, which was offset to a certain extent by the performance in Cambodia due to challenging market conditions. These acquisitions bring our franchise population up to 877 million people.
Within the Aviation Division, the Cathay group performed very well in the first half of 2023, reflecting strong demand for travel after the removal of quarantine requirements. The Cathay group's success during the period has been a major contributor to Swire Pacific's overall performance. The airline's strong recovery is indicative of Hong Kong's own recovery as an international aviation hub. Our low-cost carrier, HK Express, recorded its first-ever profit since being acquired, benefitting from a surge in demand for short-haul flights within Asia. HAECO posted a profit, although this was impacted by a higher provision for stock obsolescence in the cabin solutions business and reduced unrealised foreign exchange gains at HAECO Xiamen.
On the healthcare front, we continue working on growing our healthcare services platform and are exploring investment opportunities in major city clusters in the Chinese Mainland and South East Asia.
We anticipate that the rebound we have recorded across our divisions will be sustained for the rest of the year, driven mostly by the continuation of the Cathay group's recovery. We are confident that Swire Properties' flagship properties and highly sought-after brands will continue to perform well in the second half of the year as the post-pandemic recovery continues. Swire Coca-Cola is expected to perform steadily. As Hong Kong, our home city, reinforces its standing as a global financial hub, travel and tourist destination, we are as committed as ever to contributing to its post-pandemic resurgence.
Lastly, I should like to thank our shareholders, our partners and the wider community for their continued support and engagement. My appreciation must also go to our employees for their creativity, hard work and dedication.