World Architecture Festival (WAF) is the largest annual festival and live awards programme for the global architecture community. The 7th WAF was held in October at the Marina Bay Sands in Singapore, with three central pillars of activity. These include the world's largest annual awards programme in which practices from around the world compete across 28 award categories for global recognition. Architects of every shortlisted project are invited to attend the festival to give a live presentation to a panel of judges, asserting their case for why their project should win.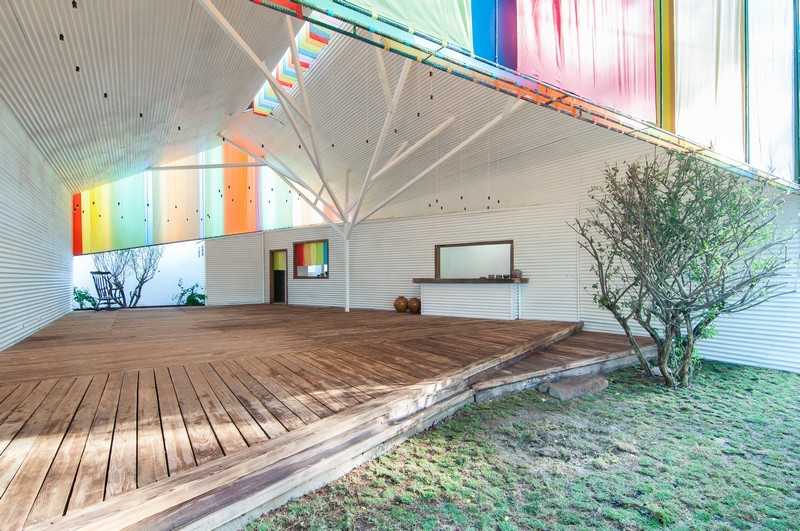 The winners of each category are put forward to compete for the coveted World Building of the Year award, presided over by the festival's 'super-jury', with the presentation of the award being the culmination of WAF 2014. This instalment's super jury members were Richard Rogers (chair), Rocco Yim, Julie Eizenberg, Enric Ruiz Geli and Peter Rich.
The Chapel, Vietnam, designed by a21studio, won the World Building of the Year award at WAF 2014.
The Chapel is a community space in a new urban ward on the outskirts of Ho Chi Minh City, Vietnam. As a result of estate crisis, the surrounding area lacks communal centres. Therefore, the Chapel is designed to be the place for people to participate in activities such as conferences, weddings and exhibitions. The Chapel takes advantage of materials from the owner's previous projects such as steel frames and metal sheets.
The project was selected by the festival's super-jury. Commending the winning project, Paul Finch, WAF Programme Director, said: "The judges felt this was a project that embraced history and modernity, and created a dialogue in the process. It has created maximum effect with minimum materials and has produced an unexpected change of pace in its urban context. The opportunity has been taken to recycle and rethink materials and site, and a series of design issues have been addressed which have produced a small project that makes a big statement. Colour and light have been deployed to put people at ease and the architect has found poetry in the mundane."
Previous winners of the World Building of the Year Award include Luigi Bocconi University, Milan, designed by Irish practice Grafton Architects (2008); Mapungubwe Interpretation Centre in South Africa, designed by Peter Rich Architects of Johannesburg (2009); MAXXI (National Museum of the 21st Century Arts) in Rome, designed by Zaha Hadid Architects (2010); Media TIC, designed by Cloud 9 Architects (2011); Gardens By The Bay, designed by Wilkinson Eyre, Grant Associates, Atelier One and Atelier Ten (2012); Auckland Art Gallery Toi o Tāmaki by Frances-Jones Morehen Thorp (2013).
Three other major awards and two inaugural prizes were also awarded during the gala dinner awards ceremony which marked the culmination of WAF 2014. These were:
Future Project of the Year: Art Gallery of Greater Victoria, Canada, designed by 5468796 Architecture + number TEN architectural
Landscape Project of the Year: National Arboretum Canberra, Australia, designed by Taylor Cullity Lethlean and Tonkin Zulaikha Greer
Small Project of the Year: The Pinch, China, designed by  Olivier Ottevaere and John Lin, The University of Hong Kong
Colour Prize: Departments of Law and Central Administration, Vienna University of Economics and Business, Austria, designed by Cook Robotham Architectural Bureau
Wood Excellence Prize: Alex Monroe Studio, Snowfields, UK, designed by DSDHA
WAF has a wide-ranging conference programme, featuring keynote lectures, dozens of expert-led talks and seminars from thought-leading architects and designers from across the globe. All award entries were displayed in three festival halls in a unique awards gallery; where sponsors and suppliers can interact with delegates, make new contacts and showcase their services and products. In 2015 WAF will be held  at the Suntec Convention & Exhibition Centre, Singapore, from 4 to 6 November. For more information please visit www.worldarchitecturefestival.com.