(29 June 2021, Hong Kong) A press briefing was held on 22 June to announce the details of the first "Hong Kong Interior Design Week (HKIDW)" to be held on 14 – 22 August 2021. HKIDW 2021 is organised by Hong Kong Interior Design Association, with Create Hong Kong (CreateHK) of the Government of the Hong Kong Special Administrative Region as the Lead Sponsor. Highlights of HKIDW 2021, including the Forums, Expo and Workshops to be held from 20 to 22 August at the Hong Kong Convention and Exhibition Centre, as well as the "Open House" visits and the public nomination and voting for the "My Favourite Interior Space in Hong Kong" were introduced at the press briefing.
(按此瀏覽中文版)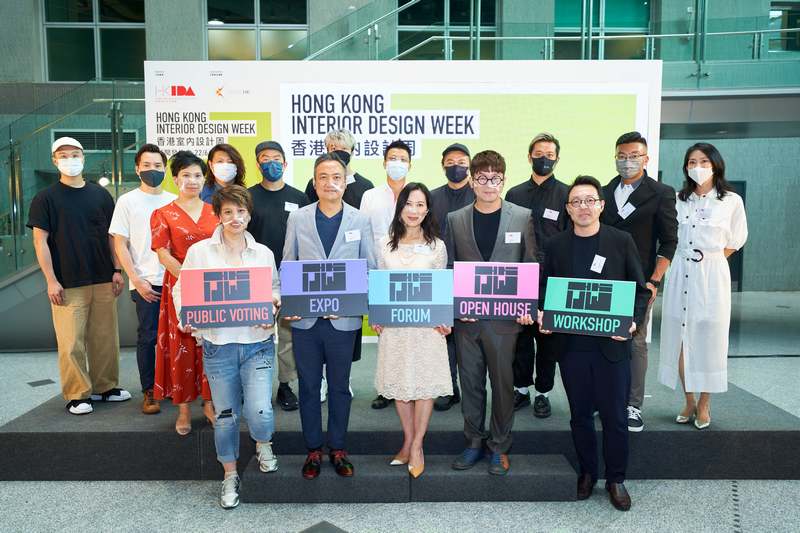 Hong Kong is blended with western and oriental cultures. As a culturally diverse society, it provides good soil to nurture talented designers. From must-visit 5-star hotels for staycation, high-end shopping malls, commercial buildings to stylish homes, masterpieces can be found in every corner of the city. By bringing unique styles and vitality into town, the marvelousness of Hong Kong interior design projects receive international acclaim, while many local designers rank among the world's top designer list. Together, they are the pride of Hong Kong.
In order to honour the unparalleled achievements of local interior design masters and, up-and-coming interior design professionals, and to showcase the latest developments of the local interior design industry, Hong Kong Interior Design Association (HKIDA) is launching the first "HKIDW" on 14 – 22 August with CreateHK as the Lead Sponsor. At the press briefing held on 22 June, HKIDA invited the Guest of Honour, Ms. Jersey YUEN, Assistant Head of CreateHK, together with Mr. Horace PAN (Chairman of HKIDA), Ms. Lousia YOUNG (Vice-chairman of HKIDA), Mr. Wesley LIU (Vice-chairman of HKIDA), and Mr. Hoiwood CHANG (Co-chair of HKIDW), to kick off the first edition of HKIDW.
Ms. Jersey Yuen congratulated HKIDA for launching HKIDW 2021, which is marked by a series of refreshing events, and encouraged the industry practitioners and the general public to actively participate in these events.
Chairman of HKIDA, Mr. Horace Pan, said in his welcome speech that "HKIDA is the city's leading and most influential interior design organisation. In the past two years, our Executive Committee members have been putting their heads together to come up with a programme that could bring interior design to the doorstep of every household. That was the birth of HKIDW."
Mr. Pan also mentioned that HKIDW could be regarded as the Art Basel of Hong Kong's interior design sector. It comprises five components: public voting, expo, forums, open house and workshops. Together, they provide a professional, comprehensive and concrete platform to illustrate the marvelous works of local interior designers in order to enhance the public's understanding and appreciation of interior design. Apart from this, HKIDW also provides a platform for interior designers from around the globe to exchange ideas and explore collaboration.
Unprecedented: World-class interior design gurus gather in Hong Kong for the first time ever (CreateHK's comment: It sounds like no interior design guru has ever gathered in HK before, which should not be the case. A number of design-related forums have invited global interior design masters as speakers.)
Expo and Forum: World-class interior design gurus gather in Hong Kong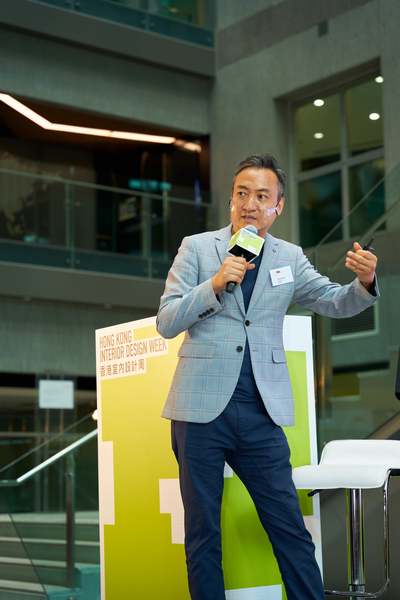 HKIDW 2021 will demonstrate how it ascends the local interior design industry to a world-class level.
Its Expo that runs from 20 to 22 August at the Hong Kong Convention and Exhibition Centre is a major highlight of the programme. The Expo will pay tribute to the "Five Legends" of the local interior design profession. They are Mr. Steve LEUNG (Founder & Managing Director of Steve Leung Designers Ltd), Mr. William LIM (Managing Director of CL3 Architects Ltd), Mr. Ed NG and Mr. Terence NGAN (Co-founders and Principals of AB Concept), Mr. Tino KWAN (Principal Consultant of TinoKwan Lighting Consultants Ltd, HK) and Mr. Gary CHANG (Managing Director of EDGE Design Institute). Other sections of the Expo will be dedicated to commending the outstanding design projects that have won prestigious international awards, to featuring the impressive and innovative projects under "creative collections", as well as to showcasing the top 10 nominated interior spaces that receive the most votes during the public voting period.
International design masters from Hong Kong, Singapore, Japan, Australia, the Netherlands and beyond, including ANG Xinwei (Head, School of Spatial + Product Design, LASALLE College of the Arts, SIngapore), Ed NG (Co-founder and Principal of AB Concept), Rob WAGEMANS (Founder and Creative Director of Concrete Architectural Associates, Amsterdam, The Netherlands), will participate in a three-day international forum via physical and online appearance. The speakers will share their design perspectives with the industry and the public on the topics of " Education: Interior Design Pedagogy", "Design Thinking from International Awards Winners", "Thinking: Hong Kong Young Power", "Keynote: East Design Gathering", and "Keynote: Hospitality Design".
There will also be workshops organised from 20 to 22 August. Led by experienced experts in the relevant fields, the workshops feature the topics include Chinese Woodwork, Mini Home Planning, Creative Place-making Ideas, and more.
Open House: Be a guest in studios and showrooms; Feel the vibrancy of an interior designer's daily life
Another event of HKIDW 2021, the "Open House" lifts the silky veil that covers the working environment of creatives. How do they decorate their studios? What do they do to stimulate creative ideas? HKIDW 2021 pulls the strings to give you an answer. The public will have a valuable opportunity to visit the studios of local interior designers, talk to them face-to-face, learn about their daily work, and interestingly, get to see how their studios are decorated. Visitors will also have a chance to tour around the local supplier showrooms where they will know more about the latest technology and materials used to elevate the interior designs.
Public Voting: Your call to give credit to your beloved interior spaces in Hong Kong; Open to all residing in or outside of Hong Kong
Residents and visitors alike leave their footprints all over the city. Interior spaces, big or small, exotic, unique or stylish, in return leave an unforgettable impression on the minds of many of us. The "My Favourite Interior Space in Hong Kong" encouraged people located in all corners of the world to nominate their cherished Hong Kong interior spaces. As a prelude to the nomination, local creative professionals, cultural icons, artists and authors have been invited by HKIDA to nominate their share of beloved interior spaces in Hong Kong, which include The Upper House, K11 MUSEA, Luk Yu Tea House, Jumbo Floating Restaurant, Hong Kong City Hall Concert Hall and more. Full list of their nominations is available on www.hkidw.org
The public can submit further nominations from 22 June to 4 July. There is no restriction with regard to the types of projects to be nominated. They can range from home, restaurant, shopping malls, to public and commercial premises. A judging panel will shortlist the projects from both the creative and public nominations for the public to vote for the final 10 projects on 14 to 25 July. The top 10 projects that receive the most votes in the public voting will be showcased at the HKIDW 2021 Expo on 20 to 22 August at the Hong Kong Convention and Exhibition Centre.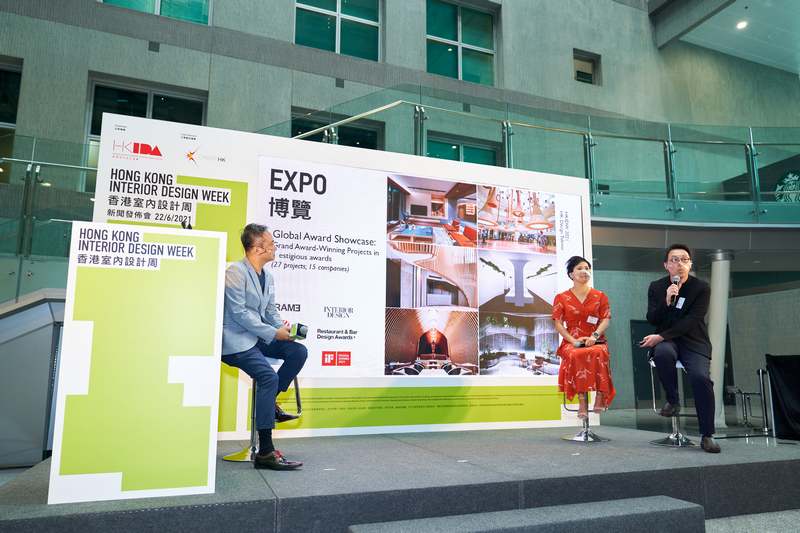 The public can nominate and vote on the HKIDW website: http://hkidw.org
Nomination Period: 22 June to 4 July 2021
Voting Period: 14 to 25 July 2021
For further information on each HKIDW 2021 Event, please visit: http://hkidw.org,
official Facebook, Instagram and WeChat pages:
Facebook: @HKIDW
Instagram: hongkonginteriordesignweek