A Sci-fi cinema in Shanghai explores the nature of science, reality and the universe.
Shanghai has long been an epicentre of culture on the Chinese mainland, recognised for both its seminal status in the pantheon of Chinese cinema and its reimaging of Western beliefs and ideals in a vividly eastern, Chinese context. There is thus nowhere more fitting for 'White Futura', the second of two cinema theatres opened by China Film Cinema in 2016, to be unveiled. Alexander Wong Architects, the creative minds behind the project, have created odes to science-fiction and the extra-terrestrial with both 'White Futura' and its sister cinema 'Beyond Future'. Each exemplify contrasting aspects of the same shared design philosophy. Designers took inspiration from the world of classic and contemporary film, exploring themes found similarly in The X-Files, The Matrix and Eyes Wide Shut, as well as theories from science and philosophy and existentialist questions surrounding outer space, nature, mythology and the genesis of the universe.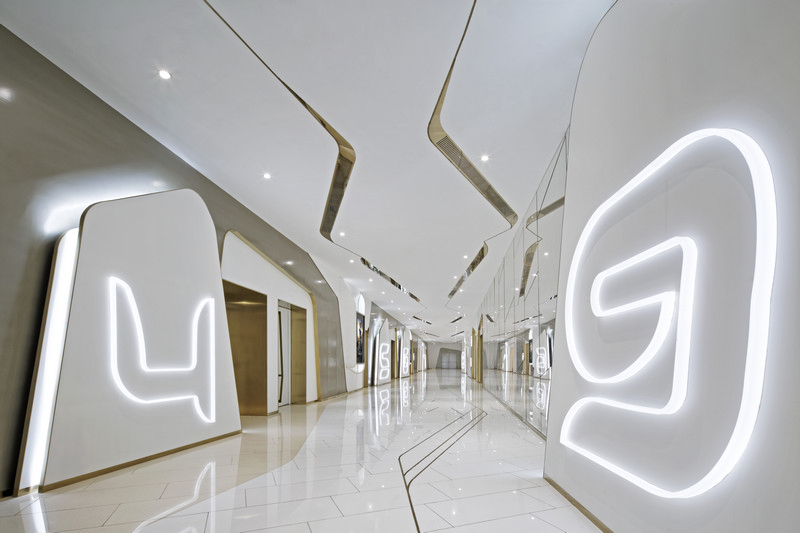 Built earlier this year in Wuhan, China, 'Beyond Future' is based conceptually on outer space, as suspended structures adorn the walls and ceiling, representing the absence of gravity outside the confines of our atmosphere. The colour scheme is a deep black punctuated with dark hues, representing the infinite darkness or 'dark matter' of outer space.
'White Futura', in light of this, is designed to be the very opposite; the Tabula Rasa, the Ground Zero, with the dominance of its stark white colour scheme symbolising the void at the origin of our universe. The smooth curves of the walls and seating boast that iconic sci-fi sleekness, whilst the hanging light structures are inspired by white magnolias, the city flower of Shanghai as symbols of a pioneering spirit. These magnolia-like installations have however been morphed, abstracted and deconstructed to resemble spacecrafts at the exact moment of their explosion. This harsh dichotomy between the natural and the synthetic takes its inspiration from the opening of the 2004 Olympic Games, when a Minoan sculpture from Ancient Greece was shown erupting into fragments revealing greater treasures within; a metaphor for the origin and evolution of western civilisation.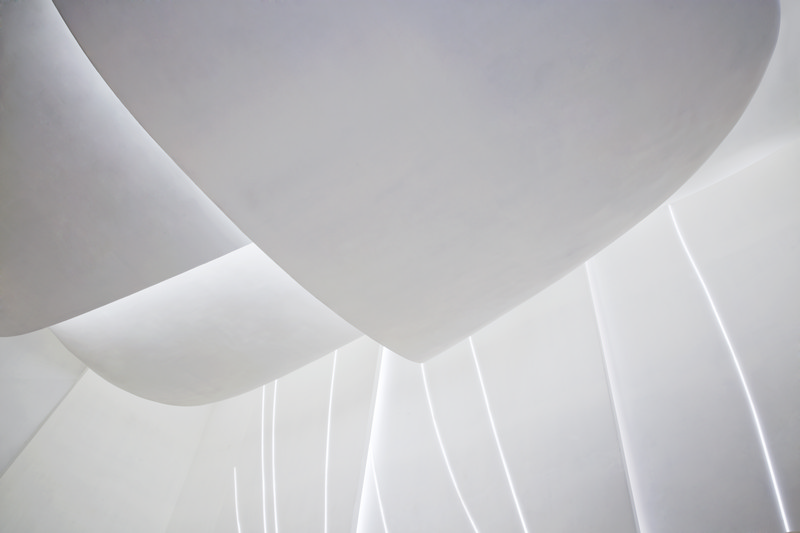 Tunnel structures connect central corridors to theatre screens, representing time tunnels which it is believed can be used to traverse the universe. Herein lies a central theoretical inspiration for 'White Futura'; the space-time continuum. An enhanced understanding of the nature of this continuum may be key to unlocking our greater understanding of our universe's origin. This in turn is related to String Theory and the Butterfly Effect, which contends that everything throughout space-time is intimately related and occurs as a consequence of each other. The folded spiralling surfaces and curved white lighting of the String Box Office within White Futura exemplify these ideas.
White Futura's striking design aesthetic and the transcendent philosophy behind it have combined to create an ambitious avant-garde space that is truly out of this world.