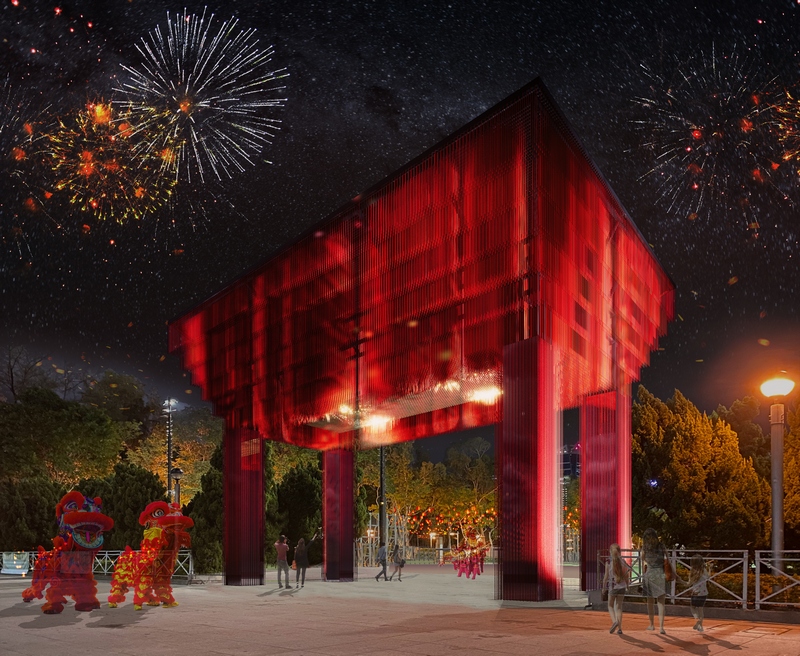 (9 January 2023, Hong Kong) Days ahead until Lunar New Year, the winner of the HKIA Idea Design Competition – organised by the Hong Kong Institute of Architects (HKIA) and the HKSAR Architectural Services Department (ArchSD), "The Gate of Blessings" will finally set foot at this year's Lunar New Year Fair at the Victoria Park after a long-two-years-wait due to the pandemic.
The design of "The Gate of Blessings" explores the balance between traditional and innovative understanding of blessings, love and care in architecture. The design team pushes boundaries by recreating a traditional form of Chinese architecture with unconventional materials, aiming to evoke visitor's spatial perception and elevates sensual experiences with moments of unexpected joy when entering The Gate of Blessings.
The design team is formed by four young Architects*, Jacky Chan Yin Fung, Nicolas Chung Siu Kay, James Tang Yu Ching, and Vivian Wong Wai Yin. They met at the Bartlett School of Architecture in London UK during their university education. The team members are now practicing in renowned architecture offices in Hong Kong, London and Shenzhen. They were all born and raised in Hong Kong, the team has been passionate about architectural designs that serves the community and are always keen to make contributions to the Public.
The design combines three layers of elements:
Pai Fong (牌坊):
Recreation of the form of the Chinese Portal. The Chinese Portal symbolises "home entrance", evoking visitors' memories towards reunion, family warmth, history and legacy.
Red Ropes (紅繩):
The material choice of red ropes has been adopted as an important symbolic element in our culture for many years, and has been associated with celebrations such as festive events, weddings and New Years. Two tones of red have been carefully selected, one represents the rich cultural history while the other represents celebrations and happiness. The alternation of colours enables visual layering and also aim to stimulate visitors' festive and joyous emotions.
Tiger-Bells(虎鈴):
Bidding farewell to the Year of Tiger and welcoming the Year of Rabbit, the team wishes to bring forward blessings from the Year of Tiger to the new year. The Gate of Blessings not only symbolises as a gateway to a brand New Year, but also highlights visitor's arrival experience with magnificent visual and acoustical surprises. Traditional Tiger-Bells are designed to be embedded between layers of Red Ropes, the team imagines the sound of the ringing bells as the delivery of blessings, wishing visitors a year full of Joy, Peace and Blessings.

Lastly, the team would like to express special thanks to the Hong Kong Institution of Architects and HKSAR Architectural Services Department; without their continuous support, the project would not have been delivered successfully.
Opening date :
16 January 2023 onwards
Location :
Main Entrance Gate at Victoria Park (Kong Kong)

For more information and the latest news, please follow the official Instagram account @gateofblessings.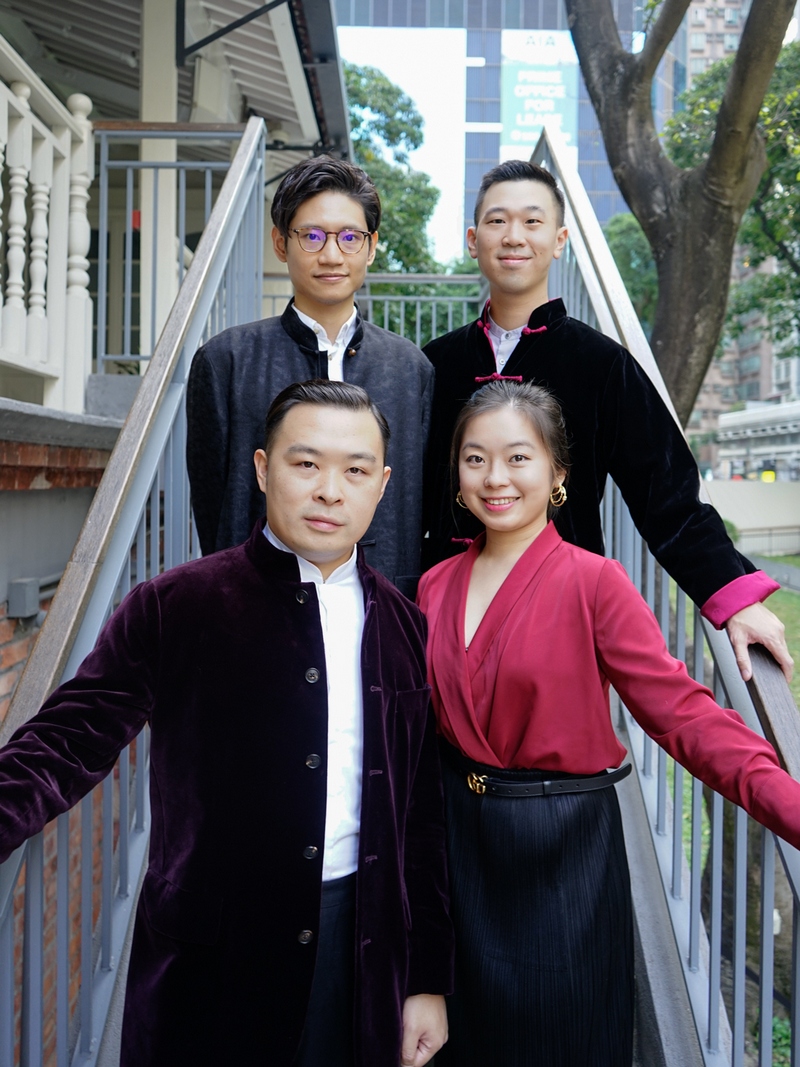 *Jacky Chan is a HK Registered Architect while Nicolas Chung, James Tang and Vivian Wong are UK Registered Architects.