(16 March 2019, Hong Kong) The architecture from different eras tells the social culture and living stories of all ages, creating the history and development of our city. With the development and changes of the city, Hong Kong communities are paying more and more attention to the city's heritage buildings in the aspects of conservation and revitalization works. Architects have always played an important bridging role to enhance architecture insight of old buildings' stakeholders and build an energetic society together.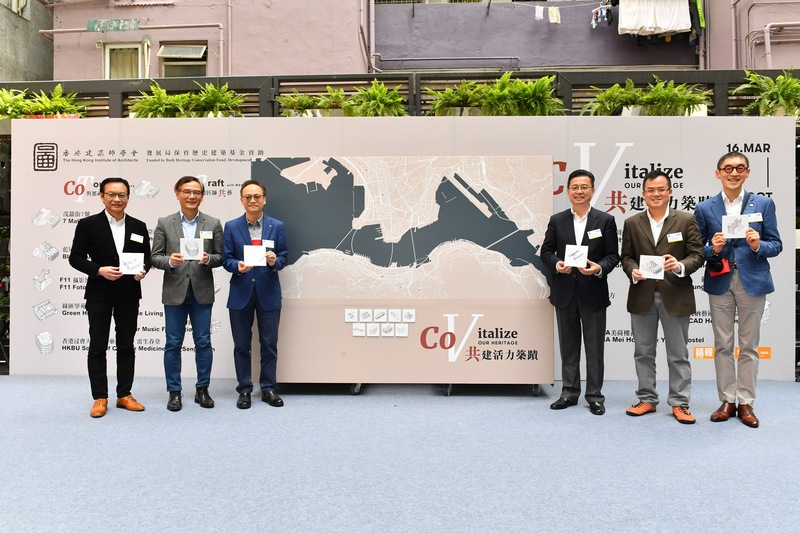 The Hong Kong Institute of Architects (HKIA) will launch a community-wide project called "Co-Vitalize Our Heritage" which will run from 16th March to 26th October in this year. Supported by the Build Heritage Conservation Fund (BHCF) under Commissioner of Heritage Officer (CHO) of Development Bureau of Hong Kong, "Co-Vitalize Our Heritage" aims to enhance the architecture know-how of stakeholders, operators and the interest communities as they involve with conservation and revitalisation projects. Through the series of workshops, architectural tours and events, the public may recognize the opportunities offered by revitalizing historic buildings, like arousing the appreciation of local heritage characters, creating the community focal highlights, leading the regeneration of old district environments, and developing of district cultural, leisure and commercial activities.
A Launching Ceremony for "Co-Vitalize Our Heritage" was held today at one of the local conservation projects, the 7 Mallory Street. The event was officiated by the Guest of Honour, Professor LAU Chi Pang, JP, Chairman of The Advisory Committee on Build Heritage Conservation of HKSAR, and joint by other officiating guests including Mr. Tony TSE, BBS, Legislative Council Member (Architectural, Surveying, Planning and Landscape) of HKSAR, Mr. WAI Chi Shing, Managing Director of the Urban Renewal Authority of HKSAR, Mr. Jose YAM, Commissioner for Heritage, Development Bureau of HKSAR, Mr. Douglas SO, Chairman of Antiquities Advisory Board of HKSAR, Mr. Felix LI, President of The Hong Kong Institute of Architects, Mr. Franklin YU, Vice-President of The Hong Kong Institute of Architects, Mr. Edward LEUNG, Chairman of Heritage and Conservation Committee of The Hong Kong Institute of Architects, representatives from the 15 revitalized sites, participating secondary schools; veteran master craftsmen and some conservation architects.
Mr. Felix LI, President of The Hong Kong Institute of Architects, addressed in the welcome speech that, "Conservation and revitalization historic buildings is a great concern among Hong Kong communities in recent years. It is believed that heritage building or old districts should not only be used for conservation but also revitalization, enabling them to have a "second life" which in return to integrate with the citizens' everyday life in the city's continuous development. "Co-Vitalize Our Heritage" is a 7-months long enhancement project organized by the Hong Kong Institute of Architects. The project is divided into 4 main themed activities covering Co-Tour with Docents; Co-Craft with Masters; Co-Create with Students; and Co-Design with Architects. It is expected to enrich the understanding of conservation and revitalization works among the stakeholders and uplift the community's appreciation through professional workshops and tours taking place at these sites. Furthermore, we hope to engage the communities' support to conservation works throughout the project."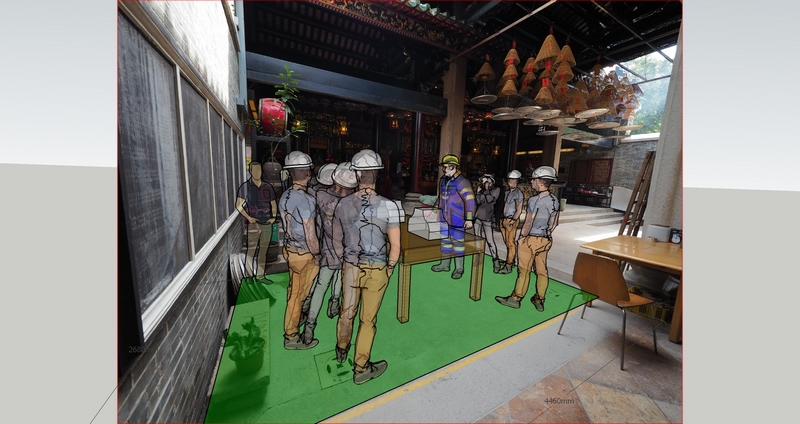 Official website: http://hkia-covitalize.hk/en
Facebook page: https://www.facebook.com/CoVitalizeOurHeritage