The Green Building Awards (GBA) have run biennially since they were inaugurated by the Hong Kong Green Building Council (HKGBC) and the Professional Green Building Council (PGBC) in 2006.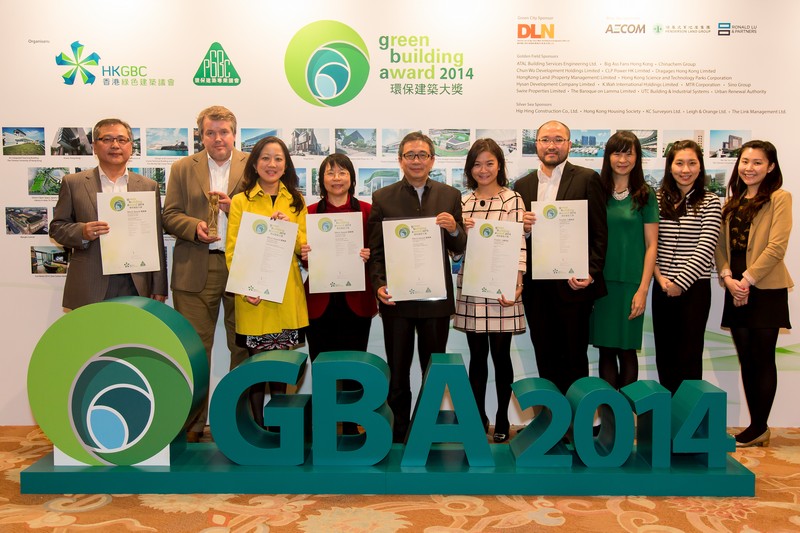 (DLN staff at the Green Building Award Ceremony 2014)
The awards recognize building projects across the Asia-Pacific region that demonstrate outstanding performance, contribute to the environment and that embody the principles of sustainable design. 12 different projects designed by DLN have won awards in the prestigious GBA in the past 8 years. This is a reflection of DLN's achievement in the field of environmentally-friendly design and the seriousness with which the practice approaches sustainability.
The GBA hold candidate projects to a high standard. The panel for this year's awards included a diverse group of 27 local and overseas professionals. The honorary adviser was Mr Paul Chan, Secretary for Development, HKSAR. The GBA has a strong reputation and the results are well regarded by the industry.
DLN's Commitment to Sustainability
At DLN, architects always consider environmental strategies from the outset when designing any project. Environmental strategies inform all aspects of design and DLN's overarching objective of adding value and amenity for clients and end-users.
In 2009, DLN established an in-house Sustainable Design Department, led by Carolin Fong, Director and Head of Sustainable Development. The Department has over 30 BEAM Professionals and LEED APs. DLN's Sustainable Design Department undertakes in-house peer review of project design and advises on the implementation of sustainable design in DLN's building projects.
DLN organises frequent workshops and seminars for its employees to learn about the most up-to-date practices, trends and innovations in field of environmentally-friendly and low-energy design.
DLN concurrently invests heavily in technologyin order to advance its agenda for design that is informed by sustainable design principles. For example, the application of BIM and environmental and building physics analytical software have been adopted for a number of years by DLN to achieve even more environmentally friendly designs that reduce project ecological footprints without compromising either value or amenity
DLN's projects recognised at GBA 2014 
Proposed Green Deck Over Cross Harbour Tunnel Plaza (Merit Award)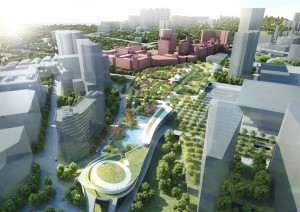 The proposed Green Deck comprises a public park to be built over the Cross Harbour Tunnel Hung Hom Toll Plaza. The Green Deck would massively improve the urban amenity of the area between Hung Hom station, the Hong Kong Coliseum, the Hong Kong Polytechnic University and Tsim Sha Tsui East. A locale that is currently afflicted by noise and poor air quality would be replaced by a spacious, green and tranquil landscaped pedestrian environment.
In addition to a park it envisaged that the deck would contain public sports, cultural and leisure facilities. The Green Deck project creates the opportunity to incorporate air filtration systems so that tunnel portal emissions align with the purity of emissions targeted for the latest generation of the road tunnels in Hong Kong. Other environmental features include wind catchers, solar lighting and grey-water recycling. The Green Deck targets zero carbon consumption and emission. 
Campus Design of University Pembangunan Jaya, Tangerang, Indonesia (Merit Award)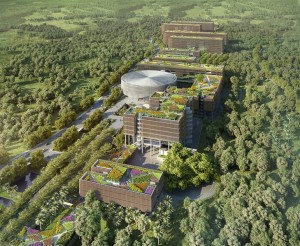 DLN's environmentally friendly design for this project focuses on passive design features to reduce lifecycle energy consumption and increase contact of building users with nature. The design of the campus retains existing paddy fields and flora and the layout of the buildings exploits the potential for natural shading and ventilation. This approach has also resulted in a campus where every space is in close proximity to nature.
The passive approach is extended to flood management: the elevated design of the buildings enables the entire site to function as a flood retention reservoir without affecting key functions of the university. Grade level areas beneath the tall under crofts of the buildings provide sheltered outdoor space and accommodate shade-loving vegetation. This phased development will provide an engaging and inspiring environment for 10,000 students and full completion is scheduled for 2025.
Heya Green (Finalist)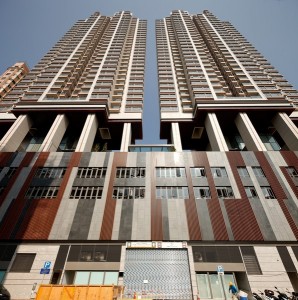 Heya Green is a pioneer project by the Hong Kong Housing Society. An assisted care home for the elderly is located in the podium creating the opportunity for different generations of families to live in immediate proximity to each other.
Precast elements and recycled materials were designed and specified by DLN and adopted in the construction of Heya Green. Hydraulic crushers were used for demolition to greatly reduce noise nuisance to neighbourhood. Weekly environmental site walk-throughs were conducted during its construction.
Heya Green achieved the highest BEAM 4/04 Green Building Certification, provisional Platinum rating and received the Distinguished Contribution Award 2008 from the Development Bureau. The building also embraces the ISO14001 environmental management standard.  
Azura (Finalist)
Azura aims to create a sanctuary of peace, calm and comfort in the densely built Mid-levels of Hong Kong.  It achieved the Hong Kong BEAM Platinum Certified status, and has been acknowledged for environmental excellence. DLN carried out a comprehensive analysis to assess the overall building's environmental performance. Design alternatives were subject to energy simulations in order to achieve reduced demand for cooling in the finished building. Building disposition and urban design results in a more generous, better ventilated and greener public space.
Sustainable approaches during construction of the project included the use of a precast façade and recycled materials, a water-saving system and the implementation of a construction waste management program.
King Wah Road Commercial Development (Merit)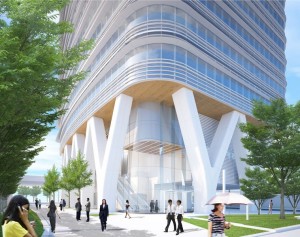 This development is currently under construction. The environmentally friendly features for this project include: a curved building profile to aid the natural ventilation of the neighbourhood; landscaped passages linking up the local community to the future waterfront promenade and also setbacks from building boundaries to enhance ventilation.
Advanced computer simulations have been undertaken out to optimize energy demand. The development will adopt a storm water recycling system and waste management program as well as the use of different types of clean and renewable energy, including solar thermal and PV system.
DLN worked closely with a sustainable design consultant. The project targets the highest grading for three environmental certifications: BEAM Plus Platinum, LEED Platinum certification, and CGBL 3-Stars.